How to Fix iPhone 15/14 Incorrect Wifi Password in A Few Steps
by Sophie Green Updated on 2023-09-15 / Update for iPhone Fix
I have the iPhone 8 iOS 15 and the Wi-Fi has been working perfectly fine then out of the blue it decided to get disconnected and now my Wi-Fi network it says the password is incorrect (I know it's correct). Is there any other ways to fix this problem?"
Well, it might sound weird that even if you enter the right password, your iPhone says Wi-Fi password is incorrect. This problem is, though, not uncommon these days and has been encountered by a number of iPhone users. If you or anyone you know has experienced this issue, then there is nothing to panic. We have got you covered! Go through the article for a suitable solution.
Part 1: Find Correct Wi-Fi Password
Before we confirm it is iPhone malfunctioning, it is necessary to confirm that the Wi-Fi password we enter is the correct one. As we know, iPhone remembers a Wi-Fi password automatically, but viewing the previously saved password proves to be difficult. To check whether we remembert the correct password, a password manager tool can help us to view all stored passwords on iPhone including Wi-Fi network passwords, website and App login password, mail account password, and more.
You can install this program on Windows or Mac, and connect your iPhone/iPad to computer to detect all stored passwords.
When you iPhone is connected, click "Start Scan" to start scanning.

In a few seconds, the correct password for different Wi-Fi networks are displayed.
Now, type the correct Wi-Fi password again. If all is fine, that is great. Whereas, even if you type the right Wi-Fi password, your iPhone still ways incorrect Wi-Fi password. It could be an iOS problem, read on to find a possible solution to fix the system problem.
Part 2: How to Fix iPhone Wifi Incorrect Password Even It Is Correct
Here are the possible methods to fix iPhone incorrect Wi-Fi password when you actually enter the correct password.
Method 1. Restart Your iPhone to Fix iPhone Wifi Password Incorrect
Even if you type the right Wi-Fi password, your iPhone keeps saying incorrect password for wifi. In such a situation, try to restart your iPhone. Most of the time, a restart fixes minor issues with your iPhone. Just hold and press the slide button or Top button, then toggle off the 'power off' slider. After that, press the same button again till you see the Apple logo come up on screen.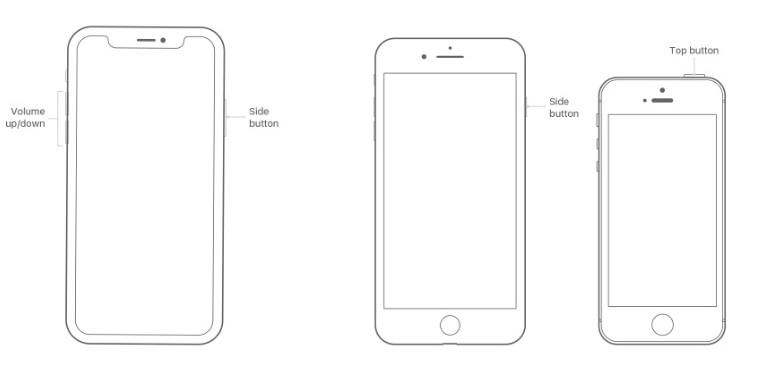 Method 2. Reset Network Settings
In order to fix incorrect password Wi-Fi issue, you can also reset the network settings. Doing so would clear all the network settings for Wi-Fis along with the saved passwords.
Go to 'Settings' > 'General' > 'Reset'.
Now, click 'Reset Network Settings' > enter passcode > 'Reset Network Settings' for confirmation.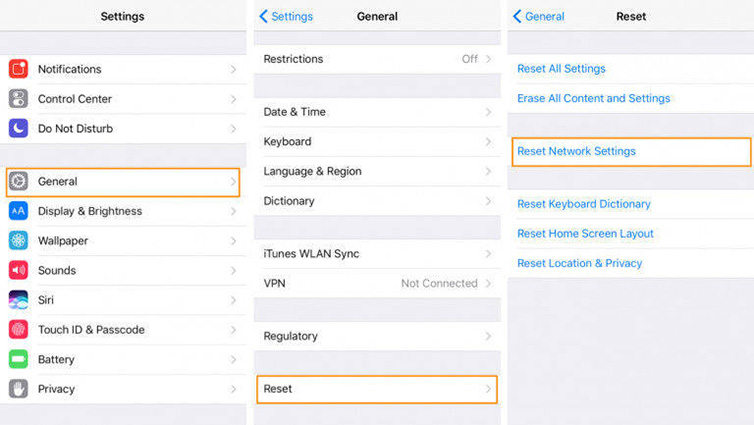 Method 3. Forget the Wi-Fi Network and Re-Join
While connecting to a Wi-Fi network, the password gets saved on your iPhone. But, in any case if the connection gets corrupted, connecting to the same Wi-Fi becomes impossible. Forgetting and reconnecting would stop the iPhone saying incorrect Wi-Fi password. Here is how.
Browse, 'Settings' > 'Wi-Fi' > hit info button i.e. 'i' against Wi-Fi name > 'Forget This Network'.
Now, wait a while and refresh the iPhone. Select the same Wi-Fi from list.
Login to it and check if you can access the internet.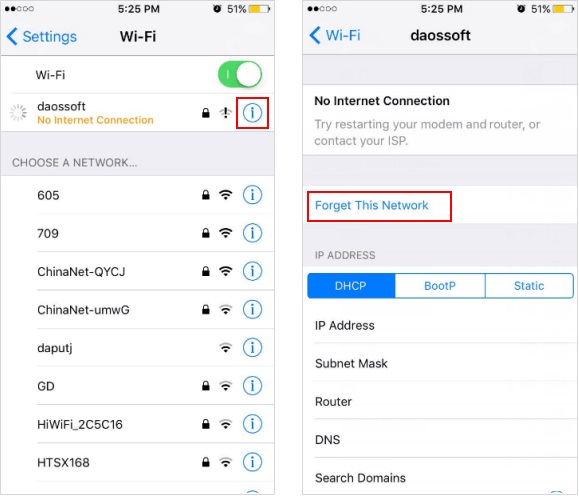 Method 4. Restart the Wi-Fi Router or Modem
The iPhone saying incorrect Wi-Fi password issue might be because of any glitch in the Wi-Fi router or modem. Restarting the modem or router might do the best. Turn off the power supply to the modem/router and restart the device after turning on the power supply.
Method 5. Disable Wi-Fi Assistn When iPhone Says Wifi Password Is Incorrect
You can as well, fix the said problem by disabling the Wi-Fi Assist. Here are the steps.
Go to 'Settings' and click 'Cellular'.
Go down the list of Apps using cellular data and then tap 'Wi-Fi Assist'. Turn it down, so that iPhone won't automatically turn on data.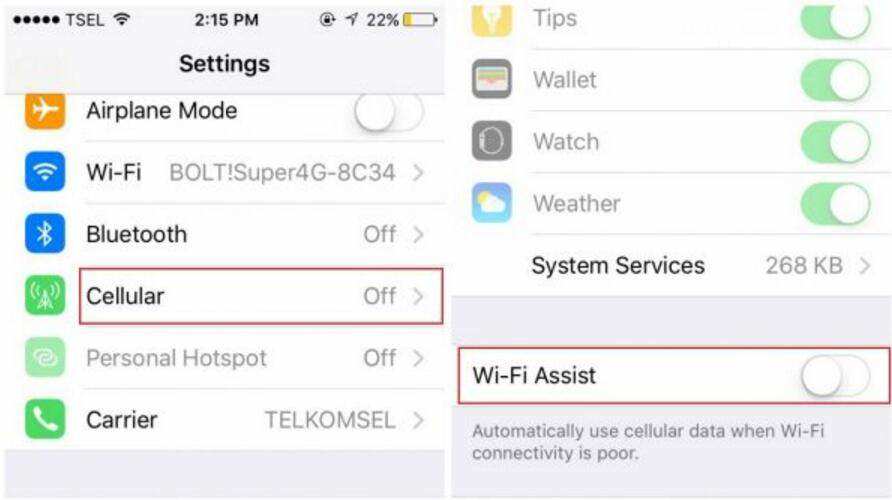 Method 6. Force Restart Your iPhone
When things are continuously going down south, you can rely on force restarting your iPhone. it will possibly get you out of the messy iPhone saying incorrect Wi-Fi password problem.
For iPhone 8/8 Plus/X/XS/XR/XS Max – Quickly tap 'Volume Up' key and leave. Repeat the same with the 'Volume Down' key. Press the 'Sleep/Wake' key until Apple logo is in sight.
For iPhone 7/7 Plus – Click and hold 'Sleep/Wake' and 'Volume Down' keys together unless the Apple logo appears.
For iPhone 6/6S and older – Push down 'Home' and 'Sleep/Wake' buttons at a time. Release the buttons when Apple logo glows on screen.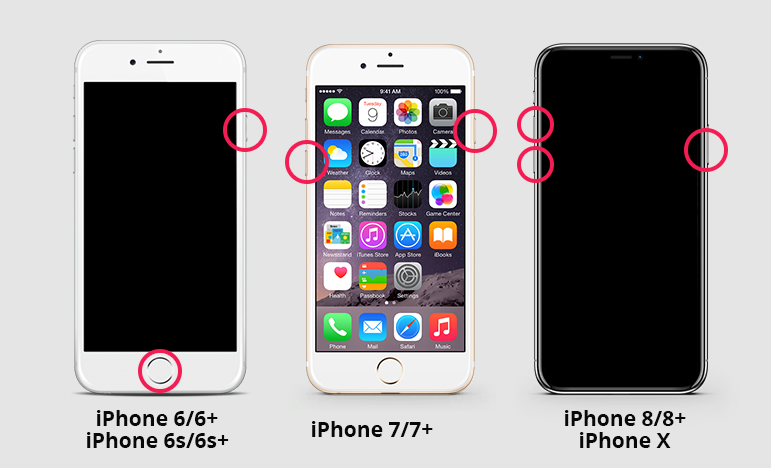 Method 7. Change the Wi-Fi Password If Still Says iPhone Incorrect Password for Wifi
Login to your Wi-Fi account and change the password. Re-login to see the issue of Wi-Fi keeps saying incorrect password vanish at once. It is possible that changing the password would help you at large in combating the issue.
Method 8. Fix "iPhone Won't Connect to Wifi Incorrect Password" with ReiBoot
Well, now that every effort has been made and gone futile, we guess there is something else behind this problem. Incorrect password for Wi-Fi appears on iPhone because of an iOS bug as well. If this is the case with your iPhone, then we would recommend you to go for Tenorshare ReiBoot, and get hold of the situation ASAP.
This software is popular for its unique no data loss feature while fixing major iOS issues from your iPhone. With the 'Repair Operating System' feature, there is hardly any iOS problem that is not taken care of. Starting from iPhone stuck on Apple logo, to frozen screen, black screen, unresponsive iPhone or anything else, ReiBoot is a gem of an application to ease off the burden. The latest iOS versions and device models are supported by it on both Mac and Windows computers.
Install and run the application on your computer. Now, get your iPhone and its lightning cable to connect it with the computer. Click 'Start' on the ReiBoot main screen.

Select 'Standard Repair' and Click on 'Standard Repair' button.

After firmware download is complete, again hit 'Start Standard Repair' button from the following window. Wait for some time to get ReiBoot repair the iOS and fix the incorrect password Wi-Fi iPhone issue completely.

Then click 'Download' to get the firmware downloaded.

After firmware download is complete, again hit 'Start Standard Repair' button from the following window. Wait for some time to get ReiBoot repair the iOS and fix the incorrect password Wi-Fi iPhone issue completely.
Conclusion
When you experience that your iPhone is saying incorrect Wi-Fi password continuously, the first thing is to make sure you enter the correct password. If it still says incorrect password even you type in correct password, it is the time to take action rather than staying quiet. Therefore, we mentioned some very effective solutions for you that you can yourself follow without taking help of anyone. Moreover, we would really like to recommend you Tenorshare ReiBoot as it is one of best the professional iOS system repair software and works with high-quality giving great results without data loss. thanks for reading the article!
FAQs about iPhone Won't Connect to Wifi Incorrect Password
1. How do I manually connect to WiFi?
Go to Settings > Tap 'Network & internet' > Wi-Fi
Toggle on the Wifi option
Scroll down to tap 'Add network'.
Enter the SSID (the network name) and security details.
Save the settings.
2. Why is my WiFi working on everything but my phone?
If Wifi works normally on other devices but your phone, it's greatly possible that there's something wrong with your phone itself or its WiFi adapter. Try to restart your phone or reset the network settings.