How to Fix iOS 17/16 Photo Shuffle Not Working
by Jenefey Aaron Updated on 2023-07-21 / Update for iOS 16
Many significant features on lock screen have come with iOS 17/16. For example, the Photo Shuffle. With iOS 17/16, iPhone users can apply a group of photos that are continually changing as dynamic wallpapers. However, as with all new features, users have said that iOS 17/16 photo shuffle is not working.
Part 1: How to Use Photo Shuffle in iOS 17/16
For people who are new to iOS 17/16, their problem might be why Photo Shuffle not working, but how to use this feature. Besides, knowing how to use it correctly can also help prevent Photo Shuffle from not working. Here are a video tutorial and a step-by-step guide below:
Long press the lock screen and enter the iPhone passcode to eidt and customise wallpaper.
Swipe left and then tap the + icon, and then select Shuffle.
If Photo Shuffle is Processing for a long time, then tap on Choose Photos Manually. Choose the photos in album you want and tap on Add.

A preview of photos is shown here. To change the shuffle frequency, tap on the three-dot menu at the bottom.

Finally tap on Add. You will be shown how the photo looks on your screen.
Part 2: Why iOS 17/16 Photo Shuffle Not Working and How to Fix
As we have seen how to use Photo shuffle in iOS 17/16, now let's figure out the main question in this blog - why the photo shuffle is not working and how to fix the problem.
1. Wait for it to Process
By default, when you tap on the Photo shuffle option, it applies to all of your photos located in the iPhone. Since users can have thousands of photos, it takes a very long time to process and divide it into categories. When you see the "photo shuffle is processing" page, it is still working, just wait for it to finish.
2. Choose Photos Manually
If you do not want to wait as the photo shuffle is processing, then tap on choose photos manually. You can select the desired photos and add by yourselves, just like what we do in the first part.
3. Change Shuffle Frequency
Sometimes people have set the frequency to hourly or daily which leads to an impression that iOS 17/16 photo shuffle is not working. For scenarios like these, you can change the shuffle frequency to On Lock or On Tap.
4. Enable Show Featured Content
When you cannot see pictures in Photo Shuffle, check this out. The Photos app cannot analyze the images and generate categories if the Featured Content option is disabled. Here's how to make Featured Content available.
Open Settings on your iPhone and head to Photos.

Scroll down and look for Show Featured Content, toggle it on.
5. Restart iPhone
Still iOS 17/16 photo shuffle not working? Then restarting your iPhone is worth a try. It refreshes all of the processes and can fix small software glitch. To force restart iOS 17/16 devices:
Press and release the volume up button and then the colume down button.

Press and hold the power button until you see the Apple logo appear.
6. Reset All Settings
Resetting all the settings of your iPhone proves useful in fixing the iOS 17/16 photo shuffle not working problem. It reset all the settings to default but does not erase any data. Go to Settings > General > Transfer or Reset iPhone > Reset > Reset All Settings. Enter your iPhone passcode to complete.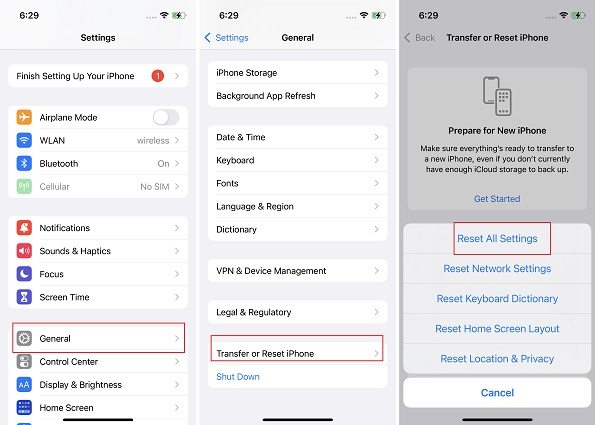 7. Factory Reset Your iPhone
You could also choose to factory reset your iPhone to solve this problem. However, this is associated with deleting all of your data and thus it is not a recommended method. In the Transfer or Reset iPhone page, select Erase All Contents and Settings.
8. Software Update
iOS 17/16 is still fairly new and has bugs here and there. Apple keeps releasing updates like the iOS 17/16.0.2, and iOS 17/16.1. Make sure your iPhone is up to date. It will help fix Photo Shuffle not work suddenly.
Part 3: How to Fix Photo Shuffle Not Working Caused By System Issues
If you have tried all of the techniques given above and still cannot fix iOS 17/16 Photo shuffle not working, then you can use Tenorshare ReiBoot to repair the system. More than this problem, ReiBoot can fix over 150 system issues like iOS 17/16 update failed, iPhone stuck on Apple logo, iOS lock screen not working, and etc.
Install ReiBoot on your computer and run it. Click Start to fix iOS system problems.

Connect your iPhone to the PC via a lightning-fast cable. Standard repair will easily fix this issue. Select it.

Now download the firmware package, which may takes a few minutes. Do not disconnect your iPhone during the process.

After that, click on Start Standard Repair. Once the repair is completed, your iPhone will restart automatically and your issues will be resolved.
Part 4: FAQs on Photo Shuffle on iPhone
1. How many pictures can you add on Photo Shuffle?
You can choose up to 50 different photos from the gallery for the Photo Shuffle.
2. Can you set Photo Shuffle on Home Screen?
No, you cannot set photo shuffle on home screen. The home screen wallpaper is a blurred-out version of the photo on your lock screen, and cannot be shuffled.
3. How to Shuffle photos in Photos App?
Besides the new photo shuffle in iOS 17/16 lock screen, you can create a slideshow to view a collection of photos you selects in Library of Photos app.
4. Is Depth Effect working with Photo Shuffle?
Yes, you can use the depth effect alongside with photo shuffle in iOS 17/16, which makes your lock screen wallpaper cooler and more colorful. All the images being used must be compatible with depth effect.
Summary
iOS 17/16 photo shuffle not working is a commonly said error, and the main issue lies in the process of setting up the wallpaper shuffle. And it cannot exclude the cause of iOS 17/16 system problems, which is recommended to be fixed by Tenorshare ReiBoot. All the reasons and how to solve them have been explained in great detail.