[Tutorial] How to Get iOS 17/16 on iPhone 6s in 2023
by Sophie Green Updated on 2023-09-13 / Update for iOS 17
Apple announces its new feature of iOS 17 in the iPhone. However, keeping the older gadgets up to date can take time and effort. As the innovation happens quickly, the iPhone 6 has reached its official end. You can not get the iOS 17 or 16 in your 8-year-old set.
But Don't worry! That does not mean it's time to say goodbye to your old sets. In this article, we will review how to get iOS 17 on iPhone 6s. We hope you find the best solution for updating your iPhone efficiently and effectively.
Part 1: Can iPhone 6S Get iOS 17/16 Update
The iPhone 6, released in 2015, is already eight years old. Apple's five-year support cycle means this item is now in the digital rearview mirror. As a result, it won't be able to bask in the grandeur of the next iOS miracle, like iOS 16 or 17.
Furthermore, These improvements remain tantalisingly out of reach for the iPhone 6, relegating it to technological obscurity. Nonetheless, it's a credit to Apple's enduring excellence that this ageing device still works, even if it lacks the most recent advances.
As the technological world advances, the iPhone 6 is a reminder of how quickly the digital landscape changes. Let's jump into part 2 to find out How to get iOS 17 on iPhone 6s and iPhone 6s Plus.
Part 2: How Can I Update My iPhone 6s to the Latest iOS
In this section, we will explore a step-by-step on how to update iPhone 6s Plus to iOS 17. But before delving into the steps, let us tell you Why we choose iOS 15.7.3 over iOS 16.
There is only one reason your device cannot run Apple's most recent operating system. Until recently, Apple has been upgrading iOS 15 with iOS 16 for all phones, which stopped in December with the release of iOS 15.7.2.
So, iOS 15.7.3 is designed for outdated iPhones that cannot run iOS 16. Furthermore, the update is only available for all the models of the iPhone 6s, iPhone SE (1st generation), iPhone 7 (all models), iPod touch (7th generation), and iPad mini (4th generation).
Moreover, If you have an outdated device, you should upgrade it promptly to iOS 15.7.3 to safeguard it from security issues.
So, To keep your iPhone secure. Go to Settings > General > Software Update and upgrade to iOS 15.7.3 to keep your iPhone safe. That's it!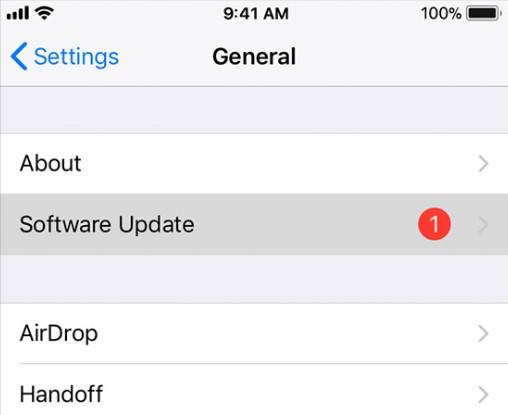 Part 3: When Can iPhone 6S Get iOS 17/16
Unluckily, iPhone 6S users can skip out on obtaining iOS 16 or 17 updates in the near future. Apple has stated that these upgrades will not be available for the iPhone 6S Plus, iPhone 6S, iPhone SE, iPhone 7 Plus, or iPhone 7.
The formal announcement by the firm emphasizes the natural march of technology, in which older models ultimately fall behind as breakthroughs arise. While this can help users of these gadgets, it serves as a reminder of how quickly the digital world advances, forcing us to stay updated or accept newer choices.
Bonut Tip: Quick Update Your iPhone to the Newest Version in 1-Click
Well, in this section, we will quickly overview the tips on how to update iPhone 6s Plus to iOS 17. Moreover, If you're having problems with your iPhone, iPad, or iPod, updating to the latest iPadOS or iOS system could fix them.
Tenorshare ReiBoot is a dependable utility for efficiently upgrading your iOS system. Plus, You must be assured that your Mac has been upgraded to the current version quickly and without system harm or risk of data loss.
Here's how to upgrade your iOS without breaking a sweat!
Launch the Reiboot on your Mac or PC and connect your iPhone to your computer. Furthermore, Click "iOS Upgrade/Downgrade" in the bottom left of the panel after the devices are connected.

Select "Upgrade" mode whether you are using the beta or final version. Plus, press the following button.

So, ReiBoot will automatically detect your iOS version and display the iOS firmware that can be upgraded. To get it, click the "Download" button.

When the firmware package gets installed into your computer, click 'Initiating Upgrade' to update iOS. Furthermore, Starting Upgrade will not erase your data. If you are sure, click the "Continue" button. Moreover, please refrain from disconnecting your device during the upgrade procedure as the program begins to update iOS.

Plus, you will see the completed page when the upgrade is finished, and your devices will be updated to the most recent version.
Conclusion
This article explores how to get iOS 17 on iPhone 6s and plus..Apple's iPhone 6s is not eligible for official iOS updates due to its advanced age. Upgrade to iOS 15.7.3 using Settings > General > Software Upgrade to protect your device.
However, the iPhone 6s, iPhone 6s Plus, iPhone SE, iPhone 7, and iPhone 7 will not receive iOS 17/16 support. Tenorshare ReiBoot can help resolve software-related issues by connecting your iPhone to a computer. If you have any iPhone-related questions, let us know in the comment section below.
Fix iPhone Stuck and Update Issues without Data Loss