Top Free WhatsApp Backup App for iPhone And Android
by Anna Sherry Updated on 2020-07-31 / Update for WhatsApp
When you have all the important information over WhatsApp, isn't it essential to keep the data protected by backing it up? But, for backing up WhatsApp data, what apps or tools you should choose? You can go for trusted applications, which are capable enough to backup your WhatsApp data without any complications. If you are unsure about what to choose and from where to find, we are here to help you along the way. Hold on to explore!
In this article, we have collated number of top WhatsApp backup apps, which would help you to great extent.
How Should the Best WhatsApp Backup App Be?
If you are wondering what is the right parameter for finalizing a WhatsApp backup app. Then, here is a quick walk through the features a good backup app should possess.
1. Limitless Data Backup Capability
Ensure that the tool you are considering to back up your WhatsApp doesn't have a restriction over the limit of data it can deal with. More the capacity, better the app!
2. Compatibility
Your device and the app must be compatible with each other. Else, your backup and restore exercise for WhatsApp will go futile.
3. Ensure free backup service
Some of the apps claim to be free, but the moment you backup and try to store the data, they will ask you to pay for it. Make sure you don't fall prey to them.
4. File types supported
With some WhatsApp backup apps, you get only chat backups sans any attachments (photos, videos, and documents). Choose one that can back up all of them.
Top Free WhatsApp Backup App for iPhone
In this part of the article, we are going to feature best WhatsApp backup apps for free made for iPhone. Have a look on the collection.
1. Tenorshare iCareFone WhatsApp Backup & Restore Tool
The first in the list of WhatsApp backup apps is Tenorshare iCareFone - Professional WhatsApp Backup and Restore Tool. This tool offers you selectively backing up WhatsApp data for free. You can easily backup data on your computer and restore to device selectively. Furthermore, it can fix numerous commom iOS issues such as update stuck, iOS performance, and iOS device data transfer issues to ensure successfully backup. Apart from that, you can read the backup data here.
Pros
It enhances iOS device performance.
No data loss during data recovery.
Number of times or amount of data for backup is not restricted.
Repairs various iOS issues.
Cons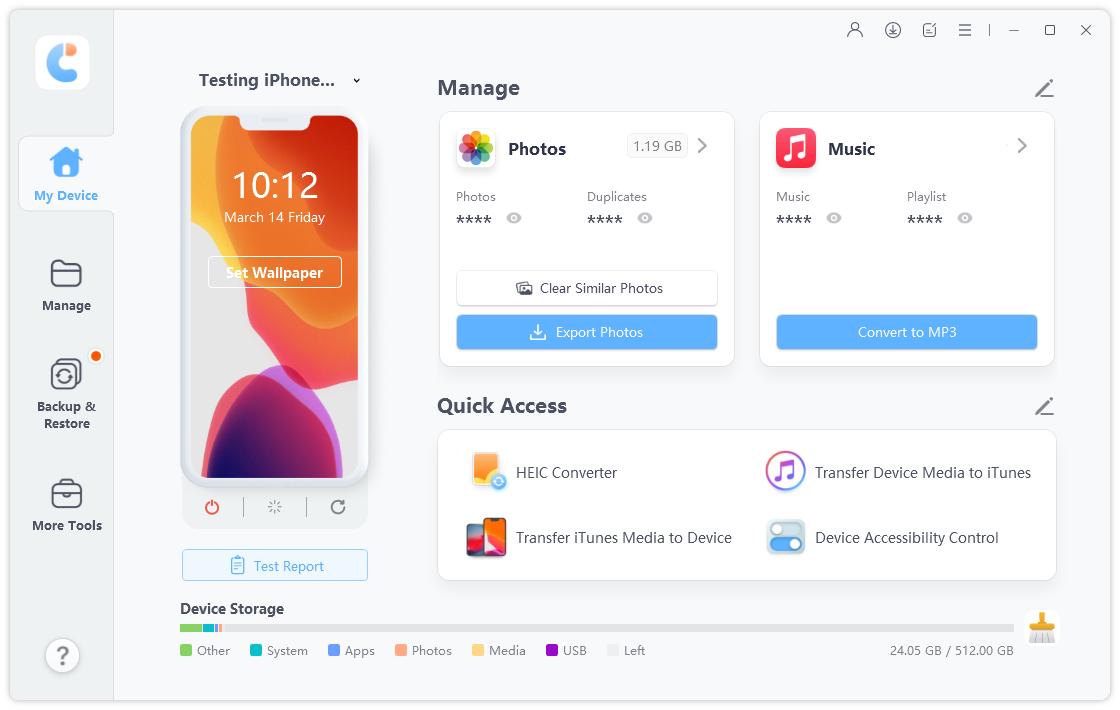 2. Backuptrans
You can transfer your WhatsApp to another iPhone or computer with this WhatsApp backup app. You can even restore the same to your iPhone.
Pros
Direct transfer of WhatsApp chat history between iPhones.
You can even print the recovered WhatsApp messages.
Cons
Not so intuitive.
Time consuming.
Complex interface.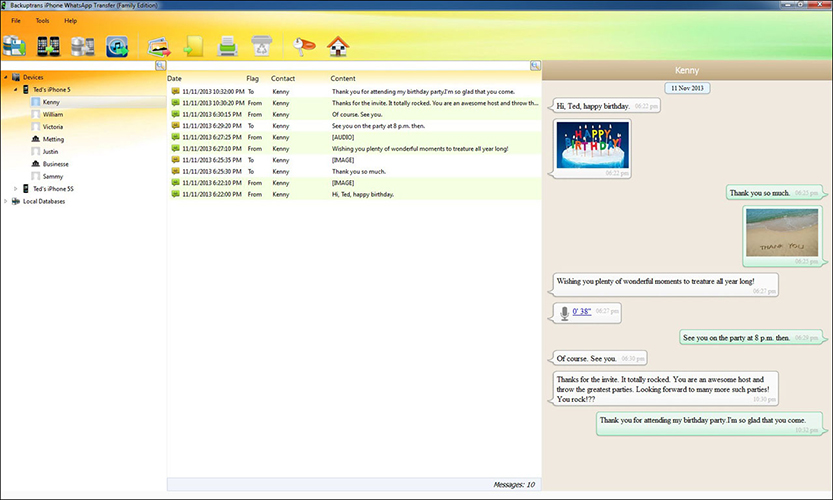 Top Free WhatsApp Backup App for Android
Here is the list of 5 free WhatsApp backup app for Android.
1. Backup for Whats
With this app, you can backup WhatsApp conversations, images, audio, video, and voice notes on Google Drive. You can restore the data on your new Android phone.
Pros
It compresses the backup data.
Cons
Some users reported that it backup up only media not WhatsApp chats for.
Uninstalling WhatsApp is required to restore this backup.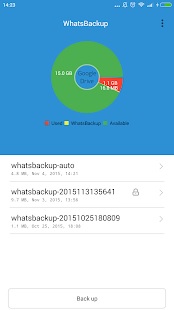 2. Super Backup & Restore
This WhatsApp backup app can backup and restore data on Android tools. It helps you backup contacts, apps, call history, text messages, calendars etc. to your Gmail, SD card or Google Drive. Installation APKs can be shared with others with a single click.
Pros
It creates apk setup file for the installed apps.
You can schedule automatic backup.
Cons
You need root access to carry out backup and restore.
App update is problematic post Android Pie update.
Apps keep crashing after getting this app.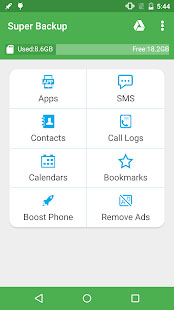 3. Backup & Restore
If you are wondering how to restore WhatsApp data on Android, then try Backup & Restore for once. This app can restore, auto backup and transfers your apps as well as personal data without any effective cost.
Pros
It can upload backup to Google Drive and download as well.
It supports batch restore, share and backup of data.
Cons
Some customers reported that it doesn't save app data properly.
It is unable to restore apps with latest version.
App crashes frequently.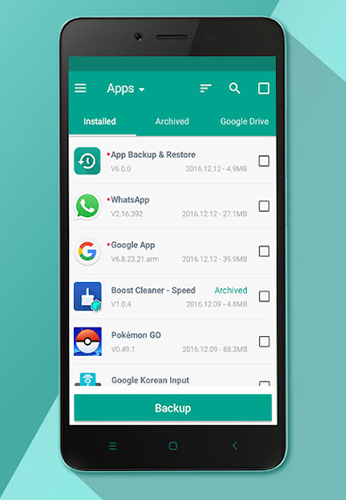 4. All Backup Restore
With this WhatsApp backup app, you can back up call logs, contacts, apps, SMA, calendar, browser history and lot more. You can restore the backed up data when you desire. Saving it on Google Drive is possible.
Pros
It displays the total free space and available space in your Android, at the top of the app.
Auto backup of apps supported.
Cons
Unappealing interface.
Failed incidents of CSV file recovery reported.
Backup is not properly restored in many cases.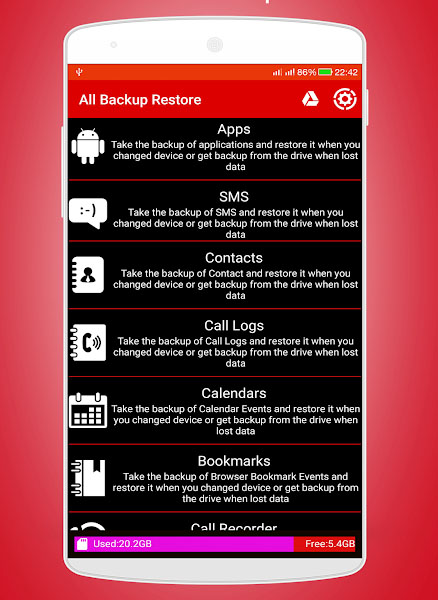 5. Backup Your Mobile
This WhatsApp backup app can back up plenty of things starting from apps, device data to Wi-Fi settings as well. The backup is stored on your mobile memory or SD card.
Pros
Can backup apps, system settings, MMS, contact, call logs etc.
Backup is encrypted.
Cons
Backup and restore of apps needs root access to device.
Restores only rooted Android devices.
Complex interface.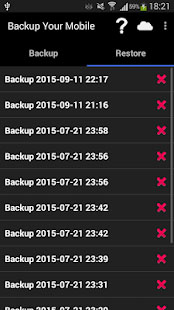 Conclusion
From the above article, it is prominent that Tenorshare iCareFone is the best WhatsApp backup app that can bring you the best results.