iTunes allows users to encrypt backups to protect personal information, and the password you created is essential to restore backup, therefore, problems also follow, such as users lost iTunes backup encryption password, cannot set a password in iTunes backup and so on.
In this article, we have listed 6 common iTunes backup password related problems and according solutions.
1.Forgot iTunes Encrypted Backup Password
First and foremost, most of people can't remember iTunes backup password to unlock a backup. After all, we don't always need to restore backup with iTunes.
However, the frustrating fact is that there is no way to restore backup if you lose or forgot the password, unless you resort to some professional tool like iPhone Backup Unlocker. With it, you can easily recover iPhone or iPad backup password.
Free Download
For Win 10/8.1/8/7/XP
Secure Download
Only 3 steps needed to decrypt iTunes backup password.
1.Install this handy tool on your PC and import a backup file you want to unlock.
2.Decide password attack type and settings.
3.Start decryption process and wait for cracked iTunes password.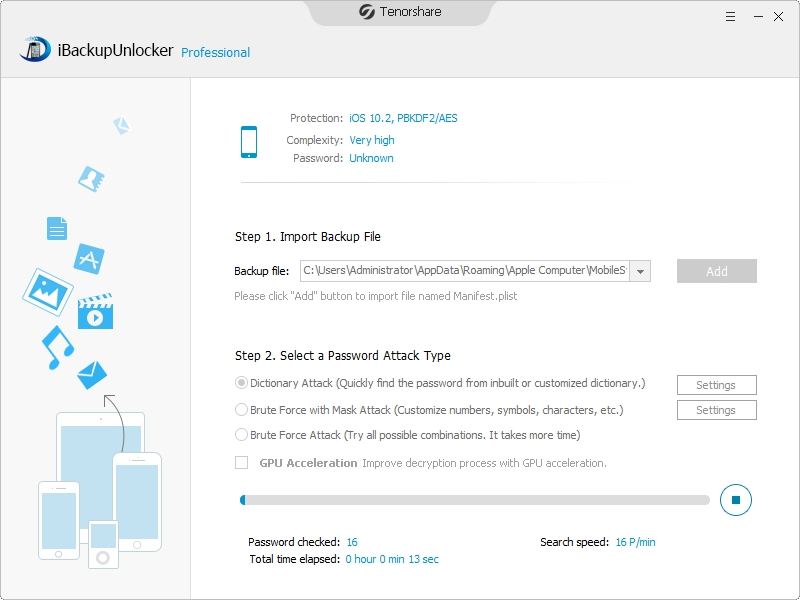 2.iTunes Keeps Asking for Backup Password that You Never Set
Some users reported that that never set a password for iTunes backup but iTunes won't stop asking for the password. 2 possible reasons can lead to this annoying situation. One is that you indeed checked Encrypt iPhone backup option and entered a password, but you totally forgot that. The other one is iTunes automatically set a password without permission.
Using iPhone Backup Unlocker above can fix this particular problem. Before using that, you might as well try below passwords first.
Windows login password
Apple ID password in all lowercase
iPhone/iPad 4 digit or 6 digit passcode
Default password 0000 or 123456
Mac root password
3.iTunes Backup Password Cannot Be Set
If you attempted to enable backup encryption in iTunes, but only to receive below error message:
"The password you entered to protect your iPhone backup could not be set. Please try again."

Here is a simple solution to fix iTunes encryption password could not be set.
1.Force quit iTunes.
2.Reconnect iPhone or iPad with original USB cable.
3.Click device icon and go to Summary.
4.Check Encrypt iPhone backup again.
5.Enter a password.
4.Cannot Turn Off Encrypt iPhone Backup in iTunes
To disable iTunes backup encryption, you just need to check the encryption option and enter the password. Of course, forgetting or losing the password cannot uncheck Encrypt iPhone backup in iTunes.
If you cannot recall your backup password, you have 3 options:
Use iPhone Backup Unlocker.
Restore backup from iCloud instead.

Erase your device and set it up as new. Then create a new backup in iTunes without encryption.
5.Encrypt iPhone Backup Option Greyed Out
This problem may be related that the profile installed on your iPhone/iPad. Deleting the profile may work it out.
1.Go to Settings > General > Profiles.
2.Tap the profile you want to remove.
3.Restart your iOS device after deleting.
4.Back up with iTunes as usual.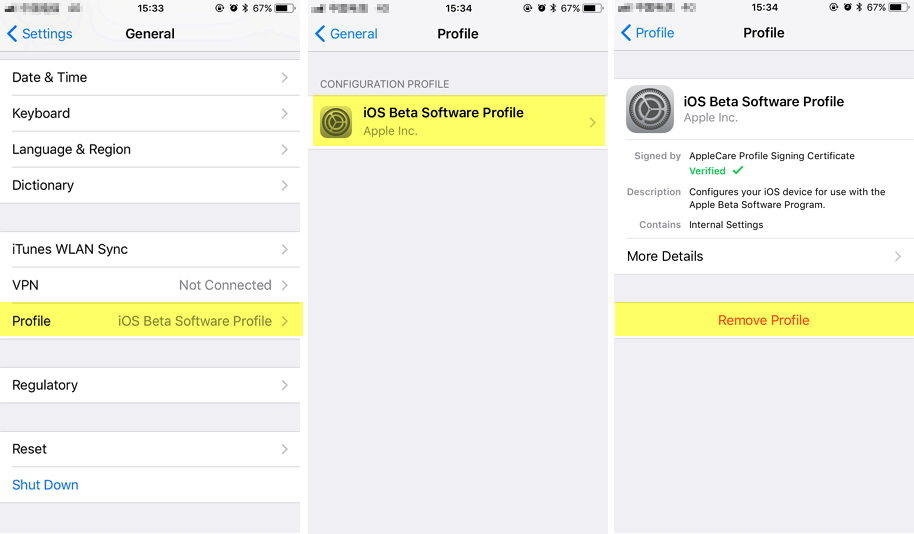 6.iTunes Encrypted Backup Password Not Working
Last but not least, you may find that iTunes backup password not working sometimes, and message like iTunes couldn't restore backup because password was incorrect will pop up.

If you cannot access backup file via the password, you may do the following:
Restart both your iTunes and computer then try again.
Use iPhone Backup Unlocker to reset iTunes backup password.
Try free Tenorshare TunesCare to refresh iTunes library files.
Bottom Line
Hope you can benefit after reading this post. Next time when encountering iTunes backup password issues, you are sure to know how to fix it.
Also read: How to Fix iPhone 8/8 Plus/X Can't Restore Backup from iTunes or iCloud?
Free Download
For Win 10/8.1/8/7/XP
Secure Download
Related Articles
comments powered by