"I need to restore my iPhone 7 with iTunes. The backup file was encrypted so I tried a few password sets commonly used by myself. However, none of them was correct. For my case, is it possible recover my iPhone with that password-locked iTunes backup file?"

-from iFixit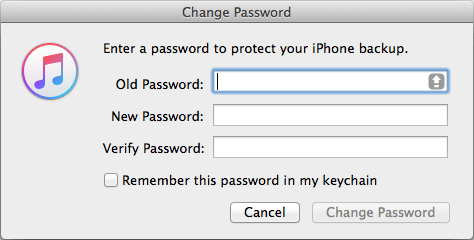 Have you ever lost iTunes backup password in iPhone/iPad/iPod like the user above? ITunes asks for a password to unlock a backup that you never set? Have you tried almost every password that you would ever use in your whole life but still figure out nothing? Perhaps most of the iTunes users encounter the similar issues. However, don't be too anxious about it! In this post, we display the tricks about how to recover iTunes backup password on Mac platform, including macOS Sierra, Mac OS X 10.11 EI Capitan, 10.10 Yosemite, 10.9, 10.8, 10.7, 10.6 and below in iPhone, iPad or iPod devices.
Note
: If you forgot the password to login to iTunes account (also called iTunes password) on Mac, you can click "Forgot" link and to reset the password on
Apple ID account page
.

Option 1. Try Possible Password to Unlock iTunes Backup Password on Mac
"Hi, yes there is a way to get the backup back if you forgot your password. Type in your apple ID password with NO CAPS, even if the ID password had caps. If you use caps it won't work. Type it in when it asks you for the encryption password and it will work. I didn't believe it either until I did it and it worked!"
There are still some parts of lucky persons who try all the possible passwords and eventually unlock their iTunes backup password. Alternatively, we can't ignore this stupid and easy tip.
What kinds of passwords can you attempt to unblock iTunes? Here is the summary:
1. Try 0000 as the password, for it is the default password at times.
2. Your iTunes Store or Apple ID password because this is the most regularly password to restore backup.
3. Try old iTunes backup password if you have changed it long time ago, because this might be a bug in iTunes.
4. Try 6-digit unlock passcode of your iOS device. For people who prefer to create the same password in different situations, just have a try!
Option 2. Create New iTunes Backup to Remove Old iTunes Backup Password on Mac
If unfortunately, the password you used in the past is forgotten, then you might as well try to get rid of that backup from iTunes and create a new backup from the same Apple device on Mac OS. At this time, do not enable the "Encrypt backup" menu in iTunes.  
Note: Although this is a method that some users suggest, you have to clearly know that the disadvantage is all the old backup will be disappeared. Therefore, think carefully before you act. Of course, if you can recover backup from iCloud, then my fear is superfluous.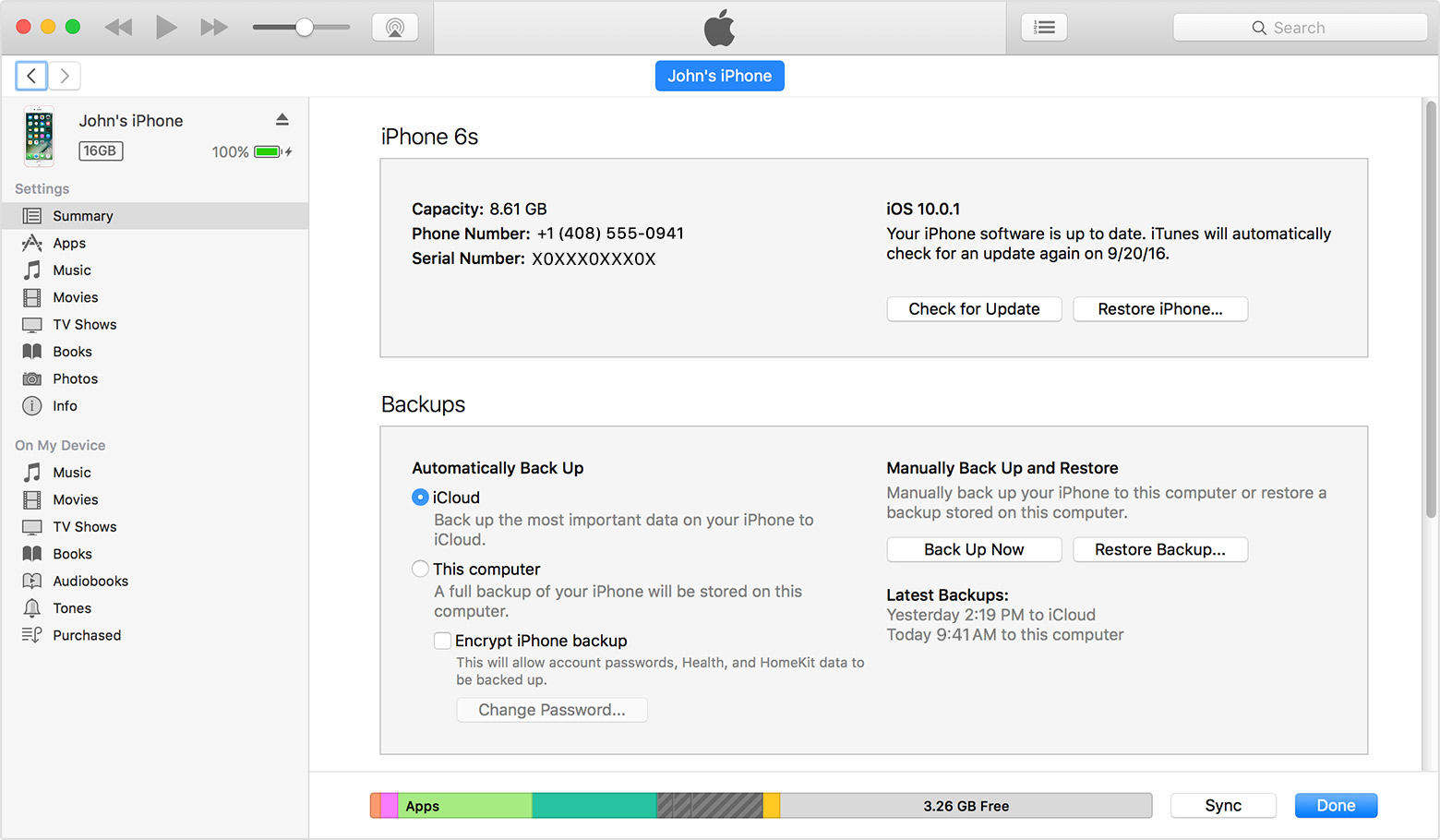 Option 3. Use KeyChain Access to Decrypt iTunes Backup Password on Mac
KeyChain Access is the built-in password manager in Mac OS X. It saves a multitude of passwords, vary from website, servers, email to iTunes backup, etc. If you have ever reset the password of iTunes backup and check the "Remember this password in my keychain" choice, it will be stored in Mac.
Just follow the guideline as below:
Step 1. Launch Mac computer and go to Finder > Applications >Utilities > KeyChain Access.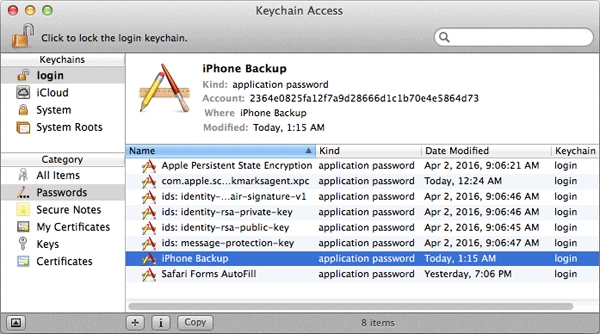 Step 2. On the top right of the window, in the Search dialog, type "iphone backup". In the search result, look for "iPhone Backup" and double-click it.

Step 3. At the bottom of the "iPhone Backup" dialogue box, click on "Show password" and save changes.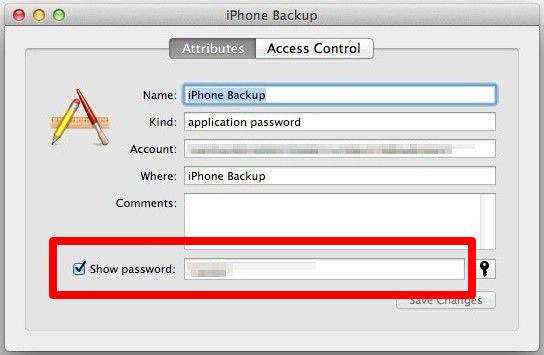 Step 4. It will then pop up a window prompt, "Keychain Access wants to use your confidential information stored in 'iPhone Backup' in your keychain. To allow this, enter the 'login' keychain password.". Tap in the administrator password of the Mac computer to allow this operation. You will get your iTunes backup password at the end.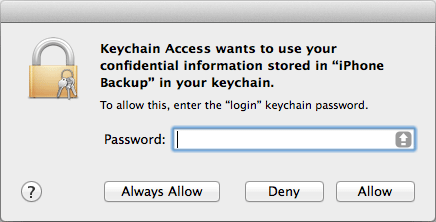 Option 4. Recover iTunes Backup Password with iPhone Backup Unlocker on Mac
It you have managed to attempt all the options and nothing works, it seems like you will have to make use of a third-party software, such as Tenorshare iPhone Backup Unlocker, which is based on other Apple community iOS users' suggestion. It supports most of the iPhone, iPad and iPod modes to retrieve iTunes backup password, especially iPhone 8/7s/7(Plus)/6s(Plus)/SE/6/5s/5c/5, etc.  
Note: This program supports to run in Windows so far, so you need to find out the backup file from Mac and copy it to a Windows PC.
Here is the timely working instruction:
1. To get started, download, install and launch iPhone Backup Unlocker (Standard/Professional) trial version or full version on Windows computer.
Free Download
For Win 10/8.1/8/7/XP
Secure Download
2.  Find out the iTunes backup location on Mac OS X. Easily press "Command + Shift + G" on the keyboard and copy the following path "~/Library/Application Support/MobileSync/Backup/" in the pop up window.

3.  Then just search and find out "Manifest.plist" backup file and remove backup file to the Windows PC.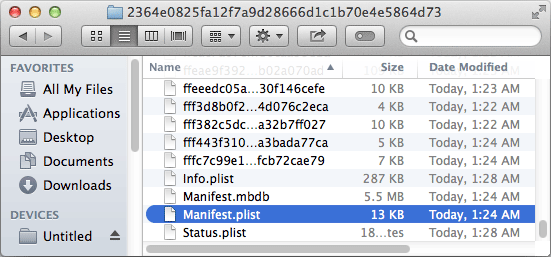 4. Back to the software, click "Add" button to insert the file moved from Mac to Windows.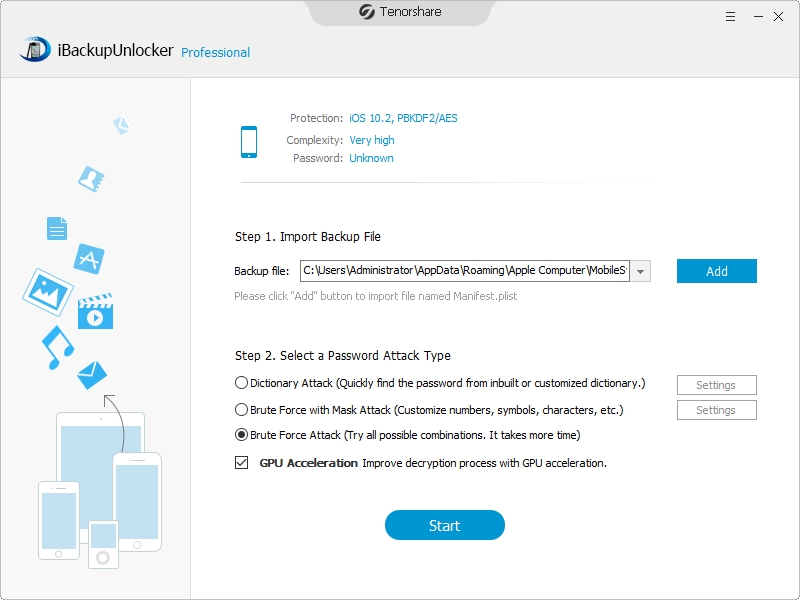 5. Choose a password attack type and click "Start" button, it will show your password soon. Finally, you can remove iTunes backup password forever if you think it is a disaster.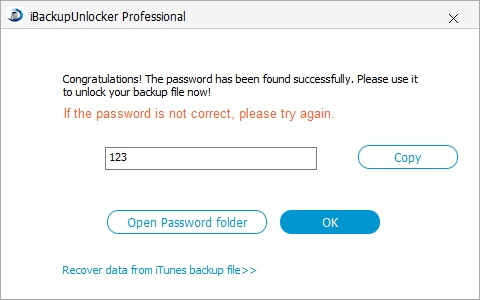 So those are all the ideas about how to recover iTunes backup password on Mac OS X. Enjoy everybody, I hope that I could help as much as I can. If you gain any other good methods to recover lost iPhone, iPad or iPod encrypted backup file password, inform me via comment.
Free Download
For Win 10/8.1/8/7/XP
Secure Download
Free Download
For macOS 10.13 and below
Secure Download
Related Articles
comments powered by