Top 6 Ways to Fix iPhone Contacts Disappeared
by Jenefey Aaron Updated on 2020-03-17 / Update for iPhone Recovery
Did you notice that some of your iPhone contacts have disappeared? This is actually a very common problem and although the causes may be varied, you should take heart in the fact that your iPhone contacts are not completely gone. Usually it is a simple setting that could be out sorts, causing you not to see your contacts on the iPhone.
If the contacts on your iPhone are no longer on the device, this article will share with you some of the reasons why and the possible solutions to fix contacts disappeared on iPhone XS/XS Max/XR/X/8/8 Plus/7/7 Plus/6S/6/SE/5s/5.
Part 1: Possible Reasons for Contacts Disappeared on iPhone
There are several reasons the contacts on your iPhone have disappeared, some of the most common ones include the following;
Accidental deletion
A jailbreak attempt that wasn't well executed.
Physical damage to the phone such as water damage
Restoring the device or syncing in iTunes
Changing the password on the email you use to sync contacts with
A malware attack
Part 2: 5 Ways to Fix iPhone Contacts Disappeared Randomly
The following are some of the solutions you can implement when your iPhone contacts disappear from the device;
1. Toggle Contacts in iCloud On/Off
If you have enabled iCloud to sync your iPhone contacts one way to get them back is to Toggle Contacts in iCloud on and then off. This will refresh the contacts putting them back on your device.
To do that go to Settings > Tap iCloud and then turn off Contacts. Wait a few seconds and turn it back on. When prompted, select "Delete from my iPhone" and your contacts should be back on the device.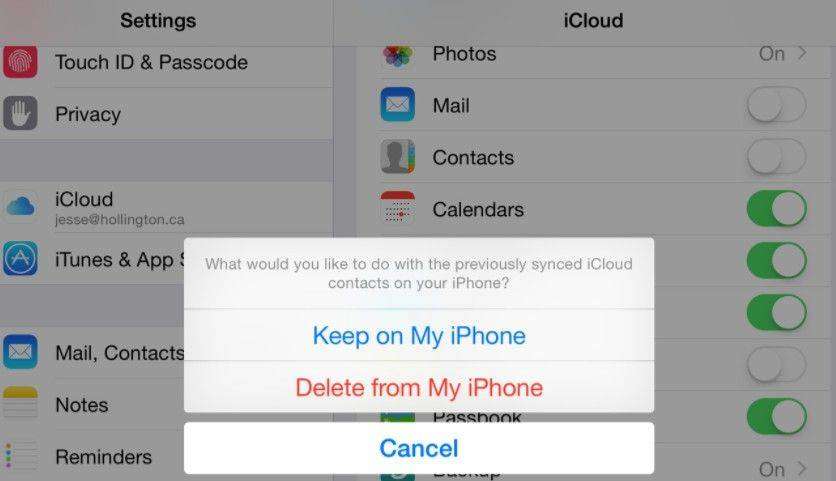 2. Choose "All on my iPhone" from Contacts Groups Settings
Step 1: Open the Contacts app and then click on "Groups" at the top.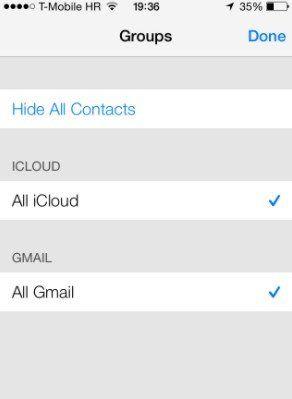 Step 2: Choose "All on my iPhone" instead if "All in iCloud."
Now check to see if the contacts are back.
3. Change Default Account Settings Back to iCloud
You should also consider changing the default account settings back to iCloud. Follow these simple steps to do that;
Step 1: Open settings on your iPhone and tap on "Mail, Contacts, Calendars." Tap in "Default Accounts" under contacts.
Step 3: Select "iCloud" as the default account.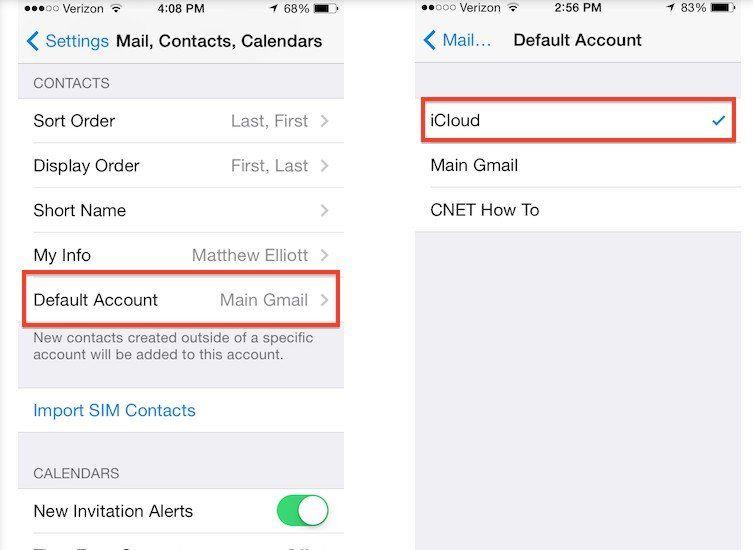 Note: This will not work for iOS 11 since the default account function in contact's setting is missing.
4. Reset the Network Connections
Resetting your network settings can also easily fix the problem. This is especially true if you sync your contacts with iCloud. To reset your network connections, follow these simple steps;
Step 1: Go to Settings > General > Reset> Reset Network Settings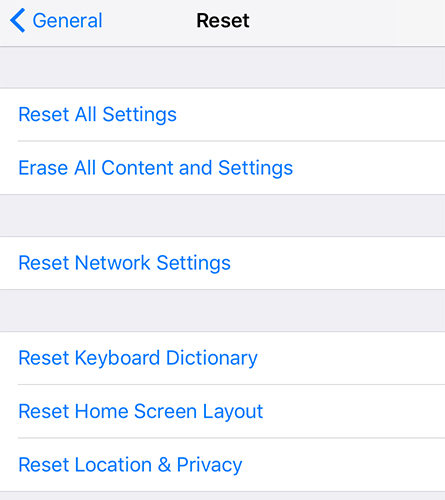 Step 2: When prompted, enter your passcode to confirm the selection.
Step 3: A warning message will appear on your screen telling you, this action will delete all your network settings. Tap on "Reset Network Settings" to continue.
5. Update the Password of the Mail that Synced with Contacts
Step 1: Open Settings on your iPhone and then go to "Mail, Contacts, Calendars".
Step 2: On the account with "Contacts" turned on, make sure that the password is updated. You can do that by simply clicking on it. If the password is not updated, the account will prompt you to "Re-enter password."
Step 3: Once you've reentered the password, the contacts should be back on your device.
Part 3: How to Recover Contacts Disappeared on iPhone?
If you've lost the data on your device because of accidental deletion or a damaged device, you can use a data recovery tool to recover them. Tenorshare UltData program is the ideal solution whether you have a backup or not. With this tool, you can easily recover any and all lost data from your iOS device and iTunes or iCloud backups.
Download and install Tenorshare iPhone Data Recovery on your computer and then follow these simple steps to recover your contacts.
Step 1: Connect the iPhone to the computer and wait for the program to detect it.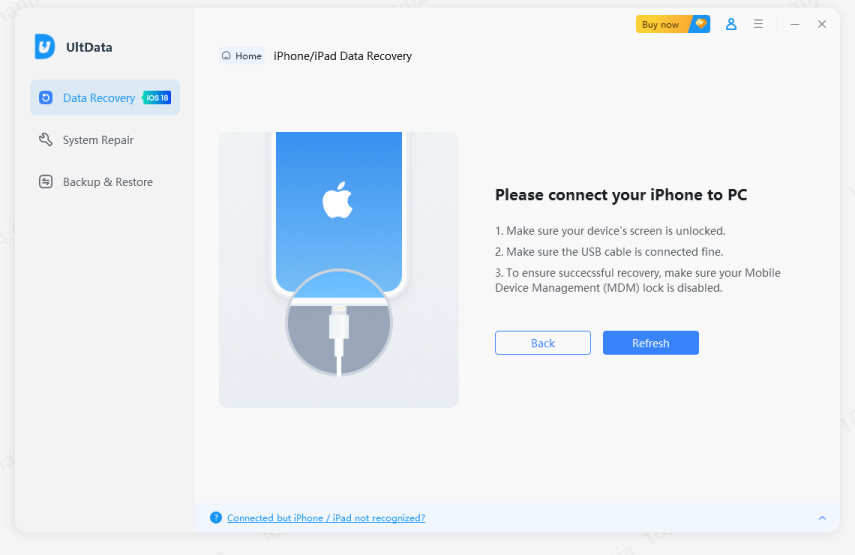 Step 2: Select the data you'd like to recover (in this case contacts) and click "Scan Now" to allow the program to begin scanning the device for the selected data.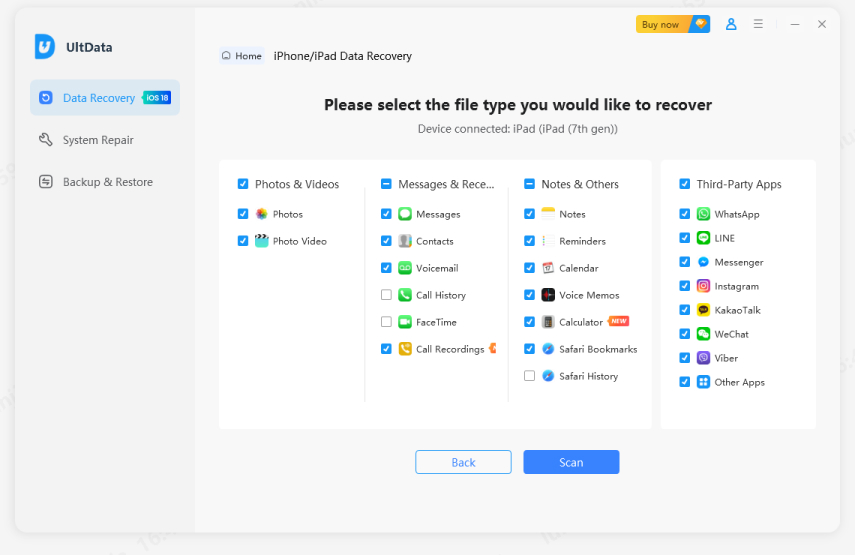 Step 3: Once the scan is complete, you should see a list of both available and deleted contacts on your device. Select the files you'd like to recover and then click on "Recover" to save those contacts to your computer.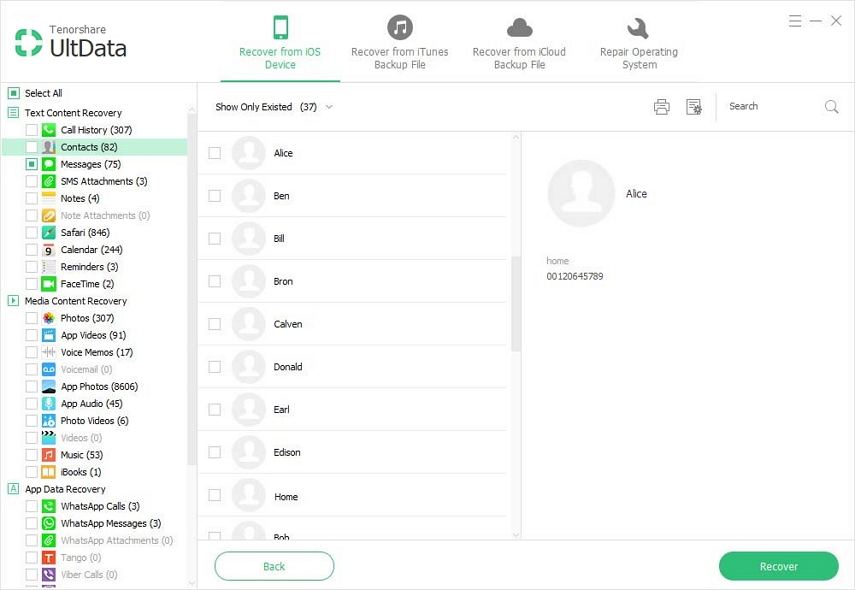 Summary
When iPhone contacts disappear from the device, you can easily get them back in one of the ways described above.