Shortcuts Not Working iPhone & iPad? Fixed [iOS 16 & iPhone 14]
by Anna Sherry Updated on 2022-09-05 / Update for iPhone Fix
A shortcut help you get things done more quickly and in a customized way. But every now and then the mooth Shortcuts app experiences bugs and crashes, like Siri in Shortcuts not responding. We have got a few tips and tricks for you to try and fix the Shortcuts not working iPhone problem.
Part 1: What is Shortcut on iPhone 14
Shortcuts app is built-in on iOS 13 and above. With this app, you can get tasks done with your other apps. They can be triggered manually. If you want any sort of event to complete automatically, automation is what you need. For example, reminding you when you receive an email, sending a text messages, playing a song, etc.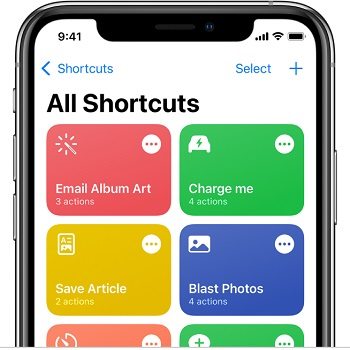 Part 2: Why My Shortcut is Not Working
There can be many reasons as to why your shortcuts app is not functioning properly. We have list some of them:
The most common reason is a new iOS update.
Low storage issues can cause iPhone shortcuts not working.
An outdated app version or improper settings also contributes to your problem.
There might be some software or system glitches with your iPhone 14.
Part 3: How to Fix Shortcuts Not Working iPhone
It's normal to have this problem. Now we will go over some things you can do to solve your shortcuts not working iPhone, so try all of them until your problem is resolved.
1. Recreate the Shortcuts
It may happen that the shortcuts you created when your iPhone 14 was running iOS 16/15 began to malfunction once you updated to iOS 15.3. You can try to solve this problem by recreating the shortcuts.
Launch the shortcuts app.

On the top right corner, tap on select and select the shortcuts that have problems, then tap on delete.

To recreate the shortcuts. On the top right corner, tap on the plus icon, and add the action again.
After that, the newly made shortcut will appear on the main menu. Try it again to see if your issue has been solved.
2. Re-enable the Automation
Automation is also a type of shortcuts. As for iPhone 14 automation not working, you also need to re-enable or recreate them. All you have to do is:
Open Shortcuts app. In the lower tab, look for Automation.

Select the automation that is not working, and look at the toggle that says Enable This Automation. Turn it off then turn it back on again.

If you want to delete the automation, just swipe left and you will see the delete option.
3. Restart the Device
Restarting your device gives it sufficient time to get things back on track. This is by far the most basic solution that solves many apps not working problems. So if the Shortcuts is not working on iPhone 14, restart your iphone.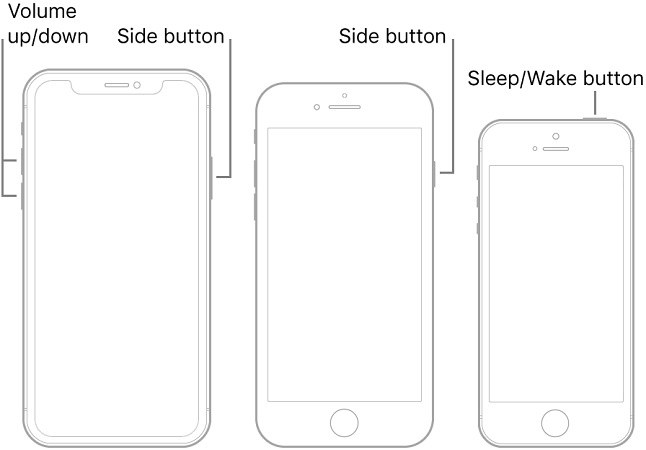 4. Reset All Settings
As you need to set multiple actions related to several app, there might be something wrong with your phone's Settings that cause iPhone shortcuts not working. So just reset all settings on your iPhone 14. This only puts all settings back to default and you do not lose data of any sort.
Go to Settings > General > Transfer or Reset iPhone 14.

Tap on Reset > Reset All Settings. Enter your passcode to finish it.
5. Use ReiBoot to Fix System Problems
Tenorshare ReiBoot is the best problem fixer for iPhone 14. It can repair more than 150 iPhone system problems. If restarting devices can not solve solve your iPhone shortcuts not working problem, this software can help you in the least possible time.
Download and install ReiBoot on your computer. Connect your iPhone 14 using the USB cable and click on Start to begin.

On the next screen, select Standard Repair (no data loss). If this mode is not working, then you can select deep repair next time again.

You have to now download the firmware package, which means after repairing, your iPhone 14 will also update to the latest iOS version.

Then start the standard repair. In a few minutes, your iPhone 14 will reboot automatically and your issues will be resolved.
Related Read: Reminder app not working on iPhone/iPad
6. Ask Apple for Help
If you cannot solve problems on your own, it only makes sense to contact the support team in the first place. Report the bugs to Apple so they make take some sort of action.
Part 4: FAQs on Shortcuts iPhone 14
No.1 How to Create an Automation?
Open shortcuts app, tap on Automation, choose Create Personal Automation or Set Up Your Home. Then select the events and actions you want. At last, tap on Done to finish.
No.2 How to Use Same shortcuts on other iOS Devices?
You do not need to set the same shortcuts repeatedly on different iOS devices, just make sure you are logged in with the same iCloud ID on the devices you want to share the shortcuts with.
Conclusion
In a nutshell, shortcuts are a way to save time and efforts when it comes to doing monotonous tasks. However, like any software, they can run into a problem. There are many ways to resolve iPhone shortcuts not working problem. For the ultimate way, try Tenorshare ReiBoot.
Fix iPhone Stuck Issues without Data Loss