Come to Download the 2023 Latest UltData Crack Version [+ Users Guide]
by Anna Sherry Updated on 2022-01-25 / Update for iOS Data Recovery
You must have been attracted by the "cracked" and "free" versions at some point, right? Now this article will give you a surprise gift on how to download Tenorshare UltData crack.
Go ahead!
Part 1: How to Get the Latest UltData Crack Version
When comes to the UltData crack version, we may think of some apk or crack app download sites:
ProCrackerz
Ezcrack
Files4PC
Yes, they surely offer UltData crack versions. However, ProCrackerz website is not actively used by the owner. In addition to this, its owner is hiding his identity. Similar to ProCrackerz, the owner of Ezcrack is hiding his identity as well and this website does not have many visitors.
The version they offer is very old and even cannot be used. The Tenorshare UltData crack version 9.4.8.3 on their sites is an old version of Tenorshare UltData. So the UltData registration codes of this version on their websites are also not valid.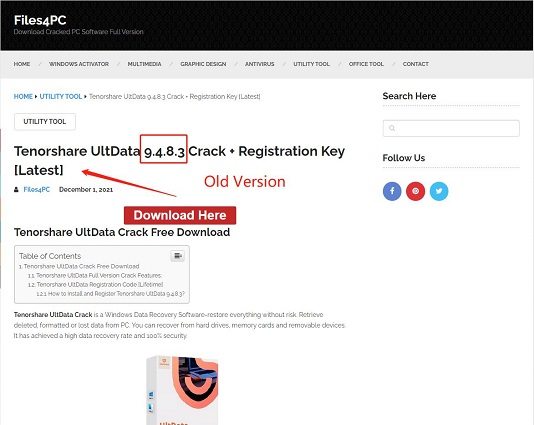 Do not trust the "free UltData Key or free UltData registration code and email " anymore. Why? The official UltData key can only be used on one computer because it will detect the PC that users used to sign in for the first time. So users cannot use the license key on the second computer.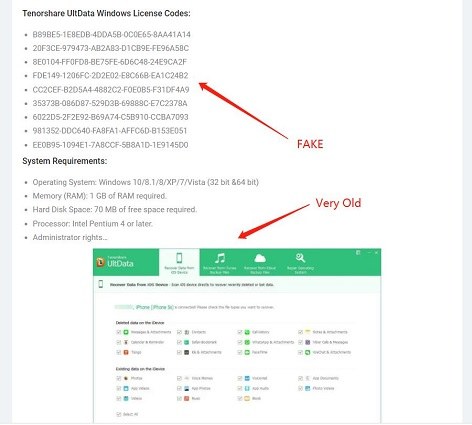 Moreover, the information on their sites is wrong. For example, they mixed up UltData and UltData for Android. And Now the UltData interface has already changed.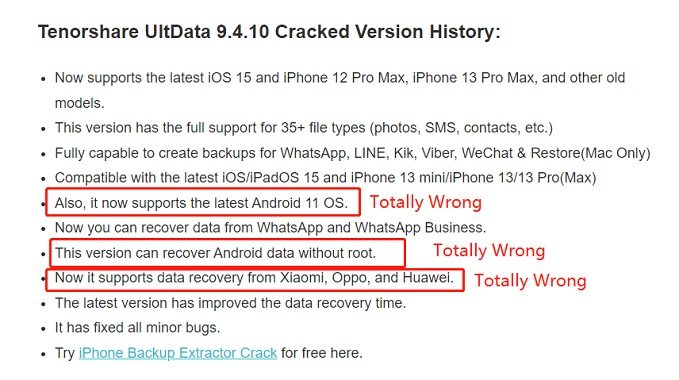 Part 2: The Right Place to Download the latest UltData Free Version
If you download Tenorshare UltData from a fake website, there is a high risk of privacy leaks and computer viruses might get into your PC. We often receive complaints from users that UltData has brought viruses to their computers, but in the end, it turns out that they have downloaded cracked versions, not official versions.
By the way, we've tested that the data recovery rate of UltData crack version is much lower than the official one.
So the only 100% safe and reliable method is to download the Tenorshare UltData iOS crack-free version from the official Tenorshare website. It's free to download and you can also enjoy some free features: scan and preview the deleted data from iOS device, iCloud or iTunes backup.
Don't hesitate any longer. Click the button below. You will find it is different from the cracked version.
Part 3: Key Features of UltData (+ Free Features)
Want to know the difference between Tenorshare UltData iOS Crack and the official version? We give you an introduction. You can easily find it hard to get a clear picture of UltData's main features from the cracked version download site. Now, let's show you what UltData can do for you.
Recover data(contacts, photos, video, music, WhatsApp Data, etc.) from an iOS device (It's free for users to preview the deleted data.).
Recover data such as photos and contacts from iCloud (it's free for users to preview its deleted data).
Restore data from iTunes backup without overwriting your device's current data (It's free for users to preview all the iTunes backup).
Backup and restore social app data (It's free for users to backup all the supported social apps such as WhatsApp, Viber LINE, Viber, WeChat and Kik.).
Repair iOS system issues such as iPhone stuck or boot loop.
Part 4: How to Use UltData to Recover iOS Data
We have noticed that almost all UltData crack download sites don't even provide a user guide. Here, we show you a detailed guide on how to use UltData. Before that, make sure you have downloaded UltData from the official website, if not, just click the button below.
Install and run UltData on the computer. Select "recover data from iOS device". Or you can also choose Recover Data from iCloud or Recover Data from iTunes Backup as you need.

Ensure that your iPad, iPhone or iPod is turned on. Then connect your device with the Mac or computer using a USB cable. Your device will be detected automatically if it is trusted and connected to the computer.

After the device is detected by the software, you have to choose what you need to recover and scan. You can also select all data and then select "Scan" to continue.

Now all the files will appear on the screen according to the category. Then choose "Show only deleted" or "Show all" for recovering your data. Choose the lost or deleted data for saving time.

Check the files that you need and choose to recover. Now, these recovered files can be viewed on your computer and you can import those files to your iPhone.
Conclusion
In a word, the Tenorshare UltData crack version from other websites is really risky. Many websites offer the UltData crack version that is a scam and it infects your computer.
Therefore, you should download Tenorshare UltData crack version from this article or the Tenorshare official website.