[Solved] Wifi Calling Not Working on iPhone after iOS 16/17 Update
by Jenefey Aaron Updated on 2023-07-21 / Update for iOS 12
Wi-Fi calling on my iPhone 11 Pro Max with Verizon has not worked for the last 10-days. Anyone else having this issue or suggestions for a fix? Running ios 16. Thanks!"
The iOS 16 has come with many new updates making the experience of using iPhone more interesting. However, it also brings some unwanted issues! People recently faced iOS Wi-Fi calling problems and were concerned about the same. If you are one of them who are dealing with "iPhone Wi-Fi calling not working iOS 16" issue, we are here. This problem evades the users from making any calls via Wi-Fi connection. In the below article, we will discuss all the possible solutions that will help solve Wi-Fi calling not working iPhone on iOS 16. It also works for the latest iOS 17.
Solution 1: Turn on and off Airplane Mode
Turning on and off Airplane mode for a couple of times may help you with "Wi-Fi calling not working" issue. Airplane mode helps to turn off all the possible connectivity options that are the reason for your issue. This might probably solve your issue. To turn on Airplane mode, go to Settings >> Airplane Mode. Slide the slider to turn on Airplane mode and after few minutes turn it off again by sliding the slider.

Solution 2: Turn off Mobile Data
By simply turning off the iPhone's mobile data connection, your device will automatically go for Wi-Fi connection. Wi-Fi connection is any time recommended than mobile data connection owing to the speed. Hence avoid using mobile data connection while making a Wi-Fi call. To turn off mobile data connection, you can either go to the control center and tap the network icon, wait for some time and then tap again on the network icon. Another method to turn off mobile data is to go to Settings >> Cellular button. Now simply toggle the button of cellular data; wait for some time and again toggle button.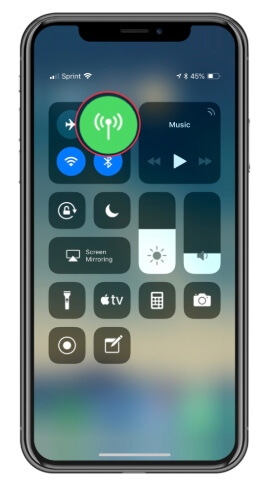 Solution 3: Reset Network Settings
Another method to solve "iOS 17/16/15 Wi-Fi calling not working" issue is to reset network settings entirely. By resetting the network settings, will can turn on the personal hotspot. To reset network settings, navigate to Settings >> General >> Reset >> Reset Network Settings. With this, not only the setting of personal hotspot will be reset but also the Wi-Fi networks, cellular settings as well as passwords and APN & VPN settings will be reset.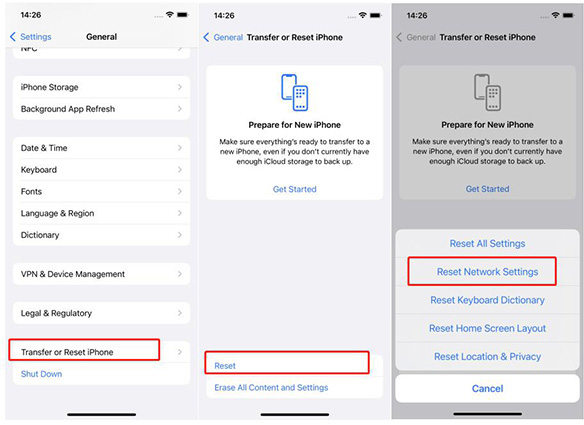 Solution 4: Update Subscriber Settings
Another method to solve "Wi-Fi calling option not showing" issue is to try updating your iPhone's subscriber settings. However, take a note that this method is useful for sprint subscribers only. With the phone feature that is present on your iPhone, tap on phone icon and simply dial the number ##25327#. Now wait for some time till the process starts. Your iPhone's signal will be lost entirely for some time (few minutes) and will again return. After this, the Wi-Fi logo can be seen in your iPhone's status bar when the update is finished.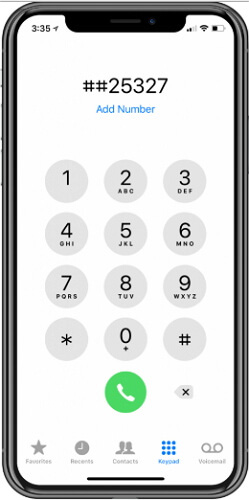 Solution 5: Update Carrier Settings
If you still feel something is not right, you have to verify if there are any updates for carrier released to know how to fix Wfi calling not working issue. In such cases, your iPhone may not function in a proper way in case the carrier has any update released for the purpose of network upgradation; thus, inthis situation your iPhone is not updated. For updating the carrier settings, go to Settings >> General >> About. You will get a message asking to install the update for new carrier. When the downloading of this new update is done, simply restart your iPhone just to ensure that the installation process of all updates is done properly.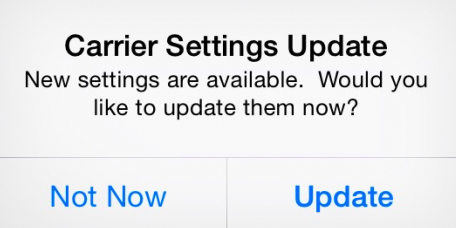 Solution 6: Fix Wifi Calling Not Working Without Data Loss
If all the above-discussed methods do not help you to solve your "Wifi calling not working" issue, you will now need a third-party help to get rid of the issue. iOS Fix Tool ReiBoot is a third-party tool that will aid you in solving any types of problems related to iOS. The tool will no doubt help you solve all kinds of iOS-stuck problems along with the Wifi calling issue of iOS 17/16/15 and with no data loss at all. The tool has proven to be of great help to get rid of any type of problem in only a single click. Follow below guide to get your problem solved.
Download and install this program and then follow the steps below to fix all iOS update problems on iPhone/iPad quickly and completely.

Run the tool and next connect your iPhone to the PC. Tap on the option "Repair Operating System" present on the main interface window.

The latest firmware package is necessary for further process. Hence, you will require to download the most recent firmware package. Simply click on download option to start the downloading of firmware package.

Once the download is done, you have to choose the option "Start Repair" so as to initiate the recovery process of your device.
Wrap-Up
In the above article, we have discussed the best and the simple ways to deal with Wifi Calling Not Working iOS 16/15 on iPhone/iPad issue. Hope one of the solutions helped you solve your problem in an easy and comfortable way. Repairing iOS system using ReiBoot can be used as the last resort if none of the other methods fix this problem. This system recovery tool aims to fix all iOS problems with simple clicks, and it won't lead to a bite of data loss in your device.