iCloud Photo Upload Stuck? Check What You Can Do Now
by Jenefey Aaron Updated on 2021-09-25 / Update for iCloud Tips
Imagine you're uploading items to your iCloud and noticed it got stuck on 60%, what would you do? Will you wait or restart your device? Before you take action on the uploading items to iCloud stuck iPhone problem, take a moment to read this article.
Part 1. The Frequently Asked: Why iCloud Upload Photo Stuck for So Long?
iCloud is a vital part of every iOS device. Its capacity to help users backup and synchronize their data made it a must-have app. Although this app was well-designed, iOS device users still have reasons to complain about its functionality. Many users experience delays while uploading their pictures to iCloud. Such an encounter has led a lot of these people to ask a question like Why is my iCloud upload taking so long.
Honestly speaking, the answer to this question is broad. If you've also been finding a way to resolve iCloud upload stucks issue, kindly jump to the next section of this guide for further information.
Part 2. How to Solve When iCloud Upload Stuck?
There are several actions to take in order to overcome the iCloud upload stuck problem. Some of the most proven actions you can take are discussed below:
Way 1: Check If Your Internet is Well Connected
Are you sure that your device is connected to the internet? iCloud need a good internet connection to work. If your phone isn't connected, then the photo upload won't be completed.Follow the steps below to find out the internet connection status on your device.
Step 1 : From the home screen, select the Settings app.
Step 2 : Choose Cellular. Then, check if the cellular data is on or off.
Step 3 : If it's off, kindly switch it on.
That's how to solve icloud photo upload stuck with an internet connection.
Way 2: Force Restart iOS Device to Fix iCloud Upload Stuck
If you're still experiencing uploading items to icloud stuck iphone , you can consider a force restart on your device. You can do the restart by following the procedures below:
Step 1 : Quickly press the release the volume up button.
Step 2 : Quickly press the release the volume down button.
Step 3 : Press and hold the Power button (on the other side) until you see the Apple logo.
Step 4 : Enter your passcode at startup.
Way 3: Turn Off Low Power Mode to Solve
The power consumption rate on your device can cause photos uploading to iCloud stuck issue.You will need to work on the power mode of your device to solve this issue. Some steps to follow include:
Step 1 : Go to Settings
Step 2 : Then click on Control Center > Customize Controls.
Step 3 : Select Low Power Mode to remove it from Control Center.
A straightforward approach involves going to Settings > Battery.Thereafter, toggle the button in front of the low power. That's it. You've turned off the power mode on your device.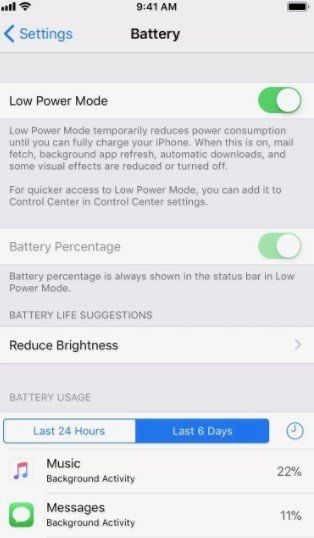 Way 4: Disable and Then Re-enable iCloud Photo Library
Why iCloud photo library stuck uploading issue is occurring on your device could be because there is a bug within your iCloud photo library. Try re-enabling the library to fix this issue. The procedures to consider include the following :
Step 1 : Go to Settings > [your name] > iCloud > Photos.

Step 2 : Turn on iCloud Photo Library.

Note: In iOS 10.2 or earlier,you will need to go to Settings > iCloud > Photos.
Way 5: Delete Backups and Turn off iCloud Backup
If your iCloud storage space is full, chances are that you will encounter iPhone photo upload stuck problem.Deleting some of your back up files can assist you to overcome the challenge. Procedures to follow include:
Step 1 : Open Settings app on your iPad or iPhone
Step 2 : Now, tap on Apple ID placed at the top of the Settings app
Step 3 : Head to iCloud
Step 4 : Under iCloud, tap on Manage Storage option
Step 5 : Now, tap on Backup
Step 6 : Choose the device for which you want to delete the backup
Step 7 : Tap the Delete Backup button at the bottom.
Step 8 : Tap Turn Off & Delete option
Way 6: Perform a Factory Reset with ReiBoot
Factory reset is the best way to fix the iCloud upload stuck.If you can use Tenorshare ReiBoot,you will easily do the factory reset. This software has a free 1-Click to Enter/Exit Recovery Mode functionality. Once you click on it, you will swiftly be taken to the right place to reset your device.Reiboot is also well known for repairing 150+ iOS/iPadOS/tvOS system problems. Note that the app is fully compatible with the latest iPhone 13/13 Pro & the latest iOS 15.
To use the software for factory reset, kindly follow the steps below:
Download and install Tenorshare ReiBoot on your PC or Mac. Select "Fix All iOS Problems".

Hit on "Fix Now" and read the instructions on the screen.

Now you neeed to download the firmware.

You can click "Repair Now" and wait for the repairing process.

Finally, the repair process is completed and now check if iCloud is showing the storage details or not.
Part 3. Is There Any Alternative?Free to Backup Your iPhone with iCareFone
If you've faced a lot of hassle while trying to back up your files on iPhone, you need to start considering using some third-party app. An app like iCareFone - Free iOS Backup Tool can help you back up your files easily. It's quite an efficient way of uploading files to iCloud. It's free to use. This app can also selectively back up and restore all of your data. Over the years, it's been considered the best app iOS users utilizes for their back up job.
To use this app for your back up process, kindly follow the procedures below:
Just go to the software official website to download the software. Then launch and choose "Backup and Restore".

Create a connection between your device and the PC. And choose the file you want to backup.

Start to back up your files. Simply click the "Backup" tab to initiate the back up process.
FAQs about iCloud Uploading File
Q1. Why is iCloud not Uplaoding Files?
It could be because there is no network connection on your device. Also, the issue can be as a result of full memory on your device.
Q2. How long does it take for files to upload to iCloud?
It takes minutes to upload files to Icloud.
Q3. How do you stop an iCloud upload?
You can do this by hitting on the stop button.
Summary
iCloud upload stuck? When you next time come into this issue, you can read this article for detailed fixes. Especially, if you come across iOS system issue, then Tenorshare ReiBoot is not a bad idea for you to get it resolved. Or if you want to find a quicker way to remove backup your iPhone, then iCareFone is perfect for you.