Top 6 Ways to Fix Apple Watch Stuck on Apple Logo in 2023
by Jenefey Aaron Updated on 2023-06-27 / Update for Applewatch Tips
My apple watch is stuck on the apple logo, I attempted a hard reset several times. It is still stuck on the logo. It has disappeared from the app on my phone and I cannot repair since it won't turn on."

-- From discussions.apple.com
"Why is my Apple Watch stuck on THE Apple logo?" and "What do i do if my Apple Watch is stuck on the Apple logo" are two questions asked a lot in Apple community. Don't worry! Here, we will introduce best effective solutions to help you out. Furthermore, iPhone stuck on Apple logo is the frequent problem iPhone users will meet, Tenorshare Reiboot will be showed on how to deal with this issue.
Part 1: Why Is My Apple Watch Stuck on the Apple Logo
The problem that Apple Watch hangs on apple logo may be caused by hardware or software issues. The electronic products always are so sensitive, we can list some possible reasons why Apple Watch only shows Apple logo here.
Software Reason:
Watch iOS update. iOS update might bring in some bugs. This will lead your Apple Watch stuck at Apple logo.
Software update. Software update has some problems which can cause Apple Watch only shows Apple logo.
Hardware Reasons:
Dust, broken screen or water damange are three reasons that will lead to Appl Watch stuck at Apple logo.
Part 2: How to Fix Apple Watch is Stuck on the Apple Logo with Top 6 Ways
We listed some possible reasons above, and we are here to bring 6 effective solutions to solve the problem that Apple Watch only shows apple logo.
Way 1: Force Restart Your Apple Watch to Fix Apple Logo Stuck
In most cases, force restart Apple watch to solve the problem of apple watch stuck on logo is the first method which comes to our mind. Go with us to try if it can solve your issues.
Find side button and digital crown on Apple Watch
Press and Hold on the side button and digital crown at the same time at least 15 seconds until Apple logo disappear and appear again.
Leave the Apple Watch alone about 1 min. You will find Apple logo disappearing and apple watch stuck at logo is solved successfully.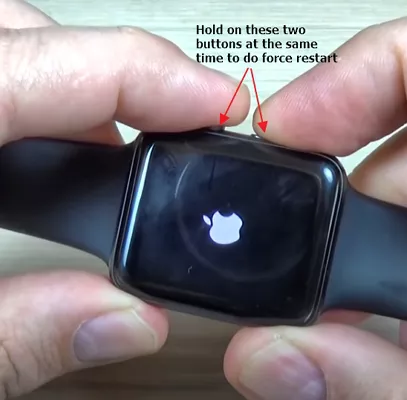 In fact, Force restart can only solve some Apply Watch Apple logo stuck problems. That is why there are so many users still searching for a solution. If force restart cannot work for you, try the following methods.
Way 2: Using Ring Apple Watch to Deal with Apple Watch Stuck at Logo
If your Apple Watch is connected with iPhone, using the method of ring Apple Watch to wake your Apple Watch up is a great path to bypass the problem that Apple Watch has Apple with circle around it. Check steps below on how to fix apple watch stuck on apple logo with circle
Find "Watch" app on your iPhone, tap on your Apple Watch with the problem of Apple logo stuck
Go to click "i" icon behind your Apple watch name, select "Find My Apple Watch".
Make a hit on "Play Sound", wait about 20 seconds, the Apple Watch will ring and the apple logo on Apple Watch will disappear. If you do not hear sound from Apple Watch, you can try to tap on "Play Sound" again.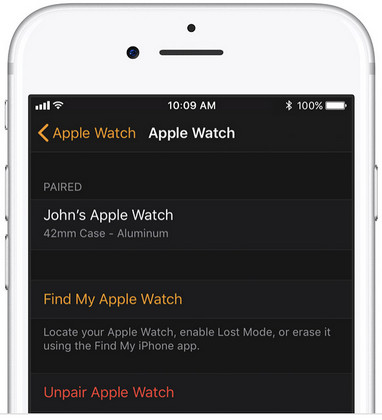 If the Apple logo is gone on Apple Watch after you try force restart or wake it up via above two methods, but the screen is still black. You may be in Screen Curtain or Voice Over Mode. You can try below way to restore Apple watch Apple logo stuck.
Way 3: Exit Screen Curtain/Voice Over Mode to Solve Apple Watch Stuck on Apple Screen
To exit Screen Curtain or Voicel Over mode, do the following:
Open the Apple Watch app on your iPhone and Tap General > Accessibility > Voice Over and switch Screen Curtain off and switch VoiceOver off.
Come back to Apple Watch to look if it is still black or not.

Way 4: Update Apple Watch OS for Apple Watch Just Showing Apple Logo

If you try above three methods, but Apple Watch still has Apple with circle around it or you already solve the problem sucessfully with above methods, but the same problem comes out from time to time, now, updating your device to the latest OS version may be an effetive way to deal with it. Here's how you can update Apple Watch.

Before starting to update your Apple Watch OS, make sure your Apple Watch is with at least 50% charge and keep your iPhone and Apple Watch to its charger during updating process.
Open the Watch app on your iPhone.
Go to "My watch" > "General" option.
Click "Software Update" and download the OS.
It will ask Apple passcode or iPhone passcode for confirmation. Your download starts and the Watch OS will get updated after several minutes or maybe an hour.

50% iwatch stuck on Apple logo issues can be figured out with software update. If you still has the problem, test below solution.

Way 5: Hard Reset Apple Watch if Apple Watch Stuck on Apple Logo After Update

If your Apple Watch is encountering deeper software problem which cannot be solved with software update only, try to erase all content and setting on your device. Here's how you can reset Apple Watch.

Open Watch app in iPhone, tap General -> Reset -> Erase All Apple Watch Content and Settings->Erase All Contents and Settings.
Enter the passcode if it prompts and then confirm the operation by pressing "Erase All".
The issue "Apple Watch displays Apple logo only" can be dealed with.

Way 6: Hardware Damage Results in iWatch Stuck on Apple Logo

If you have tried all the methods above, but your Apple Watch still gets stuck on Apple logo screen, there might be some potential hardware damage. You are not recommended to repair the hardware by yourself. Go to the Apple Store to get it repaired.
Extra Tips: Fix iPhone Stuck on Apple Logo without Data Loss
Tenorshare ReiBoot, the best iOS repair software can fix all kinds of iOS problems, including iOS devices stuck on Apple logo or iPhone won't turn on. What's more, it is also a free iPhone recovery mode tool that can enter and exit recovery mode free by just 1-click. Simply follow steps below to learn how to repair iOS system to solve iPhone stuck on Apple logo problem:
Run Tenorshare ReiBoot after installation. Connect your iPhone to Mac/Win via USB and Tenorshare ReiBoot will recognize your device automatically.

Click "Start" and then you'll get into the repairing page, press "Standard Repair" to go on.

Click "Download" button to start downloading the firmware package before system repair.

Once the firmware package is downloaded successfully, click "Start Standard Repair" to repair your iPhone. After repairing, your iPhone will restart normally.

It takes about 10 mins, then the repair process will be finished and your iPhone will restart normally. After setting your iPhone via following its steps, you can use it normally and the problem is solved.
FAQs About Apple Watch Problems
Q1: Why is my Apple Watch stuck on the Apple logo?
If your Apple Watch is stuck on Apple logo, it may be caused by OS Update, Apple Watch with dust, broken screen, water damage etc.
Q2: How do I get Apple watch off Apple screen?
You can try hard reset, ring Apple Watch, OS update, reset Apple Watch to solve this problem. These methods are only useful if it is the problem of system or software. If your Apple watch has hardware problem, it is better to contact with Apple support to get help.
Q3: How do I fix an unresponsive Apple Watch screen?
The first solution is to force restart your Apple Watch with holding on digital crown and side button at the same time to solve this issue. If it does not work, you can try to update OS via clicking Swatch app on iPhone, Going to My Watch, Tapping on General, Select Software Update to download latest OS.
Q4: Apple Watch stuck on apple logo even after hard reset?
If your Apple Watch is stuck on the Apple logo even after hard reset, try the following steps. First, force restart it by holding the side button and Digital Crown together for about 10 seconds until you see the Apple logo. If that doesn't work, ensure the watch has enough charge by connecting it to a charger for at least 30 minutes and then attempt the restart again. If the issue persists, unpair the watch from your iPhone using the Apple Watch app and then re-pair it. If none of these steps resolve the problem, contact Apple Support or visit an Apple Store for further assistance. They can provide specific guidance based on your Apple Watch model and software version.
Summary
Hope these tips can help you fix the issue that Apple Watch wont charge flashes Apple. And ReiBoot is recommended if you run into the issue of iPhone stuck in Apple logo. Moreover, it can deal with blue/white/black screen, frozen screen, iOS update stuck etc.
Fix iPhone Stuck and Update Issues without Data Loss