How to Recover Data from A Soft/Hard Bricked Android?
by Anna Sherry Updated on 2022-10-20 / Update for Android Recovery
"How do I recover data from my soft-bricked Android device?" A user from quora had asked this question. If you want to know the same, we are going to share a few instant solutions for you here.
No matter how powerful a device you own, it can misbehave due to some internal problems. Soft bricking is one of the common problems that occur because of some system error in your device. Many smartphone users have no idea about it and as a result, they lose access to all their phone data. That's why we have come up with this guide to recover data from bricked Android phones.
Part 1: What is A Soft Bricked/Hard Bricked Android Phone? What Does It Mean?
A bricked phone refers to a condition in which a phone never turns on or boots improperly. This happens when the operating system of the phone corrupts. As a result, your phone turns useless and is called bricked. It can be differentiated into two types:
Soft Brick: In soft brick, your phone may switch on but will not be able to perform any other functions. In most situations, a soft-bricked phone shows the following cases:
Boot into the recovery mode
Stuck at boot screen or boot loop
Showing white or black screen of death
Hard Brick: Hard brick can arise in rare and uncertain cases. No matter how hard you try, there is no chance to switch on a hard-bricked phone. Consequently, such phones become useless. Unfortunately, nothing can help you then to recover data from a hard bricked phone.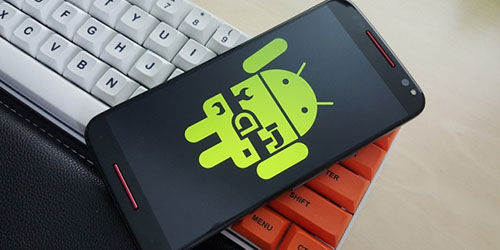 Part 2: How to Fix A Bricked Android Phone
As we shared, a bricked Android phone is difficult to be dealt with if you are lacking basic technical knowledge. So, most smartphone users end up losing the hope of recovering data. But feel glad because you can fix it using some effective ways. Click to know how to fix a bricked Android phone.
Part 3: How to Retrieve Data from A Soft/Hard Bricked Android Phone?
Retrieving data from a soft or hard-bricked Android phone is a complex process. But that doesn't mean you can't do so. All you need to do is pick the right tool. Nowadays, an abundance of data retrieval tools is available to recover data from bricked phones. If you need one, go for the Tenorshare UltData for Android. It comes pre-equipped with several data recovery capabilities including the retrieval of deleted photos, WhatsApp messages, contacts, and much more.
Features:
Support data recovery for more than 8000 Android phones and tablets such as Samsung, Huawei, Xiaomi, Oppo, and more
Compatible with the models running on Android 12 OS
Delivers 100% success rate
Can restore all your WhatsApp chats and Media
Recovers your lost WeChat messages and other relevant details
Allow you to download and check the WhatsApp backup from Google Drive
How to recover data using UltData for Android? Go through these steps to retrieve data from bricked phone easily:
Download and install UltData for Android on your PC/Mac. Run it and select "Recover lost data" from its home interface. After choosing, you need to connect your Android device using a USB cable.

As soon as your device connects, a notification will pop up on it displaying "USB Debugging".

You can also follow the on-screen instructions to enable USB debugging. However, you have to authorize your device by pressing "Ok" when "Allow USB Debugging" messages show on your device screen.

When your device is connected to the system, the program screen will appear as follows. Here, you have to select the file types that you wish to recover. After that, just click "Start" to scan your device. The program will begin extracting your device information and install a Connector app to your phone. It will help in digging deeper and getting more data from your device. Click "Allow" when it shows up on your phone.

When the scanning stops, you can discover the files as a list so that you can choose and preview any of them and restore them. Tick the ones you want to restore and hit the "recover" button. This will start storing all the lost files on your PC.
Part 4: What Cause A Soft/Hard Bricked Phone? How to Avoid It?
There can be several reasons that lead to a bricked phone. Some of the common reasons include:
Interruption during updating the firmware like battery discharge issue
Inappropriately rooting your device
Installing an unsupported custom ROM
Downloading a virus-infected software
Physical damage to the hardware or water damage
We have already shared the solutions to manage your bricked phone and recover data from it. But do you know the exact reason why it happens? What if in the future you face the same issue and will have to recover the data again? To avoid this, you need to be careful and take certain precautions as follows:
Always install a supportable custom ROM along with a custom recovery so that you can restore the device to its original form
Download software only from trusted websites
Get a basic understanding of the ADB commands
Keep a backup of your device
Make sure your battery is functioning and fully charge before you start updating the firmware
Conclusion
Don't give up, and don't throw the phone away! We have already answered your question "Can you recover data from a bricked phone?"
So, hopefully, this post has given you a better idea of which solution will work best for your particular Android problem. While there is no 100% foolproof way to completely recover data from a bricked device, we found that the UltData for Android utility from Tenorshare often allows access to the majority of your bricked phone data. If your device has been completely bricked and does not even display a boot logo or the Android splash screen, the Tenorshare UltData for Android can still be useful in recovering some of your critical data. You can download it on your macOS or Windows device from the official website.
Best WhatsApp Recovery Software on Android without Root
Recover deleted WhatsApp Messages on Samsung, Huawei, Xiaomi, OPPO without root;
Recover photos, contacts, messages, videos and everything you lost;
Preview individual file before data recovery;
Support with most Android phones and tablets;