6 Ways to Fix Contacts Not Showing up on iPhone XS Max
by Jenefey Aaron Updated on 2020-03-06 / Update for iPhone XS
I have heard of this problem when I was using my old iPhone but it happened to me when after I bought the iPhone XS Max. Some of the names on my Contact stopped showing and even when they are calling, only the number is visible and not the name.
Seems like there are a lot of problems with the newer models of iPhones, and if your iPhone XS Max does not display contacts then don't panic. It is terrible that after buying the new iPhone you are having trouble to view Contacts but some of the most effective fixes are discussed below; it will help you to fix the problem.
Part 1: Why iPhone XS Max Not Displaying Contacts
There are a few possible reasons, why your new iPhone XS Max is unable to display the Contacts; you will find them below:
1. Group Visibility
Group Visibility is a feature of the Contacts app. It basically is a feature which can show or hide certain contacts of any group. Enter the Contacts app and hit "Groups". You can just check off "All on My iPhone" to get all your contacts right on your iPhone's memory. All of us have our cloud accounts linked to our iPhones, such as Gmail/iCloud. These accounts will also be visible the group lists. You can change the visibility of each group. Tap it to make it appear and uncheck the group, to hide.
2. Syncing Errors
Most probably you are going through some syncing errors. The iCloud syncing error or Error 77 means that your data is not syncing properly with the iCloud account. When this is happening, you will have trouble accessing some of the files that are linked to iCloud. Usually, this problem fixes itself after a few hours. So, you can either wait for it to get fixed or you can do it yourself.
3. Cloud Settings
If the iCloud Contacts sync troubling you then you will have a problem viewing the Contacts. Sometimes the data sync creates the problem. So, you can just go to the settings of iCloud and fix the problem. Inaccurate passwords, settings or even screen names can cause iPhone to cloud account syncing problems. You can check your cloud account in Groups inside the Contacts app to make it visible.
4. Software Glitches
There are various glitches with the iOS that can cause this certain problem. If iOS itself is filled with glitches then it will also affect the Contacts. In this cases you will be unable to see the whole contact list, even if you receive calls, only the numbers will be visible. You may have to restore the iOS system completely to get it fixed. But make sure you back up the device beforehand and then go for the restore. Restore and reinstall software and then restore the latest backup and you will be good to go!
Part 2: How to Fix contacts not showing on iPhone
If contacts not showing on iPhone XS Max then there are a few effective solutions you can implement that will fix the problem for good and you will be able to view Contacts again like the way it should. All the procedures are discussed below in details. Read carefully.
1. Enable Contacts Syncing in iCloud
First, you need to check if Contacts are syncing with the iCloud account properly. If not then check and activate the Contacts sync with iCloud. Here's how to do it:
Step 1: Go to Settings and enter iCloud menu.
Step 2: Then, just enable Contacts. Or disable and enable again.
Done! The Contacts will now be synced with iCloud and your problem should be fixed.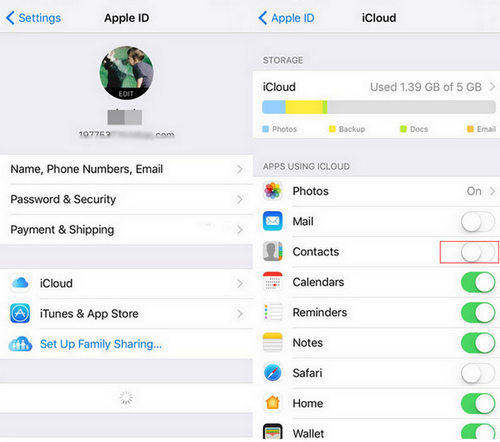 2. Enable the "Show All Contacts" Option
If you are particularly having trouble to view some of the contacts from the list then you can enable the "Show All Contacts" feature, it might fix the situation.
Step 1: Go to the Contacts on your iPhone. Then, tap on Groups.
Step 2: Now, you need to activate "All on My iPhone", do not hit "Hide All iCloud".
Quite an effective method! If you are unable to see some of the names on the Contacts then you will be able to see them, now.
3. Sign out of iCloud and Sign in
If you are unable to view Contacts, and if you are using iCloud Contacts sync you can just sign in and out of your iCloud account. Doing a simple troubleshoot like this, may change some things. So:
Step 1: Open your iPhone and go to Settings.
Step 2: Tap on your Name, then scroll down the menu and tap Sign Out.
Step 3: The, you need to enter your Apple ID and then tap Turn Off.
Step 4: Then, tap Sign Out and then tap it again to confirm the command.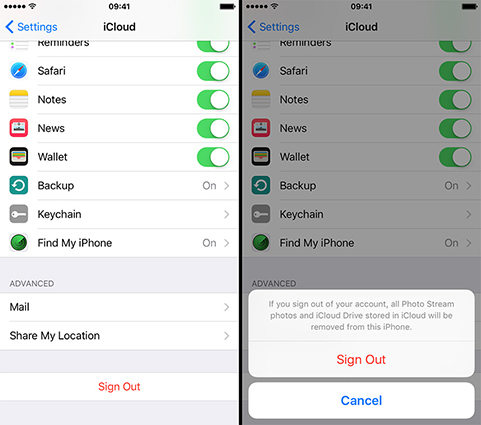 Now, you have signed out of your iCloud account, if you want to sign in again then just simply provide the necessary ID and password and your account will be ready again.
4. Update iPhone Software
If saved contacts not showing on iPhone, and none of the solutions are working then you can try updating the iOS! Sometimes if there is a glitch, updating the iOS can fix the problem. So, you can update the software 3 ways, by OTA/iTunes or a third party software.
Step 1: Connect the iPhone to the charger and turn on the switch.
Step 2: Backup everything that's important to you, as updating the iOS will erase everything.
Step 3: Now, you can connect the iOS to the Wi-Fi network and initiate the procedure.
Step 4: So, go to the Settings of your iPhone and tap on "Software Updates"; iOS will start searching for available updates.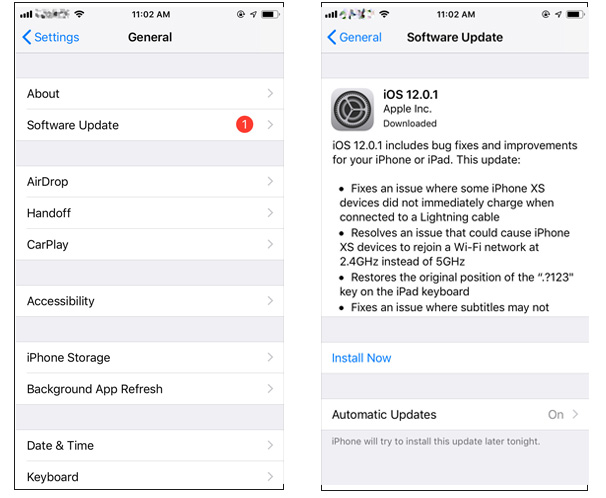 Step 5: If anything is available you will see the "Download and Install" option, tap on it to download the update.
Step 6: After the download is complete, you will see the "Install" option, tap on it!
The update will be installed at the background of your iPhone. After the installation is complete the device will reboot and you will possibly be able to see all your Contacts again.
5. Force Restart iPhone
If contact names not showing up on iPhone then simply restart the device. If you restart the device then the minor glitch that was affecting the Contacts menu could get fixe. It is very simple to restart an iPhone but if it is not responding then you have to make a Force Restart.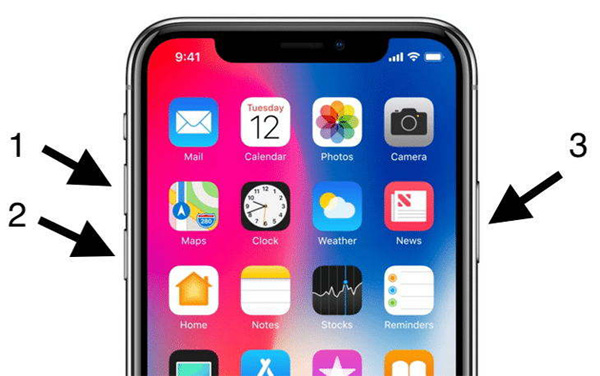 6. Reset All Settings on iPhone
If restarting the iPhone is not working then reset the settings. Although you have to set up everything on the device again it may fix the problem.
Step 1: Open your iPhone XS and go to Settings.
Step 2: Then, go to "General" and hit "Reset".
Step 3: Now, tap "Reset All Settings" option, you may have to enter the passcode.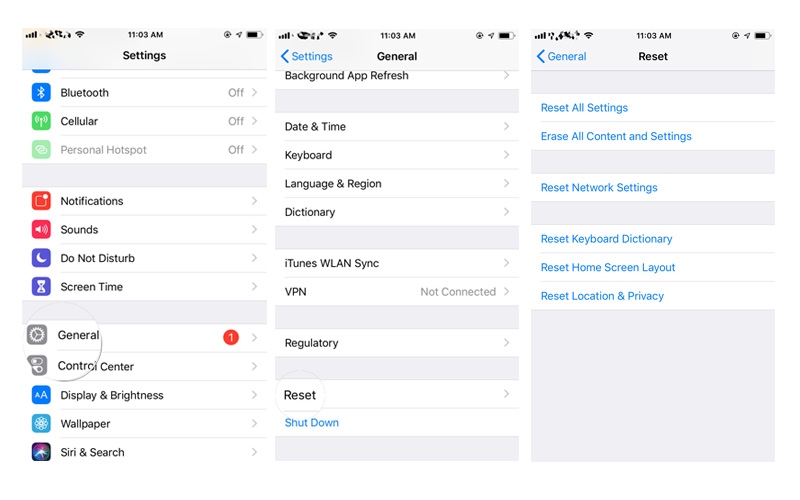 After you enter the passcode the iPhone will reset all the settings and you will probably be able to view Contacts again.
It is a very common problem with the new iPhone models, and a lot of users are troubled by this. If you are facing such a problem, you can use the fixes discussed above to view the Contacts again.
Fix iPhone Stuck and Update Issues without Data Loss