Windows 10 Backup Options: The Best Way to Backup Windows 10
by Anna Sherry Updated on 2020-01-14 / Update for Data Backup
Generally, we would backup our files in 3 places: a working copy on your internal hard drive, a local backup that you can access straight away, and a remote backup that keeps your files safe offsite. But there are efficient ways to make those backups. These backups will be more secure and easier to access.
There are Windows 10 backup options available, like File History. It is a built-in backup option implemented by the developer. Quite easy to handle and effective. But you can use other better ways to make a local backup of your files that will be within the reach of your hands. One of the best options is Tenorshare Data Backup. This program can easily help you create a local backup. But it is not the only available option, there are also 4 other backup services for Windows10 we would like you to know. All the details are provided below.
Option 1. Using Free Windows 10 Backup Software
Although there are several ways available to backup Windows 10 files, even you have the built-in File History system. But a professional Windows 10 backup program can be better used to manually or automatically back up the important data on your computer hard drive to somewhere safe like a disc, flash drive, network drive, etc.
What We Like
Flexiable options to backup data more conveniently.
Support various storage media types, better automation and scheduling.
Data restore is very quick and simple.
The security is very high.
Highly customizable
What We Don't Like
No Cloud Backups.
Some software may cost money for advanced features.
Tenorshare Free Data Backup is such a free program, designed to backup Windows files effectively, with ease. Here are some of its top features. The software lets you backup your computer data, clone your hard drives, and restore your data from any of your backups at any time. It comes with a bunch of features as the following:
Easily backups Windows system.
Create a full backup of your PC including app data.
Capable of cloning an entire hard disk.
It can backup and partition your computer and convert it to an image file.
Data restore is very quick and simple.
Free to use.
Basically, Tenorshare Data Backup is the easiest and best way to backup Windows 10. The procedure implemented by the program is also very convenient for the users. Let's have a look.
Step 1 Download and install the said program on your computer. There are several options available on the program interface. Here we take Disk to Image for example.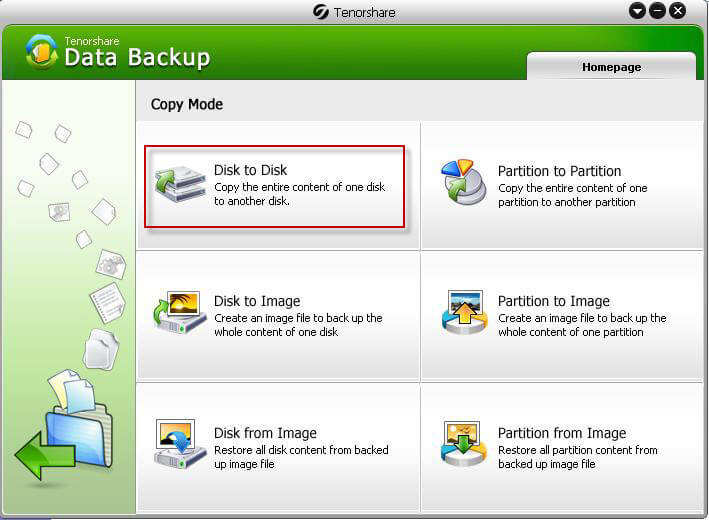 Step 2 Now, you have to choose the disk you want to backup and click on Next button to proceed.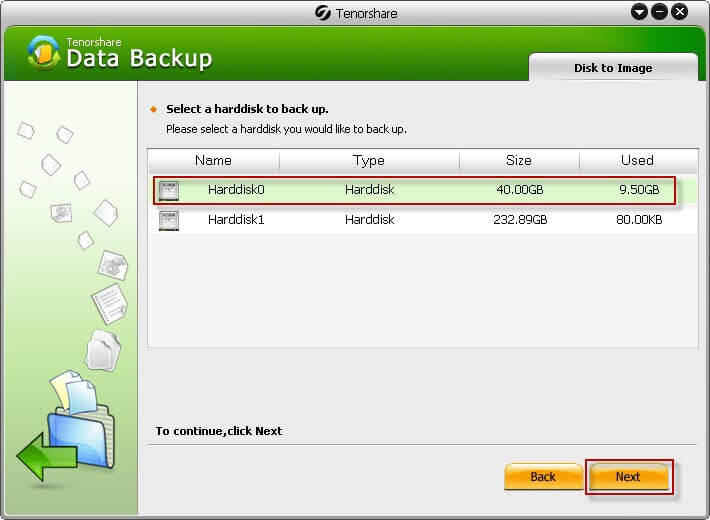 Step 3 Now, select another drive where the cloned disk will be saved. Click "Next" to proceed.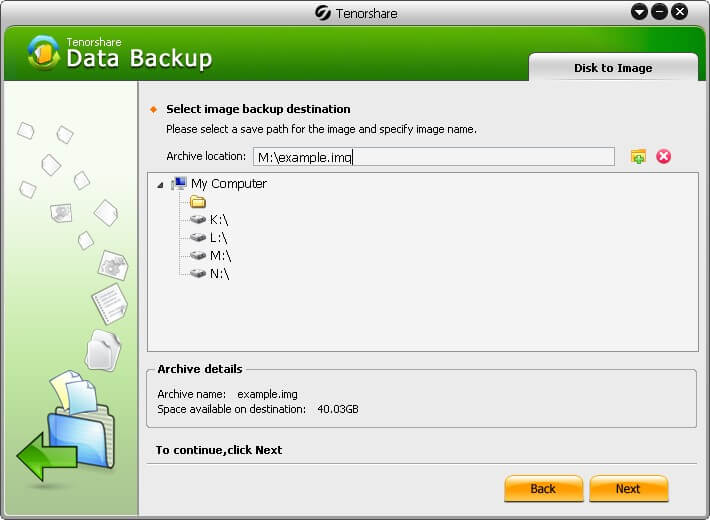 Step 4 Choose a compression level and click on Next. The program will start to copy the contents. The progression will be visible on the screen.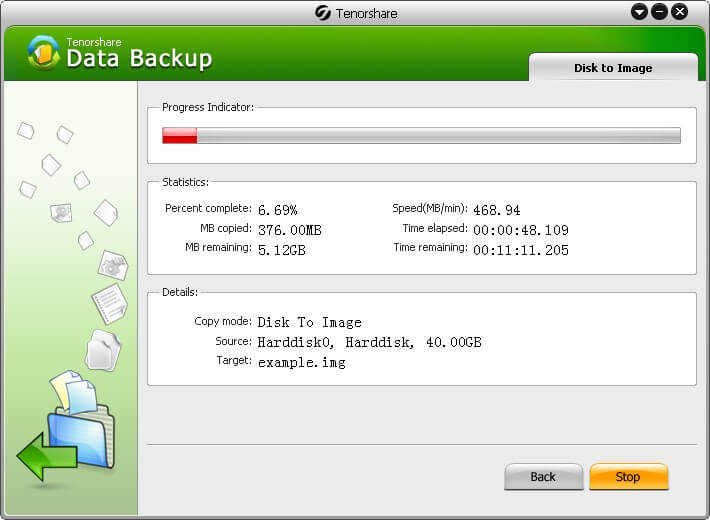 Option 2. Using Windows 10 Cloud Backup Service
Unlike the old days, you are not required to purchase CD or DVDs or External hard drives for the storage of your important files. With the appearance of cloud computing, things have changed significantly.
The cloud computing is a computing model that depends on the stability of internet connection you are using and it is available on demand. This service provides the users access to multiple devices of different platforms, like computer and smartphones.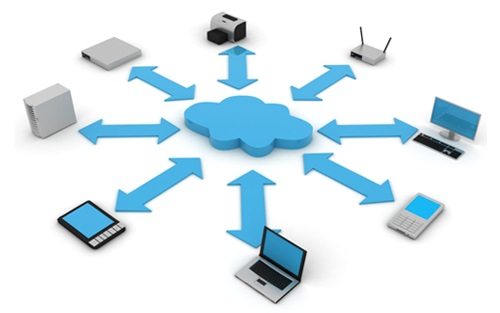 Today cloud computing has come much further and almost every people on earth are using its services for storing data. So, without further ado, let's have a look at the advantages and disadvantages of Cloud Storage Service.
What We Like
Flexiable options to backup data more conveniently.
Very cost-effective. Most of such services provide space to the users for free.
Accessibility. You will be able to access your files from anywhere anytime.
Data recovery is very easy.
Sync automatically, instantly.
Data restore is very quick and simple.
What We Don't Like
Completely depends on the internet connection. Poor internet connection wouldn't let you access your own files.
Your personal files will not be personal anymore.
Some of the cloud services charge too high.
Someone may worry about data security on the cloud.
But the use of cloud service is the next big thing and people are using it. They are satisfied with their performance. Although, there are several downsides the usefulness of such service exceeds the disadvantages. It is recommended for storing your files. But now a day, there are too many cloud services available but we have listed some of the best Windows 10 backup solutions below. Take a look.
1. Acronis True Image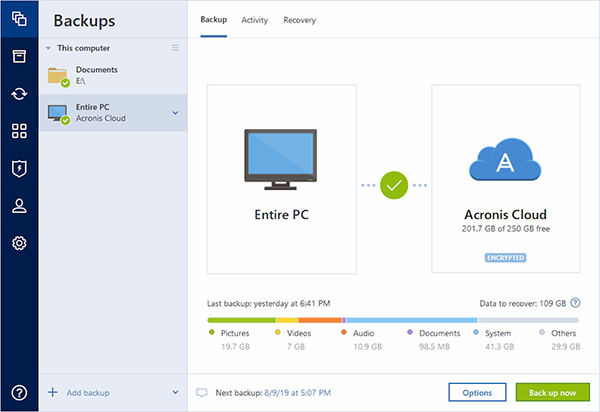 Acronis True Image is disk-imaging software, equipped with cloud backup component. This program may not seem like it but it is one of the most powerful solutions for backing up your files, online.
The program works with smartphones and it is capable of making a backup of social media files. The data sync and file-sharing options are also quite vast but there is also protection from ransomware. There is also a survival kit included, it is designed to create a bootable tool for restoring your files, almost instantly. Unfortunately, Acronis is really expensive.
The program offers online backups.
The user-interface is very intuitive.
It can also backup mobile devices.
There are additional features.
Price: The standard version will cost $ 49.99 and the Premium version will cost $ 99.99 every year.
2. Backblaze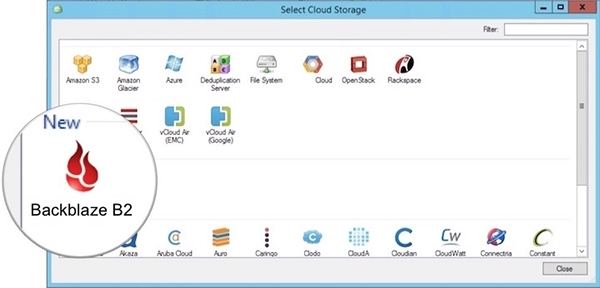 Another popular name among cloud services is Backblaze. This is an exceptional software but users mostly prefer it for its simplicity and cheap pricing.
You don't even have to worry about the limit of files sizes. If you think that backing files will be complicated. Well, that will not be the case with Backblaze. It is a cloud service option that supports online and even offline file restore.
Unlimited storage is available for users.
There are also no limits for file size.
The price is also cheap, compared to other such software.
Capable of backing up the device automatically.
Provides a preview before restoring the files.
There is also an option to restore files when offline.
Some smartphone features are also included.
Price: $ 6 per month for a single computer will provide you with unlimited storage space but the price can go down to $ 4.58 if you purchase the 2-year plan.
3. iDrive
The services of iDrive are available for both Windows and Mac. There is also a mobile version that is available for both Android and iOS platforms.
The program takes a single backup file and automatically syncs it, upon realizing the changes made in real-time. You will be able to back up your entire drive, including the Operating System and its settings.
Using only a single account you will be able to back up anything from your PC, Mac, Android, iPad, iPhone; basically multiple devices.
The drive will be linked across multiple devices and the data will be synced in real-time.
In terms of security, you will get 256-bit AES encryption.
The program will not delete your files automatically. You have to do it manually or start the Archive cleanup.
Deleted files can also be recovered but there is a 30-day time limit.
Price: 5 GB is available for free. iDrive Personal version provides 2 TB for 2 years but that will cost $ 104.25 and 5TB doe 2 years for $ 149.25.
4. Carbonite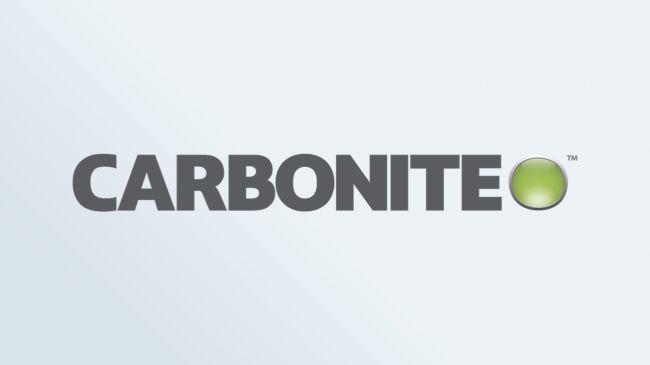 Carbonite is one of the most reliable cloud backup service available out there. It is reliable, cheap, and automatic and the file restore method is also very easy. Carbonite also has plans for smartphones; iOS and Android both.
You can back up an unlimited amount of data.
There are 3 plans to choose from.
You can pay for 3 years in advance and it will be cheaper.
The backup interface is very unique.
There are features for mobiles.
Keeps everything backed up automatically.
Available 15 days for free.
Price: Carbonite Home is available for $ 6 per month and Carbonite Business $ 24 per month.
Option 3. Using Windows 10 Native Tool
Well, we discussed every other backup services out there but let's not forget the built-in backup service of Windows 10. Although Microsoft didn't provided Windows users with something like Apple's Time Machine backup but it includes two different backup programs: File History and Windows Backup and Restore.
What We Like
Easily available.
Keeps the backup files locally.
Security is high.
Restore is easy.
What We Don't Like
Users are not very satisfied with its performance, as there are numerous glitch and errors.
Limited custom backup options.
No single-file restores.
No cloud backups.
File History is now Microsoft recommened backup tool, designed to automatically back up your files. It is very effective. You can set the File History to store the backups on your internal drives but most users store them onto an external drive of their choice.
You can backs up copies of files that are in the Documents, Music, Pictures, Videos, and Desktop.
Be able to choose specific folders to back up.
Automatically backs up any files that have been added or modified.
Keeps multiple versions of a backup file so you can access or restore them if needed.
Setting up File History is very easy. Let's have a look.
Step 1: Simply, go to "File History Settings" and select a drive.
Step 2: Select the external drive you want to use.
Step 3: Then click on the switch to turn on "File History".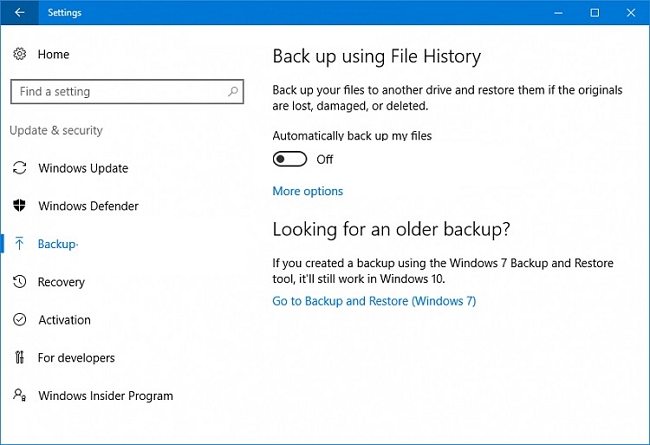 Summary
Regardless, the existence of File History cheered the users. As it was presented by one of the best developers in the world and it seemed quite effective. But the reality was quite different. The service was riddled with error messages and it suddenly stopped making the backup. Although, it was supposed to make the backup automatically. So, there are numerous better Windows 10 backup solutions available and we have detailed them on the article. But we do prefer using Tenorshare Free Data Backup. It is the best and cheaper option!