How to Access Samsung Secure Folder from PC
by Sophie Green Updated on 2021-01-15 / Update for Samsung
Are you trying to access Samsung secure folder from pc? Maybe you're confused whether it's even possible to do this? Don't worry! In this guide, I'll be giving you a proper insight into the Samsung secure folder feature. And last but not least, I'll provide you an appropriate answer to the question of whether or not you can use your pc to get into a Samsung secure folder. Remember to read through to the end as I have added an extra tip for android users.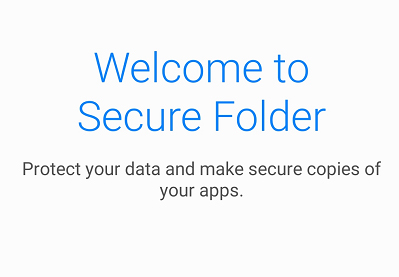 What Is Samsung Secure Folder? Is It Useful?
So what really is a Samsung secure folder? It's the perfect place to secure all your private photos, videos, apps and data. Keeping your personal and important files here will ensure the safety and privacy of this data.
The Samsung secure folder really plays its role when it comes to boosting privacy. You have the option to lock your secure folder with a passcode or a biometric lock to keep your personal files to yourself. One can only access the folder if they are aware of the set lock, otherwise, breaking into a Samsung secure folder is nearly impossible.
How to Set up Samsung Secure Folder
On your Samsung phone, go to 'Settings'.
Navigate to 'Lock screen and security'. If you can't find this option, then go to 'Biometrics and security'.

Select 'Secure Folder'.

Then, press 'Continue'.
Afterward, you must sign in to your Samsung account. If you don't have any, then press 'Create Account' to set up a new Samsung account.
Select the lock method that you wish to protect the folder with.
Set up the desired lock, then, press 'Continue'.
Enter the lock again to confirm the command.

A secure folder will be created on your home screen.
How to Add Files to the Samsung Secure Folder
Open your secure folder from the home screen and enter the lock.

Press 'Add Files'.
Now, select the file type that you want to include in the folder.
Select all the files from this file type that you need to include in the folder.
Tap 'Done'.
You will be given the option to either copy or move the files.
Can You Access Samsung Secure Folder from PC?
Now let's move to today's main question - Can I access Samsung secure folder from pc? Unfortunately, the truth is that you can't access the Samsung secure folder from your computer. Even if you're logged into your Samsung account from your computer, you still can't get into the secure folder from a computer. Perhaps the main reason for this is to prevent security issues.
Samsung hasn't officially released the feature of accessing the secure folder from your pc in order to prevent hacking issues and boost security. Perhaps there might be a similar feature to do so in the future, but as of now, accessing the secure folder through pc is definitely not possible.
Extra Tip: How to Recover Deleted Photos from Your Android Phone
Did you accidentally delete some valuable photos while messing around in your gallery? Are you wondering how you can recover these deleted files? If so, then this tip is for you!
Try Tenorshare UltData for Android to instantly get back your deleted files in a matter of seconds. UltData is an amazing recovery software that can play its role in several scenarios. Whether you've accidentally deleted the photos, or you've lost them during a factory data reset, UltData can get them back!
Download and install Tenorshare UltData for Android on your Windows computer.

Connect your phone with the computer by using a USB cable.

On Android 2.3 and earlier, go to 'Settings', select 'Applications', go to 'Development' and turn on 'USB debugging'.
On Android 3 to Android 4.1, go to 'Settings', Navigate to 'Developer Options', turn on 'USB debugging'.

For Androids 4.2 and newer, Enter 'Settings', select 'About Device', press 'Build number' repeatedly 7 times until you get the message 'You are under developer mode'. Then, from Settings, go to 'Develop options' and turn on 'USB debugging'.

A prompt will appear on your phone screen. Tap 'Allow'.
Press 'Start' on your computer.

Select all the files that you need to recover.

Wait for a few minutes to let the files load up.

Once loaded, select the files that you need to restore and click 'Recover'.

Your selected photos and files will now be recovered on your phone.
Conclusion
On a final note, I'd like to remind you that a Samsung secure folder cannot be accessed through a computer. Therefore, the only way to view your files inside the secure folder is through the android phone after bypassing the lock. Before ending this guide, if at any point, you feel the need to recover deleted files, definitely try using Tenorshare UltData for Android and you will not be disappointed!
FAQ about Samsung Secure Folder
This section is dedicated to common questions and queries faced by users of the Samsung secure folder feature.
Q1: Can I move Secure Folder data to SD card?
No, a secure folder can't access your SD card storage. This is ensured to minimized security risks to your data.
Q2: Which devices support Secure Folder?
All Samsung phones running on Android N (7.0) or above can download secure folder from the Google Play Store.
Q3: Can you back up Secure Folder data?
Yes, Samsung secure folder provides users with the 'Backup & Restore' feature.