4 Best Ways (+ Alternative) to Fix Finish on New iPhone Stuck
by Jenefey Aaron Updated on 2021-01-15 / Update for iPhone Fix
Recently, people updated some new iPhone issues on different forums, and that problem was Quick Start Finish on the new iPhone Stuck. According to them, they tried to transfer data by sitting iPhone 11 Pro Max and iPhone 12 Pro Max, side by side, but neither the updated method worked nor the Siri setup. They continuously received a prompt message on the old iPhone, "Finish on new iPhone "and "keep this phone near." So, how to resolve this issue? Is there any way to fix the finish on the new iPhone stuck? Read more to find out how to solve this problem by following simple techniques.
Question: Why Finish on New Stuck on Preparing to Transfer?
Nowadays, people are facing a bug, which mostly occurs when you try to transfer data from an old device to another. Yes, we are talking about the "finish on new iPhone" stuck problem. And there can be many reasons for it:
Don't have a good internet connection;
Haven't updated your devices to the latest version;
Having issues in system software;
Transferring big data.
If you are worried that your data is stuck for several hours, we've found some solutions for you that will work for almost everyone. Let's discuss them one by one.
Solution 1: Make Sure Your Devices Run iOS 12.4 and Later with Bluetooth Turned on
Suppose your phone is stuck on the finish on the new iPhone and isn't setting up your Apple ID. Then, it's vital to resolve this issue quickly; otherwise, you won't be able to transfer your data fast. As we have mentioned above, your devices must be updated. Therefore, make sure your both devices run iOS 12.4 and the new version. To update your device, here is what you can do.
Go to Settings, then tap General and click the "Software Update" option.
After that, select "Download and Install" to install the new version.
Also, make sure that your Bluetooth is turned on if you want to use the Quick Start feature. To turn on Bluetooth, go to settings, and turn the toggle ON. This will successfully enable Bluetooth.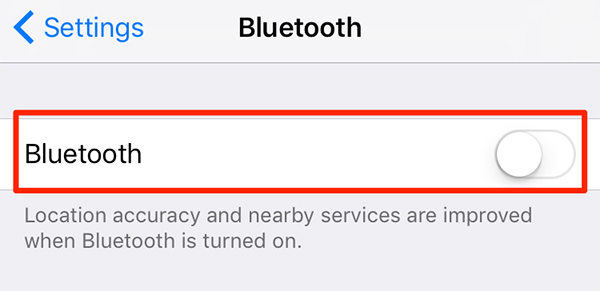 In case you didn't resolve the issue, try solution number 2.
Solution 2: Let the Current, and New iPhone Sit for a While
To transfer your data from the old iPhone to a new one, it's important that both the devices are kept near. In this way, you will get the option to set up the Apple ID, which will help you in the transferring process. Plus, you will be asked to keep the phone near until the process is completed. Once you have followed all the steps, sit back, and wait until the data is transferred.
If you are still facing the same issue, you can try the reboot method mentioned below.
Solution 3: Force Restart the Current and New iPhone
If your phone is stuck on the finish on the new iPhone, there is a simple method that you can try. Restarting your device will help to resolve this problem. Also, it's the right solution for non-technical users. Follow the steps below to restart both old and new iPhone devices.
iPhone 8 or Later:

Press both the Volume Up and Down button. After a few seconds, release both and hold the Side Button; once you see the Apple logo, release it again.

iPhone 7 or iPhone 7 Plus:

Press the Volume Down and Side button, hold them for a while, and release. Your device will restart in a couple of seconds.

iPhone 6s and Earlier:

Press the Power button and Home for about 10 seconds and release them until you see the Apple logo.

This method will hopefully resolve your issue. However, you can also try the factory reset method if the above three methods didn't work for you. Read the details below to do that process.
Solution 4: Factory Reset New iPhone with iTunes and Transfer Again
You might face many issues related to backup and restore if both phones are not running on the same versions. In such a case, you have to factory reset the new iPhone with iTunes and try transferring the data again. To do these steps, check out the guide below.
Turn on your new device and visit the Settings, click "General," and Update your software.
After updating, it's time to erase all your data. To do that, again go to Settings, tap General, and click Reset. You will be moved to a new screen where you can select the "Erase All Content and Settings" option.

Now on your new iPhone and start the transferring process again.
These four methods will help to resolve the "finish on new iPhone" stuck issue. But if you still didn't get any leads, we have an alternative method mentioned below to solve all your iPhone issues.
What is the Best Alternative When Finish on New iPhone Stuck Forever?
Just bought a new iPhone? Are you finding a way to move data from your old one? Consequently, Apple offers different ways to transfer data, but not all of them are fast and efficient. Therefore, Tenorshare iCareFone is a practical choice when it comes to restoring and backing up the data. It's fast and works amazingly on all the old and latest iPhone devices. This software is also the best alternative when finish on new iPhone stuck forever. Read the guide below to learn all the details about this tool.
Install Tenorshare iCareFone on your device. After connecting the device, click the "Backup & Restore" from the top menu.

It will select all the files by default. But you can also choose the data yourself that you want to backup.

After selecting the files, hit the "Backup" option and wait for a few minutes. It will take time to backup your data.
Now, follow the steps below to restore your files.
To restore data, you've to connect the device with the application and choose "Backup & Restore" again. You can also click the "View" option to see the previous backup files.

Now, choose the backup file that you want to restore. You will be asked to choose the device where you want to restore the files.
Note: This tool only allows to restore contacts, music, bookmarks, and photos.
Pros:
Export data to PC and Mac
No need to worry about data loss
Quick and Effective while Backing up and Restoring data
Compatible with old and new versions
Offers Free Backup
Conclusion
This guide is helpful for those who are worried that Finish on the new iPhone stuck forever. However, you don't need to worry about anything because iCareFone is a reliable solution for backing up and restoring data. You just need to follow a few simple steps, and you are good to go.
FAQs about New iPhone Setup
Q1. How Do I Finish My New iPhone Setup?
After moving your data to a new iPhone, you need to complete some steps, such as check your mail, contacts, turn on your notifications, download the content, manage your subscriptions, etc.
Q2. Why Can't I Finish Setting Up My iPhone?
The main reason for this could be due to the steps that you have skipped during the iPhone setup process.