How to iCloud Bypass with Signal: A Step-by-Step Tutorial 
by Anna Sherry Updated on 2023-04-13 / Update for iCloud Tips
Bypassing iCloud can cause the phone to lose its network signal, making it impossible to make phone calls or send text messages. This occurs because iCloud is responsible for managing the device's activation status, which is essential for the phone to establish and maintain a connection to the cellular network.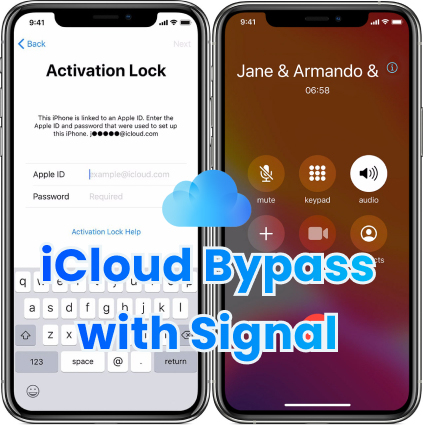 However, you can go around this and bypass iCloud with a signal. We'll break down the steps into easy-to-follow instructions, so you can unlock your iCloud account and regain access to your data quickly. Read on to find out more about iCloud bypass with signal. 
Must-Read: Can iPhone iCloud be Bypassed
Normally, it's not possible to bypass the iCloud activation lock on an iPhone. However, tools like Tenorshare 4Mekey can get the job done. 
It's hard to crack the code because this security feature is designed to prevent unauthorized access to an iPhone by locking it to the owner's iCloud account. If you don't have the iCloud account details, you won't be able to access the device. 
However, some tools can help you bypass the iCloud activation lock. You can use them for iPhone 5s icloud bypass with signal.
What is iCloud Bypass with Signal
iCloud bypass with Signal is a method of bypassing the iCloud activation lock on an iPhone while ensuring that you have a signal on your phone, with the tool Checkm8.
It's important to ensure that you have signals on your phone because phone signals have become a necessity, especially for people who rely on their phones for work or emergencies. 
Phone signals are important for maintaining constant communication, regardless of location, enabling users to stay connected with their loved ones or colleagues.
Keep reading to find out how to do iphone 6 bypass with signal.
Compatibility of iCloud Bypass with Signal
In case you want to know the compatibility of your device with iCloud bypass with signal. Here's some help for you. This method is more likely to work on the device meet all conditions given below.
Condition 1: iOS versions from 12 up to iOS 16.4
Condition 2: iPhones SE, 6, 6S, 7, 7 Plus, 8, 8 Plus, and X models
Condition 3: MacOS Platform 
The method can be affected by various factors, such as the specific version of iOS you're running and any security updates that have been applied to your device. You can visit the official web of CheckM8 to see the full compatibility of iCloud Bypass with Signal.
How to Perform iCloud Bypass with Signal
Performing iCloud Bypass with Signal involves several steps, but we've broken them down into easy-to-follow instructions below. Here are the steps to perform iCloud Bypass with Signal 
Download and install a CheckM8 on your device.
Jailbreak your device and Connect your phone to check if the model is supported or not. 
Start to remove activation lock on CheckM8.
Wait for a few minutes. 
Once the activation is complete, your iPhone should be unlocked and ready to use with Phone Call and login Apple ID.
Yes, You can Bypass iCloud without Signal
Tenorshare 4MeKey is a software used to bypass Activation Lock on iOS devices, it is also able to remove the Apple ID which is already logged in, and bypass the Activation Lock on iOS devices. This tool is especially useful for individuals who have purchased second-hand devices or are locked out of their own devices due to a forgotten iCloud password.
Here are the steps that you need to follow. 
Download the Tenorshare 4Mekey tool on your computer and open it up. From the main screen - choose "start to remove".

Jailbreak Your iOS Device using the instructions on the screen. 

Once the jailbreak is done - all you have to do is click on Start to Remove iCloud Activation Lock.  Within a few minutes, you will have an unlocked device and you can set it as a new one.
Wrap Up
iCloud bypass with signal is an easy way to bypass iCloud on your device. However, if it doesn't work - you can use the Tenorshare 4Mekey to get the job done within a few minutes.