How to Recover Photos from Thumbnails in Android?
by Anna Sherry Updated on 2022-10-19 / Update for Android Recovery
Can I recover the actual photo from the .thumbnail? My old phone accidentally soaked into the water and when I transfer my memory card all I can see is the photo on the .thumbnail. Is it possible?
Although they don't have an intelligence moniker, Android phones are excellent. Pictures in galleries and the phenomena of thumbnails are related. While thumbnails provide a reduced version of the image to the viewer, full-sized images in the gallery take some time to load. There is plenty of time for the image to load in the background. Due to various reasons, some Android users lost their photos but they found that the thumbnails of the photos are still in their phones. Thus, they want to know how to recover lost photos from thumbnails on Android.
There is a thumbnail for each image saved in the gallery in the Android thumbnails folder. It is in the DCIM folder and, by default, is hidden. These thumbnails can occasionally be lost or destroyed. You cannot see them when viewing the pictures in such a situation. In this post, we'll explore how to recover thumbnails and restore photographs from Android device thumbnails.
Part 1: What is Thumbnail & Can I Recover Photos from Thumbnails?
Thumbnails, scaled-down representations of photos or videos, are used to identify and group them in the same way a standard text index does for words. Thumbnails are often used in visual search engines and image-organizing software in the age of digital photos, as well as by the majority of contemporary desktop environments, including Microsoft Windows, macOS, KDE (Linux), and GNOME (Linux). They help prevent the needless download of huge files on websites.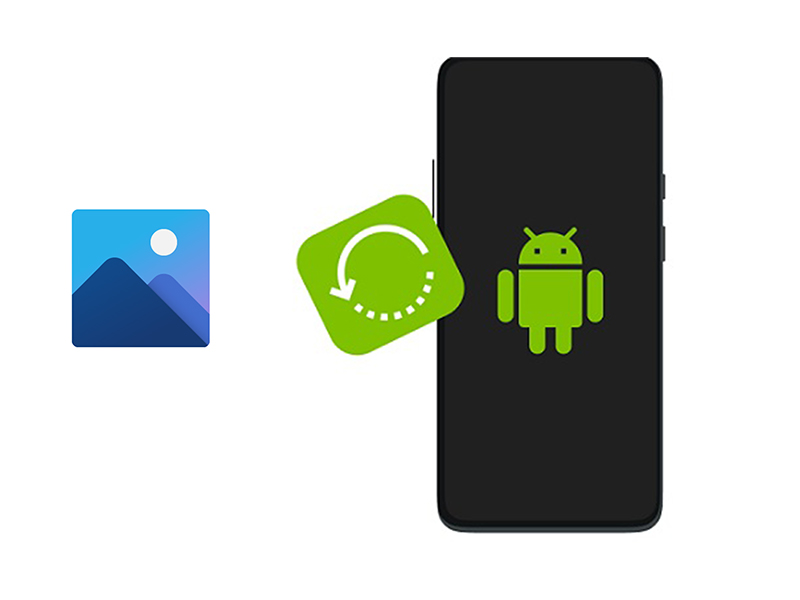 How to recover photos from thumbnails in Android? Data from thumbnails can occasionally be recovered using Android data recovery software. It operates by checking data's whereabouts even after Android has designated it as destroyed. Sometimes data recovery tools can recover data from genuinely lost thumbnails.
Part 2: How to Recover Thumbnails on Android within Clicks?
The thumbnail images may have been lost from the Android thumbnails folder due to deletion or for any other cause. For Android thumbnail images to be recovered, you need a third-party data recovery solution.
How to recover deleted photos from thumbnails? You may recover the data rapidly using Tenorshare UltData for Android. It is an excellent tool that collects data using a variety of methods. It is possible to restore the information to its original state even after it has been permanently destroyed. Get it now for nothing. It provides dependable high-speed data recovery. The user may see the data before retrieving it, and the program is entirely safe.
Features:
Without rooting your Android phone, recover photos from Android.
Without a backup or root, recover lost WhatsApp messages on Android.
Download and see the Google Drive backup for WhatsApp.
Recuperate WhatsApp Business data, including pictures, movies, and documents.
Recover deleted WeChat contacts, messages, images, etc., on Huawei and Xiaomi (China).
Steps:
Can I recover photos from a thumbnail? Here's how to restore photos from thumbnails with this program. On your PC, first, install Tenorshare UltData for Android. Then, follow the steps outlined below to recover deleted data on Android.
The UI below will appear when UltData for Android Data Recovery is launched. From the menu, choose "Recover Lost Data". Then, use the OEM USB cable to connect your Android device.

Please ensure USB debugging is enabled on your Android phone.

The two buttons at the bottom should be noted. Tap if you cannot connect to the device or enable USB debugging. Then adhere to the on-screen instructions.

After turning on USB debugging, your device has to be authenticated. Click "OK" when a window appears on your smartphone's screen. If the window does not show, kindly use the "Show Again" button on the software.

After connecting your device, this screen will show up. Before selecting "Start" to begin scanning your device, please pick the photos you desire to recover.

After a scan, the application will show all photo data, even deleted images. The pictures can be seen before recuperation.

Click the "Recover" button in the lower-right corner after selecting the pictures you wish to get back.

Photo enhancement: After clicking the "Recover" button, check the box next to "Turn on Photo Enhancement" to boost the recovered photographs' resolution automatically.

Tip: You can recover lost WhatsApp messages, images, and videos from Android internal storage and SD card using Tenorshare's excellent Android data recovery app without using a computer or rooting your device.
Part 3: People Also Ask about Thumbnails
1. Where Can I Find Thumbnails on Android?
The thumbnail folder is, as was already indicated, hidden by default but is in the DCIM folder. However, a file management program may be used to examine this folder.
You can download a file manager from the Play Store if your phone doesn't already have one.
The thumbnail folder will be visible if you open the DCIM folder and select the "Show Hidden Files" option.
The folder will be called "Thumbnails". Each thumbnail of your photo in the gallery may be found inside this folder.
2. How to View Thumbnails on Android?
The user can access the file manager's thumbnail folder. Install the file manager, then open the folder. It will have a scaled-down version of the images from the gallery. Even if you removed the original photographs from the gallery, you could still browse the thumbnails.
3. How to Delete Thumbnails on Android?
Open file explorer, go to the DCIM folder, and then delete the folder. You may quickly erase thumbnail files from your phone. Enable the option to show hidden files if the DCIM directory does not display this folder.
Conclusion
Any Android smartphone must have thumbnails to keep the phone's speed. The gallery can operate in the background while the photographs are displayed smaller. You can rapidly restore the Android thumbnails folder if you unintentionally destroyed or lost it. A third-party recovery program that can recover any data is Tenorshare UltData for Android. We have shown how to use the program to recover photos from thumbnails.
Best WhatsApp Recovery Software on Android without Root
Recover deleted WhatsApp Messages on Samsung, Huawei, Xiaomi, OPPO without root;
Recover photos, contacts, messages, videos and everything you lost;
Preview individual file before data recovery;
Support with most Android phones and tablets;