3 Best Ways to Remove GPS Location from iPhone Photos
by Jenefey Aaron Updated on 2020-08-07 / Update for Transfer Photo
Geotagging photos on social networking websites is the new trend of this generation. There are a lot of users who want to share their vacation photos with the location information. But the problem is that when you are uploading other photos or selfies online, your exact location gets leaked. It is actually not very practical to simply giving access to such information because it is a privacy issue and it could get you in really big trouble. This is why many users are trying to deactivate this Geotagging feature as it has become a liability. Unfortunately, not many people know about this feature and even less knows about its deactivation process. But don't worry if you want to know how to turn off location on iPhone, read the rest of the article.
Part 1: Why It's Recommended to Remove Geotag from Photo?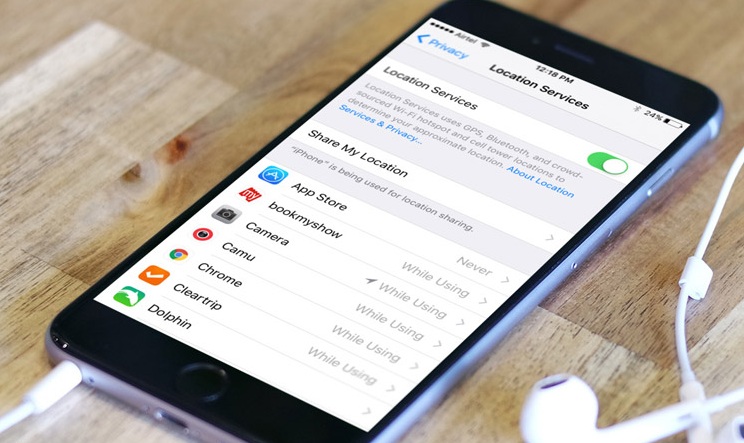 We all know how dangerous it is to release personal information on the Internet. It is in our best interest to take precautionary measures so that information of such caliber never gets released, even accidentally. For example, one day you are taking the picture of an item with the intention to sell it but Geotag was activated. So, when you posted that photo online, unintentionally you just advertised your exact location on the internet. It can be your home address or any other place. Now, people can take advantage of this information very easily. Or if you are on vacation, people can take advantage of the fact that you are traveling and your house is empty. So, there can be a number of reasons and mainly privacy concerns to remove Geotag from photo. Unfortunately, if you don't know how to remove places from photos on iPhone, just read the steps below.
Part 2: How to Remove Location from iPhone Photos
Basically, Geotagging is adding your location data to your photos or other media files. Suppose you have taken a picture in Rome or in the Maldives or any other place, the metadata of that photo which is also known as EXIF will add the information of your exact location to that photo. It would be very useful to you if you are organizing the photos according to the locations they were taken.
Sadly, there are also times when you would want to keep the information private. This is the reason iPhone lets you remove metadata from photo. A few ways to disable Geotagging are mentioned below:
Way 1: Disable Geotag in Settings
If your goal is to make sure that every time you take a photo, your Geotag information is not added to that picture then you can do it by disabling Geotag from Settings of your iPhone. Disabling this particular feature is very easy but most of the user's don't know how to turn off location on iPhone 7, the steps are as follows:
1. Unlock your iPhone 7 and go to Settings.
2. You need to tap on the "Privacy" menu and choose "Location Services" from the list.
3. Now, you need to find the "Camera" setting and choose the option "Never".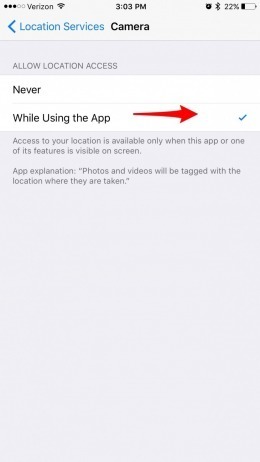 Now that you have disabled Geotagging from the Camera setting, any captured frames after that won't be Geotagged.Finally, tap on the "Home" button. This method is applicable to all iPhone models like 6/7/8/X.
As you can see, this way you can permanently disable the iPhone's location services from the Camera app, which means that next time when you take a photo, it won't have location information embedded in it. Unfortunately, the photos you have taken previously will still have Geotag information attached to it but you can remove it using other apps.
Way 2: Remove Places from Photos in Windows Computer
These days when you look at a picture, you don't just have access to that photo but to various personal information that are attached to that picture's EXIF file! The metadata contains everything from the make and model of the camera, the date that photo was taken and even the latitude and longitude of the location. There aren't many people who are happy with their personal information getting leaked. Fortunately, Microsoft Windows provides a simple but permanent solution. If you are using Windows 10 then you can easily turn off the Geotagging from your desktop before posting the photos on the Internet.
If you don't know how to remove EXIF data from Windows 10 then read the user guide below:
1. Open your desktop and go to that folder where you are keeping all of your photo collection.
2. Your goal is to eliminate the metadata so, select a photo and "Right-Click" on it.
3. Now, click on "Properties".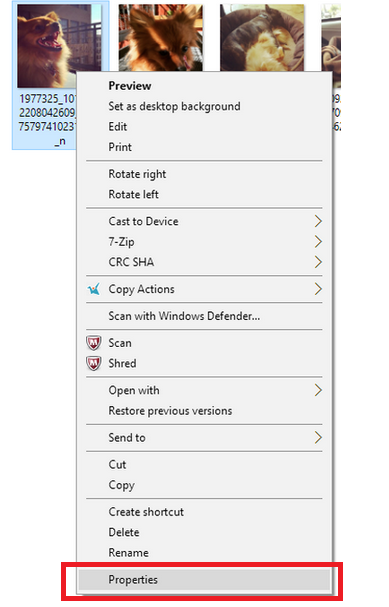 4. Now, in the "Properties" window, you need to go to the "Details" tab to view the metadata.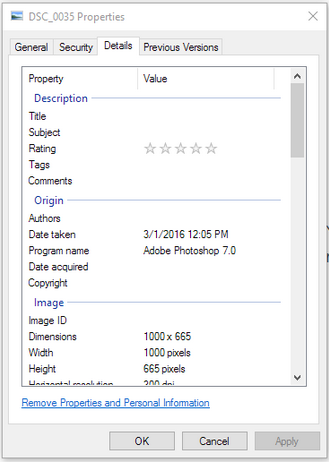 5. At the bottom of that window, you will find an option called "Remove Properties and Personal Information". And that's it!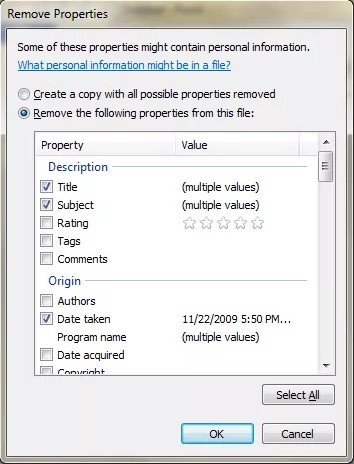 If you want to keep a copy of that photo including the information then just make a copy of that photo and then go through the procedure. But keep in mind it may not remove all the personal information. Basically, you can remove some of it from the media files but if you are expecting it to be exceptionally efficient then you would be disappointed. And for that go to the next step.
Way 3: Use Photo Investigator to Remove Location Data
We can understand why you need to deactivate Geotagging. Actually, there is a limit to how much information you can share freely but if that information leads to your location, a lot of things could go wrong. Necessarily you can turn it off from your iPhone Settings but you can use a free third-party app for the same purpose. These apps let you see that metadata and then you can decide whether to delete them or not. Photo Investigator is an excellent third-party app which is able to delete EXIF file. If you don't know how to remove location from iPhone photos then read the instructions below:
1. Install Photo Investigator and run the app.
2. Permit the access to Photos on your iPhone 7.
3. Now, choose the picture you want to remove the location information.
4. If you wish to view the EXIF data then tap on the various icons below the photo.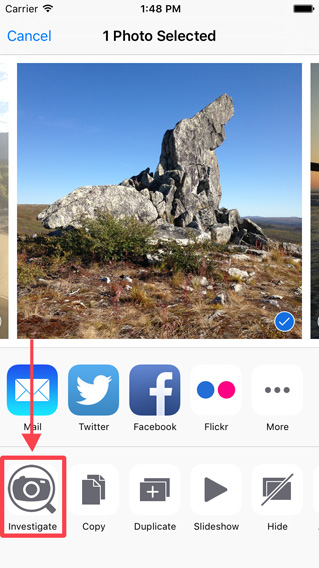 5. Now, just tap on that metadata to edit or remove it.
6. Finally, tap on the Remove or Edit option.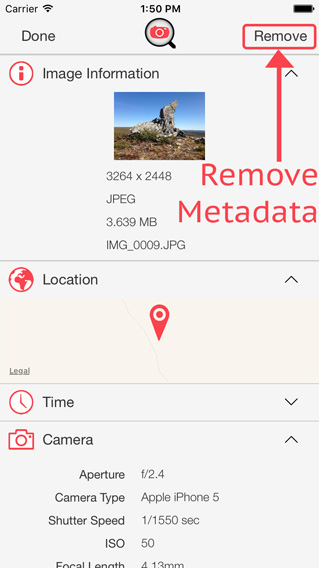 Conclusion
Leaving your personal information out in the open is very dangerous, especially these it could lead to catastrophic conclusions. So, it is in your best interest to disable the Geotag function on your iPhone so that the photos you are posting on the Internet do not reveal your personal information in any form. Now that we are clear on the dangerous side of Geotagging, if you ever need to transfer or import your photos especially the Geotagged ones in orginal palces folder, then just use Tenorshare iCareFone to do it swiftly and efficiently. It is a great transfer program that can import and export photos between iOS devices and computers with just 1-click. Highly recommended software!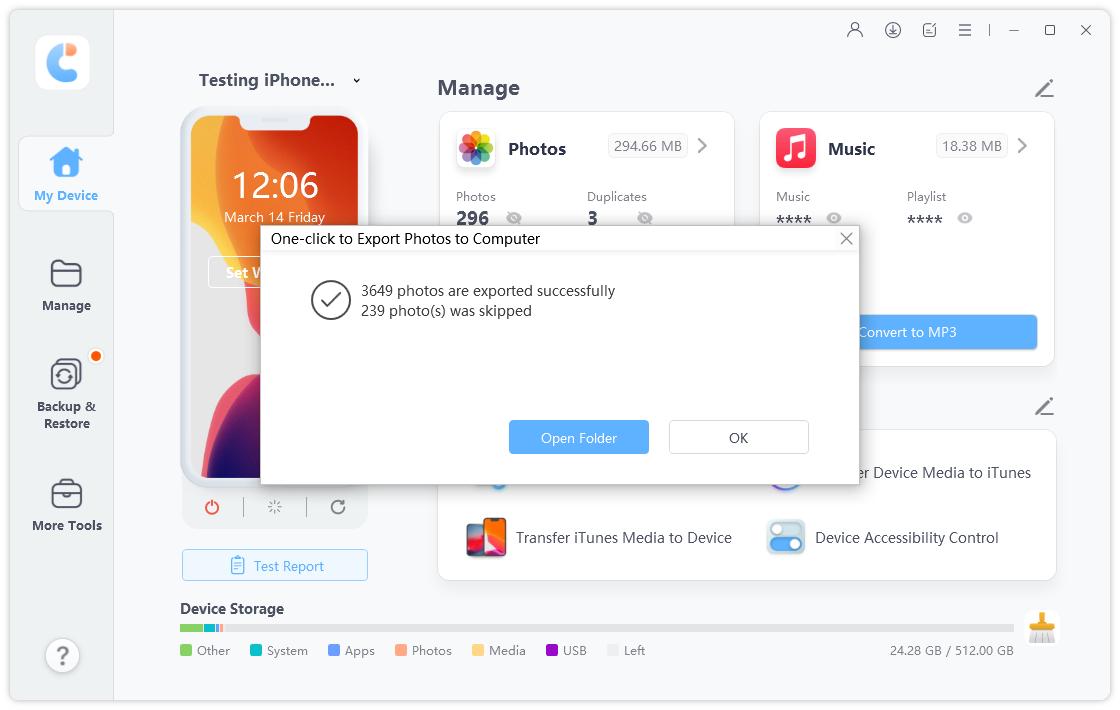 Freely Change GPS Location without Jailbreak!
Plan a route by selecting two or multiple spots on the map
Easy to simulate GPS movement based on customized route
GPS joystick to take better control
Import GPX file to start a designed route