How to Transfer Messages from Samsung to Samsung
by Anna Sherry Updated on 2022-03-14 / Update for Samsung
Hello there. Can your team please guide me on how to transfer messages from Samsung to Samsung? The issue is that I want to transfer my data from my Note 20 to my newer S21+. Can you tell me if I can also transfer my text messages from the old Samsung to the new one? Can I also transfer my WhatsApp texts to the newer Samsung phone?"
You can transfer texts from the old Samsung to the new one in many ways. Let's answer some of your queries to clear your mind.
Part 1: Does Samsung Smart Switch Transfer Text?
Does Samsung Smart Switch transfer texts? The Samsung Smart Switch allows you to transfer text messages from one Samsung device to the other. You don't even need a PC for that. Just use the app on both sides, and voila!
Part 2: How to Transfer Messages from Samsung to Samsung without Smart Switch
However, if you do not have Smart Switch on your source or destination device, you can still transfer text messages. Some ways are explained below to transfer texts from Samsung to Samsung.
Way 1: How to Transfer Messages from Samsung to Samsung via Bluetooth
There is an unpopular method if you want to learn how to transfer messages Samsung to Samsung. This method is called the Bluetooth method. Here's how to share texts via Bluetooth:
Turn on Bluetooth on both phones. Connect both devices.
Once the Bluetooth connects, go to your messages. Open the Messages app on the source phone.
Go to the conversation you want to send.
Open the chat and long-press on the chats.
The share option will show; click on the Bluetooth logo in the share options.

The Bluetooth dialog box will show you options.

Tap on your destination phone, which is already paired.
Tap on Accept on your destination phone to receive those texts. Messages will reach the new Samsung phone.
Way 2: How to Transfer Messages from Samsung to Samsung with Email
There is another way to learn how to transfer texts from Samsung to Samsung. You can send via email:
Open the message thread and long press a text.
Once the share option emerges, click on it.
Choose the "Email icon."
Enter the Email ID of the new phone.
The message will transfer to the new Samsung.
Part 3: How to Transfer Messages from Samsung to Samsung Using Smart Switch?
The easiest way to learn how to transfer text messages from Samsung to Samsung is through Smart Switch: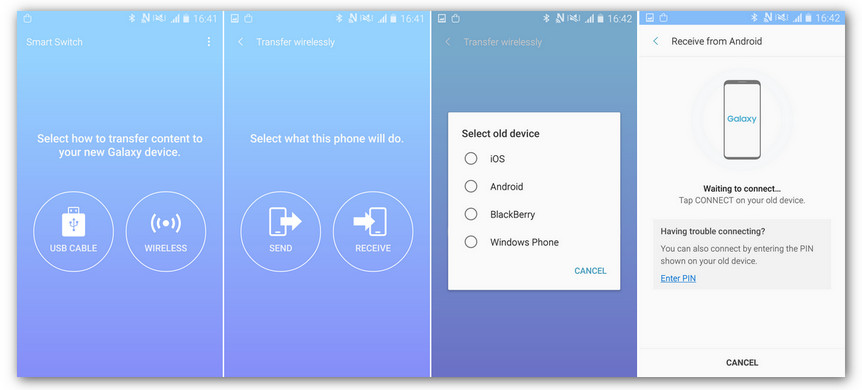 Open the Smart Switch app on source drive and click on "Send Data."
Tap on "Receive Data" on the new Samsung target device.
A "Get Connected" option will appear. Tap on "Wireless" to connect both devices.
A list of things will appear. Click on "Messages" to share.
Hit "Send" on the source and "Receive" on the target device. Messages will transfer.
Extra Tip: How to Transfer WhatsApp Data/Messages from Samsung to Samsung?
The previous ways we told you to have a reasonable success rate, but still mishaps can happen. And you still cannot share your WhatsApp messages through the methods shown above.
Therefore, you need a reliable tool like Tenorshare iCareFone Transfer to seamlessly transfer your WhatsApp data and messages from your old Samsung phone to the newer one.
iCareFone Transfer is a reliable tool by Tenorshare that saves you from the hassle of trying multiple things to get your messages to your new Samsung phone. It's a professional WhatsApp data transfer tool.
Here is how you can transfer WhatsApp texts Samsung to Samsung:
Download and install iCareFone Transfer on your Personal computer. Once it is installed, launch the iCareFone Transfer app and connect both the old and new Samsung through their data cables. Once connected, you would click "Transfer" in the middle of the bottom.

A popup will appear saying the data on your target Samsung device will be overwritten. Click on "Yes" to agree with it and continue.

To transfer the data to your target Samsung phone, your old Samsung source phone data needs to be backed up first. iCareFone will run a complete procedure image for you to follow. It will show how to backup. Once you back up, click on "Continue ."

iCareFone will start receiving your data from the source Samsung device when you back it up. Do not disconnect both phones while data transfer for WhatsApp; otherwise, you will lose entire data.

WhatsApp data and texts will take time to travel to the destination Samsung device. If the data size is big, it will take more time to transfer the data.

When you see the "Transfer Successfully!" message on iCareFone's home page, it means that all the WhatsApp data has been transferred to your destination phone. You only have to follow the prompts described for the target device to retrieve the data.
Conclusion
If you want to send texts from one Samsung device to the other, the best way is to go for the Smart Switch app. However, WhatsApp texts can only be transmitted through an app like iCareFone Transfer, so use it for that purpose.