How to Enable Night Shift and Low Power Mode at the Same Time
by Jenefey Aaron Updated on 2019-07-25 / Update for Optimize iOS
Exactly, Apple iOS 9.3.1 is a band-aid to fix serious problems with iOS 9.3 like can't open links on Safari and can't activate devices. Surprisingly, most users discovered iOS 9.3.1 can run Night Shift and Low Power Mode simultaneously on iPhone, iPad and iPod as long as follow a particular combination. You are most likely to use Night Shift at the end of the day when your phone's battery is low. Hence this bug attracts to you, definitely.
How to Turn On/Off Night Shift and Low Power Mode Simultaneously?
You have to know this bug can only be workable with iOS 9.3.1. If you forget to update to iOS 9.3.1, you can go to Settings and click General. Navigate Software Update and download and install iOS 9.3.1. If you have any difficulty on update iOS, please take Top iOS 12 Problems and How to Fix for reference. Then do as follows to enable Night Shift and Low Power Mode together on iPhone, iPad and iPod touch.
Step1. Go to Settings and scroll down to open Battery. Turn on Low Power Mode.
Step2. Start Siri and say "Enable Night Shift" or "Turn on Night Shift". Then you will be asked: "In order to turn on Night Shift, I'll have to turn off Low Power Mode. Shall I continue?"
Note:If your Siri is disable, please go to Settings > General > Siri > Slide to switch on Siri
Step3. Reply "Yes" to continue and press the sleep button before the response is confirmed. Then you will then hear Siri's confirmation beep.
Stpe4. Once unlock your iPhone or iPad, both Night Shift and Low Power Mode should be no simultaneously now.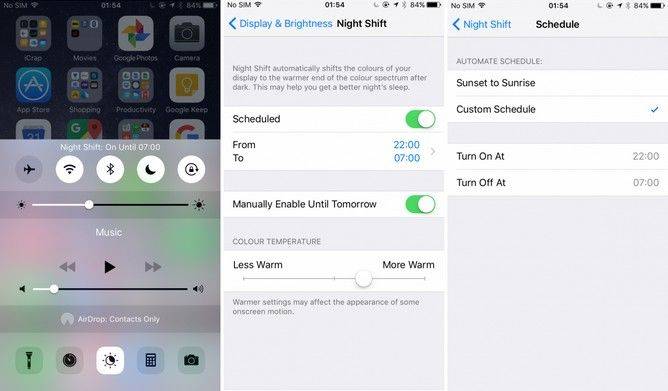 Now you have turned on Night Shift while in low power mode in the iOS 9.3.1 at the same time successfully, so you can continue to visit web and read well into the night. There is no word Apple will fix this bug in the future up to now, so users can continue to enable both. As for why Apple would disengage both to run at the same time isn't known yet.
However, you have to notice that not allowing Night Shift and Low Power Mode to run together suggest the former is not exactly friendly to battery life. If you insist on doing so, you'd better health check for iPhone, iPad and iPod and get know about how to improve iDevice battery life. Give it a try and let us know in the comments section if you have any question.