Best 50 Internet Radio Stations
by Jenefey Aaron Updated on 2020-04-07 / Update for Streaming Audio
A large amount of radio programs are free to enjoy via Internet connection. Whether you've started to listen to internet radio stations or not, it will be well worth spending a few minutes to check out the top 50 internet radio stations based on user nominations.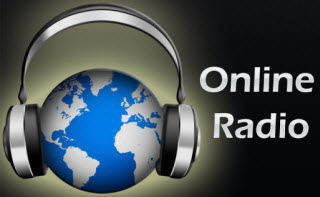 The chat below lists almost all the online radio stations followed by a brief introduction for the top radio stations.
Note: The lists above are radio stations featuring all kinds of programs. If you are crazy about music, you can use a free music downloader to download music from these online radio stations to any portable devices you like.
The audio recording software free download is available here. Just click the free trial button to download it to your computer.
Brief Info for Best Online Radio Stations
AIR is one of the most smartly curated arts stations on the planet. All music, interviews, documentaries and experimental pieces are also available here.
WFMU is the longest-running freeform radio station in the US. It's a listener-supported, independent community radio station headquartered in Jersey City, New Jersey, United States, broadcasting at 91.1 (at 90.1 as WMFU, and at 91.9 as W219DQ) MHz FM, presenting a freeform radio format.
SKY.FM Radio features a wide variety of free streaming radio channels. Find your favorites among the best of each class. It also has apps for different mobile operating system.
Jango offers you abundant music and songs. With it, you can listen to hundreds of genre stations or create your own with your favorite music.
8tracks internet radio provides listeners with a huge array of user-curated playlists, taking in everything from workout music to Mad Men-themed Sixties jams. It allows you to sync it with Facebook and Google Plus.
This online radio station provides you many ways to catch with the latest music trend. This useful website collates recommendations from a huge range of such sources and serves them up as a series of radio streams, organised by genre.
This eclectic, ad-free station has been broadcasting since 1998. You will find a lot of surprises in this world-class, commercial-free, eclectic, alternative, modern, retro & indie rock radio station if you are a music fan.
Soundtracktoyour positions itself as the world's first free, lifestyle based music discovery and streaming service. This music streaming service allows you to listen to playlists curated by celebrities without creating an account.
If you are hungry for music, WRUV will never let you down. This community–run station from the University of Vermont is a regular springer of surprises, thanks to its "free form" policy.
CBC Music is Canada's free digital music service, a creative and forward-thinking operation that deserves more international recognition. You have to register to listen to its music radio output online.
Deezer gives you the opportunity to enjoy more than 30 million tracks, create your own playlists, and share your favorite tracks you're your friends. With a beautifully clean interface, the online radio station offers free signup, multi million track library, option to pay monthly for ad-free and mobile listening.
Cambridge Radio Station, Cambridge 105, is the volunteer based, community owned Community Radio Station for the city of Cambridge. It offers a varied selection of programs, covering everything from old 78 records to local authors to roots reggae and rock.
Live365 is a great place to listen to thousands of internet radio stations featuring online music in every style, including hip hop, jazz, new age, rock, classical, oldies, and more.
Broadway World is a theatre resource featuring news, message boards, video previews, show information, photos and biographies.
This friendly, Moscow–based English language station works hard to bridge that gap with an upbeat mixture of music, news and information on cultural events in the capital.
DFM is an independent internet, webradio based, multimedia station by international artists.
Tired of the modern world with all its bleeps, blips and pushy commercials? Ancient FM would be a great place to go. This charming little radio station only plays music from the Medieval and Renaissance periods, which will surely give you a break from the modern world.
Based in a small cafe on a backstreet in Hackney, East London, this remarkable little radio station is a hive of activity, with a huge variety of shows by dozens of local residents, artists and DJs. You can come here for radio shows, events and news from east London's micro radio revolution.
BBC Radio is a place to listen to live BBC news or catch up on the last 7 days of BBC programs.
iHeart Radio has the best music and talk stations for you.
Streema is a free online radio tuner to discover, share, and listen to radio stations with your friends. Listen to more than 70,000 radio stations and watch more than 10,000 TV stations here at the Streema directory.
World Radio Network brings together programs from public broadcasters across the planet and weaves them into a single stream. You can taste all the international radio, where in a single spell you might hear news from the Vatican, political analysis from Seoul and sports features from Africa.
Yahoo! Music radio is a sub part of Yahoo.com. It serves as other internet radio service with clear channel communication.
Grooveshark is a subsidiary of Escape Media Group and is an online music radio streaming service based in the United States. This online radio station has its own search engine, streaming service, and recommendation application.
Last.fm is a music discovery service that gives you personalised recommendations based on the music you listen to. This radio station is pretty much like Jango.
Slacker allows users to create and share customized music stations. Users will be able to customize one of their programmed stations (for instance, Top hits) or start with music similar to an artist or song, and then customize that.
RadioIO (pronounced "radio eye-oh") is a New York-based internet radio and streaming media service owned by RadioIO, Inc. (RAIO) started in 1998.
Digitally Imported is a multi-channel online internet radio service that focuses exclusively on Electronic Music and heavey metal music.
AccuRadio is free customizable online radio with unlimited skips. Over 900 free Internet radio stations: Rock, Pop, Classical, Country, Jazz, Oldies, Broadway ...
Musicovery is an interactive and customised webradio service. Listeners rate songs, resulting in a personalized programme.[1] Reviewers have commented that unlike services that are governed by the user's choice of artist or genre, this method results in more discovery of artists to which the user might not otherwise have been exposed.
SHOUTcast is cross-platform proprietary software for streaming media over the Internet. The software, developed by Nullsoft, allows digital audio content primarily in MP3 or HE-AAC format, to be broadcast to and from media player software, enabling the creation of Internet radio "stations".
If you want to get the freshest episodes of your favorite podcasts and shows in internet radio Stitcher Radio may be perfect solution for you. They streamed directly to your iPad or smart phones. No need to download anything.
With infinite skips and no ads, Rhapsody is a wonderful internet radio station that lets you stream music online, download songs and listen offline, and play personalized radio stations.
AOL Radio features 200+ free music stations including pop, hip-hop, R&B, country, classical, electronic/dance, indie, jazz, oldies and rock.
Double J makes it super easy to enjoy listening music online, on your TV, or on digital radio. This radio station brings you a big and various mixes of the best new music from Australia and other countries.
Radio Paradise is a special blend of styles and genres of the best selected music. You'll hear modern and classic rock, world music, even a bit of classical and jazz.
As a leader in the Video Software industry, EyePartner provides not only live audio Streaming Software, but also Broadcasting, IPTV Solutions and other Corporate Video Solutions.
Groovera (Groovera New Modern Radio) is an independent, multi-channel, commercial-free, and listener-supported Internet-only radio station dedicated to "chill-out music". Specifically, Groovera featured mixes of downtempo, future lounge, nu-jazz (aka. "future jazz"), ambient pop, trip hop, psybient and neo-soul, as well as other related and contributing genres.
Goom Radio is a mobile Internet radio service. The Goom Radio Factory allows online broadcasters to create custom online radio brands.
The Scope at Ryerson is an internet radio station owned and operated by Radio Ryerson Incorporated at Ryerson University in Toronto. It's a great place for Hip hop and politics.
WXB102 (formerly under the call sign and frequency DWXB-FM at 102.7 MHz, a frequency now used by Star FM) is a former Metro Manila FM radio station and current Internet radio station that plays New Wave, punk rock, synthpop, electronic music, dance-punk, post-punk, classic alternative rock and more from the UK, US, Philippines and the rest of the world.
Broadcasting 24/7 during term time, KUBE Radio offers a comprehensive schedule of shows including a range of music, discussion and sports.
Penwith Community Radio is a voluntary community radio station based in Penzance, Cornwall, England. It contains a combination of local news, weather, music and talk.
Based in a converted warehouse in San Francisco, Soma FM is funded by its listeners and therefore maintains a completely ad-free schedule. It broadcasts over 20 wonderfully varied channels, covering everything from folk to ambient music inspired by the Nasa space program.
P2 is a classical, folk and world music networks. It's an intelligent, beautifully scheduled affair – and is the finest alternative to Radio 3 that I've come upon.
This rather lovely little station was set up to cater for the thousands of Irish pubs scattered around the world, allowing them to connect and stream a rolling playlist of well-known music from the emerald isle.
Audiobook Radio offers a rich and often brilliantly read selection of material – from Annie Proulx short stories to full Shakespeare plays and poems by Dylan Thomas and Oscar Wilde.
LifeJive Radio is an online radio community of various radio stations broadcasting all over the world. The stations range from classical rock to European chill and soft music.
Radio23.org is a non-commercial, freeform radio station dedicated to providing an international artistic platform for innovative and creative home broadcasters.
Afterhours.FM (AH or Afterhours) is an Internet radio broadcaster that plays trance and progressive dance music shows from DJs around the world. Afterhours.FM specializes in electronic dance music and provides live broadcasts from electronic music events worldwide.
We'll add new radio stations to this list if we discover new ones. Click to listen to the online radios from the best internet radio stations. Or you can bookmark this page so that you can find the radio station any time you like.