Top 4 Things to Expect from OS X 10.10 Yosemite and iOS 8 Continuity
by Jenefey Aaron Updated on 2021-06-24 / Update for OS X
At the WWDC2014, Apple has made a big step forward by removing the barriers between desktop and mobile computing and linking them more closely than ever. The newly unveiled OS X 10.10 Yosemite and iOS 8 beta are linked more closely than ever. Of course, users are more concerned about what they can get from OS X 10.0 Yosemite and iOS 8 continuity.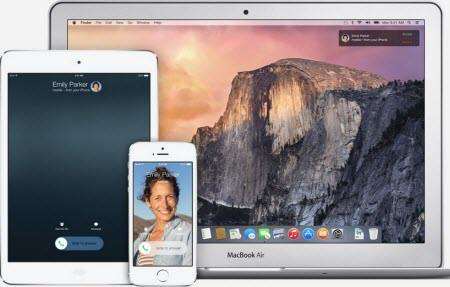 In general, the continuity with OS X Yosemite and iOS 8 allows you to do more wonderful things and make your life a lot easier.
Tips: For those who have already upgraded to iOS 8 beta, if you are not satisfied with it, you still have a chance to downgrade from iOS 8 beta to iOS 7 without much hassle. Just wait for the official release of iOS 8 which will be due this fall.
1. Finish What's Left Off Across Devices with Handoff
Handoff has made it easier for iOS and OS X users to finish their tasks when they switch devices. For instance, you can continue writing your email or word when you want to switch from MacBook Air to iPad mini so that you can write even lying on the bed or on the subway.
Handoff works between all your Mac OS X and iOS devices as long as they are signed in with the same Apple ID. The Handoff apps all work interactively, and when you start working in one Handoff compatible app (like Gmail), a link will appear on other devices. You will be able to continue working on the same account by tapping the link which appears in the bottom-left of the iOS Lock Screen (slide it up in a similar fashion to accessing Camera from the Lock Screen).
Moreover, Apple has provided the appropriate APIs to third-party developers so they can integrate Handoff in their own apps, opening the door to a completely connected ecosystem of Mac and iOS apps.
2. Share iPhone Network with iPad and Mac When No Wi-Fi
You are in a place where there's no Wi-Fi nearby and you don't have Internet access on your iPad or Mac? Since iOS 5, you'll be able to turn your iPhone into a Hotspot, and share the iPhone's network (both 3G and 4G) connection to iPads and Macs. Now with iOS 8 and Continuity, Instant Hotspot is set to become a persistent connection between your iPhone, Mac and iPad.
You no longer need to set for the network, as the name of your iPhone will be in the list of WiFi networks in Settings on your iPad and in the Wi-Fi menu on your Mac. Just select it to turn on the hotspot.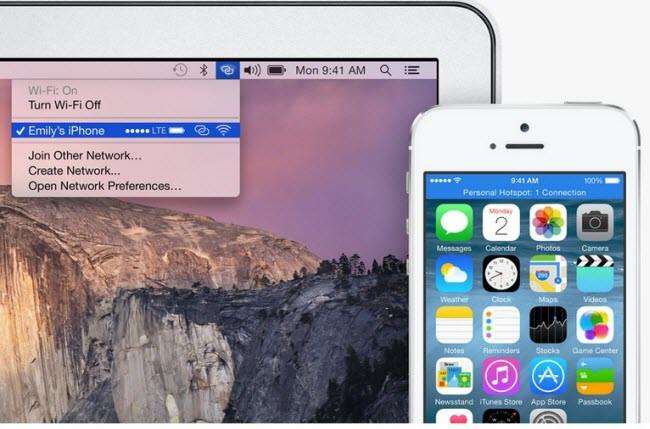 3. Call Your iPhone on iPad and Mac
No longer will you miss calls while your iPhone charges in another room when you are using your Mac. Instead, OS X Yosemite and your iPad can be used as a speakerphone via a wireless connection to your iPhone. You just need to make sure that your iPhone running iOS 8 is on the same Wi-Fi network with your iPad and Mac.
4. Send and Receive Messages on iPhone, iPad and Mac
You can not only receive phone calls with your iPad and Mac, but also send and receive SMS and MMS text messages right from your iPad or Mac. So when a friend texts you, you can respond using whether iPad or Mac. You can also start a conversation from your iPad or Mac by clicking a phone number in Safari, Contacts, or Calendar.
There's no denial that consumers can benefit a lot from these features. More importantly, these features would help Apple build a tighter connection between iPhone, iPad and Mac and make customers stay within Apple product line. This is really brilliant as Microsoft is not capable of linking Windows 8.1 computers or tablets with Windows phones so closely.