How to Download and Use VLC iOS?
by Jenefey Aaron Updated on 2021-08-09 / Update for iPhone Tips
Hello! What is VLC iPhone? I recently met a friend, and he had the VLC iOS version installed in his iPhone 12. The best thing I found in the app is its advanced controls and how smoothly the videos were played inside the VLC app. I want to know if it is safe to download VLC on your iPhone and is worth downloading on your phone. Please tell me about VLC's other features as well. Thank you!"
VLC is a great video player app, and we think it would work great on your iPhone too. Let's tell you what VLC is and how it functions.
Part 1: What is VLC?
VLC for iOS is a media player for iPad, iPhone, and iPod. The VLC player for iOS allows iPhone users to play any video format directly without converting the video first. It saves you time and provides flexibility as you can watch any video format that your default iPhone media player does not support.
VLC allows you to play all file formats, especially MKV. It supports multiple audio and subtitle tracks and provides customization for both of these features. Moreover, it provides support for network streams too.
You can adjust your video's speed, video filters and access a massive media library through VLC. The media library also comes with Wi-Fi uploads and downloads. You can sync Dropbox, iCloud Drive, Google Drive, Box.com, OneDrive, and many other drives with VLC on iOS.
The VLC web interface would facilitate an easy upload and download option to and from your iPhone. You can integrate it with your Bluetooth Headsets too.
The latest VLC iOS supports iOS 9.0 and later versions. It is free, open-source, and libre for iOS users. It would provide on-the-fly subtitle and audio track synchronization.
Part 2: Is VLC Available for iPhone?
Is the VLC player iPhone available? iPhone, iPad, and iPod touch can run VLC on them, and VLC would require iOS 9.0 or later versions to run this app. 
VLC is available for iPhone on the App Store. You can go there and download the app, or you can download the app from VLC's official website.
Part 3: How to Download VLC iOS?
There are two options for VLC iOS download. You can use the App Store and download VLC for the Mobile app, or you can go to the VLC website for this purpose.
3.1 Download from App Store:
If you are an iPhone user and want VLC on your phone, then follow these easy steps:
Unlock the iPhone. Navigate the App Store and tap on it.
Tap on the search button. Enter the keyword "VLC Player iOS." Choose the VLC player from the list of suggestions and confirm the developers are VideoLAN.
Click on the "Download" or Get option and install the VLC Player for Mobile on your iPhone. It is ready to use now.
3.2 Download from Website:
If you want to download the source code for VLC, you can download it from the VLC website. The page will also let you get the Binary code for the app. Here is how to get it:
Go to www.videolan.org/vlc/download-ios.html.
Scroll down to download the app.
You can choose the App Store option from the top.
You can also scroll down and click on the source or binary option and download the app version you prefer.
You can also use Softonic to download VLC. 
Part 4: How to Use VLC iOS?
It's time for some easy tips to run your VLC media player on iOS. iOS provides you with a few amazing functionalities to run VLC. Here are some tips you can use.
1. Download Videos:
You can download videos directly using the VLC media player. All you have to do is to launch the VLC app and access the side menu. You have to fetch the video link that you wish to download. Explore the "Downloads" bar, and you will see a URL insert option. When you paste the video URL in the VLC URL bar, it will start downloading the video.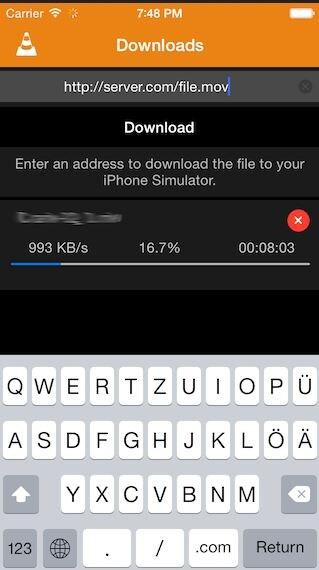 2. Play Dropbox:
If you're interested in playing your Dropbox videos, then VLC for iPhone provides you the option. Explore the sidebar of the VLC app and scroll down towards the Dropbox option. Enter your Dropbox details and sign in so your VLC can sync with Dropbox and play videos directly from it.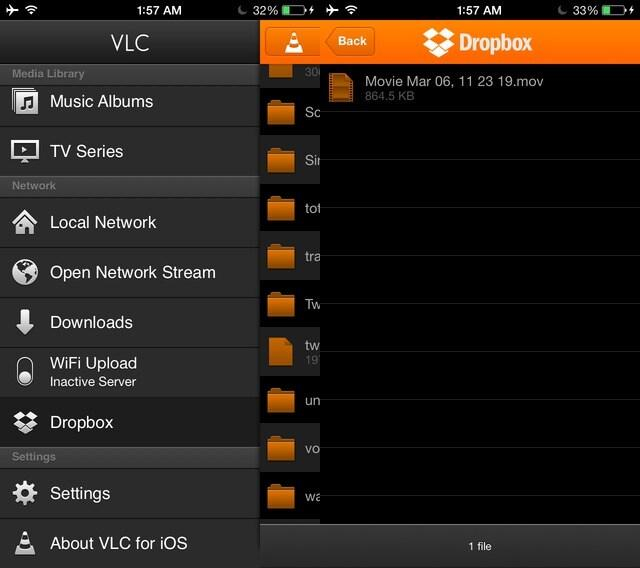 3. Use Settings:
VLC settings on the sidebar of the app provide lots of functions. You can enter a passcode lock for extra safety. You can also change subtitle fonts, colors, audio speed and modes, video filters, playback speed, and much more.
Part 5: Is There Any Alternative to VLC iOS?
Here are some alternatives for the VLC iOS app:
KM Player:
Multi-functional like VLC media player.
More skins.
Customizable options.
GOM Player:
Freeware.
No codec is needed.
Play broken files.
Kodi:
Robust media catalog.
Video organization.
Epic decoding.
Extra Tip: How to Recover Deleted Videos on iPhone?
If you have lost some videos you want to play on VLC, use the Tenorshare UltData tool to recover that video. The good thing about this tool is that it is easy to use and doesn't require any technical expertise. Also, the Tenorshare UltData - iPhone Data Recovery tool works on all the devices. Here are the steps that you can use to recover deleted videos on your iPhone.
Launch the UltData tool on PC after downloading it. Once it loads, choose the "Recover Data from iOS Devices" option. Also, connect your iPhone to the PC and ensure that it trusts the PC.

Once your iPhone is detected, UltData will scan your iPhone and show all the options to scan. Choose the "Photo Video" and "App Videos" options and click on Scan.

Check the preview of videos after UltData scans it, and you can select any lost video you want to reover.

Tick those you want back and click "Recover to PC" to bring back the file. Within a few seconds, you'll get your deleted files.
Final Words
The VLC app iPhone is diverse, fast, and epic. Moreover, if you want to recover your lost deleted videos from your iPhone, use UltData to get them back to your PC and phone, which is one of the best iPhone video recovery software worldwide.