Top 13 Ways to Fix iTunes Error Code 590624
by Jenefey Aaron Updated on 2019-08-29 / Update for Fix iTunes
Hi, I use an iPhone 6s. This morning when I was trying to connect my iPhone to the iTunes, a strange error came up saying, "There was a temporary problem completing your request. An unknown error occurred (590624). Try again later." Please help if you know any troubleshooting steps.
Hi user, you have landed at right place. In this article, we are going to discuss the essentials about iTunes error 590624 and why this comes up. We will share most helpful solutions to get the issue resolve. Let's explore!
Part 1: What is iTunes Error Code 590624?
An iTunes error 590624 generally appears when you plug your iPhone to the iTunes for update, backup or restore it. This error code can be a result for various reasons like the outdated iTunes or wrong date and time settings on your PC. Security protection as well as outdated iOS device can also prevent you from connecting your device properly and giving iTunes error 590624. Let's learn about it in a detailed way and know how to fix it.
Part 2: Top 13 Ways to Fix iTunes Error Code 590624
Let us not waste more time and get to the points on fixing this iTunes error 590624. We are going to provide you some helpful tips and suggestions that can help you get rid of the error code. Check out the following methods.
Way 1: Check the Date & Time Settings of your PC or Mac
Many times this iTunes error 590624 can meet you for the reason that the date and time settings are not correct on your computer. Therefore, the first suggestion that we think can help you is to check the date and time on your respective computers and correct it if they are erroneous.
Way 2: Login an administrator account instead of a guest account
Another way to do away with the problem is to login on your system only with administrator account. Try not to login as a guest account when login next time. In case you're using it, first log out and then use the administrator privileges to login. Now check if this works and the iTunes error 590624 gets vanished.
Way 3: Update iTunes to the latest version
If the above two tips went in vain, check if your iTunes is updated or not and take steps accordingly.
On your Windows PC, open iTunes and click "Help" > "Check for Updates". Install the updates if available.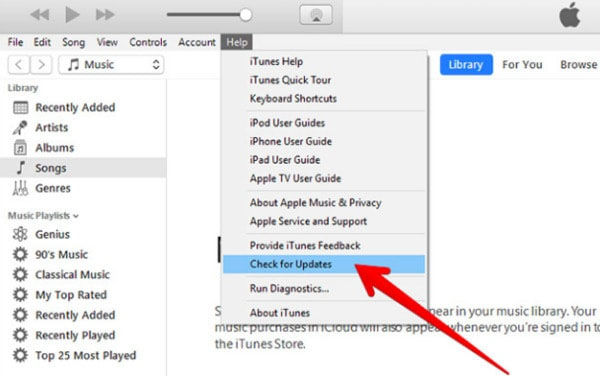 On Mac, click "iTunes" menu > "Check for Updates" and download the new updates to get rid of the problem.

Way 4: Update the iOS to the latest version
Along with iTunes, you need to be sure of that your software is updated in your iPhone as well. Go to "Settings" > "General" > "Software Update". You can now check if there is new update available. Follow the prompts and get your iOS updated.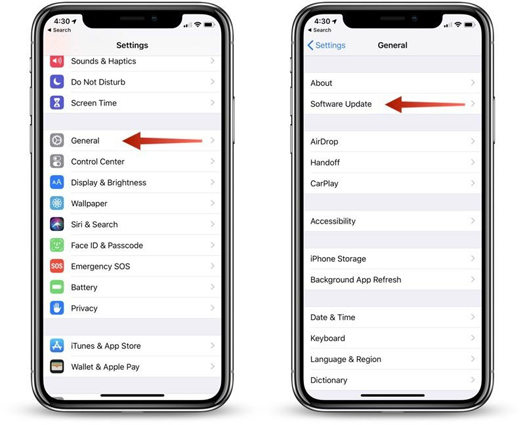 Way 5: Update Your Security Software
A yet another suggestion would be to update your security software or firewall on your computer. This can be done when you update your Windows. Press "Windows" + "I" keys together and go to "Update & Security". Now choose "Check for updates" and your PC will show if there is any new update.

Way 6: Disable Your Antivirus Temporarily
If you are still experiencing iTunes error 590624, the reason could be a conflict between iTunes and your antivirus. In order to fix this, you should try to disable your antivirus on temporary basis. Do this and check if the problem goes.
Way 7: Check the Network
A stable network connection is really a significant thing one needs to have while working with iTunes. So maybe your network conditions are not of good quality and that is what welcoming this iTunes error 590624. Please check if your internet is perfectly working. You can also try to restart the router to balance the performance.
Way 8: Try to use a Mac computer
Switching to another operating system can prove to be helpful if receiving iTunes error 590624. For instance, if you are working on a Windows computer and using iTunes, try to use a Mac for the purpose. See if this works for you.
Way 9: Check Hosts File
If iTunes cannot properly communicate with the Apple servers, the result could be iTunes error 590624. And this can happen due to hosts file. Hence, as the next tip, you need to check your hosts file if they aren't letting this thing happen.
Way 10: Try to Disable the Security Software on your Computer Temporarily
Get your security software or firewall disabled temporarily as it may halt the connection between iTunes and Apple servers. Eventually, you're encountering iTunes error 590624. Check if, after disabling the security software or firewall, the iTunes error 590624 crops up or not.
Way 11: Don't open any data recovery app and iTunes at the same time.
There are instances reported that while opening a data recovery app and iTunes at the same time, the data recovery app stops functioning of other applications running in the background. Ultimately, stopping the iTunes operations and hence, the iTunes error 590624 crops up.
Way 12: Repair your iTunes
If unfortunately all of the above methods didn't prove to be helpful, you need to repair your iTunes then. For this, we recommend Tenorshare TunesCare. It is a tool compatible with iTunes 12.9 and is able to resolve any iTunes sync issue or iTunes error codes easily. Let us know how you can fix iTunes error 590624 using TunesCare.
Step 1: open Tenorshare TunesCare after when you install it. When you are in the main interface, click on "Fix All iTunes Issues" to begin.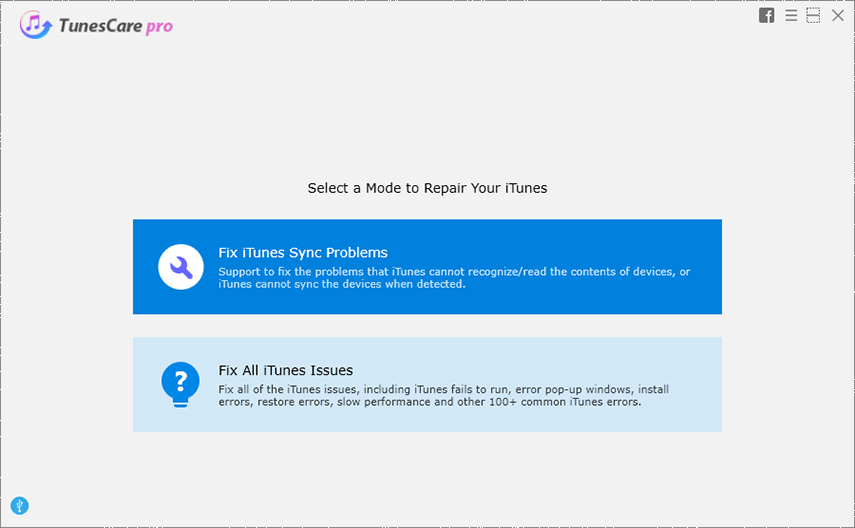 Step 2: Click on "Repair iTunes" to enhance the iTunes performance if it is running relatively slow on your PC.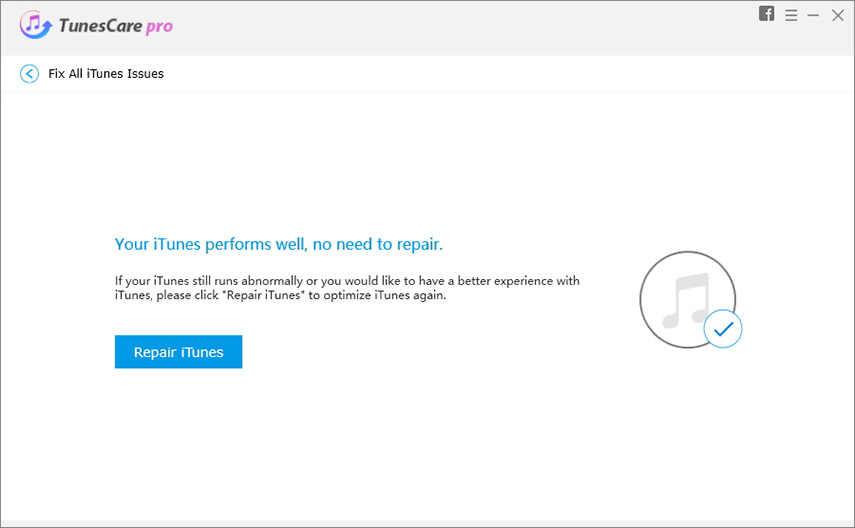 Step 3: When you click the above button, the program will begin to download necessary components. You need to wait for some time until the issues get repaired.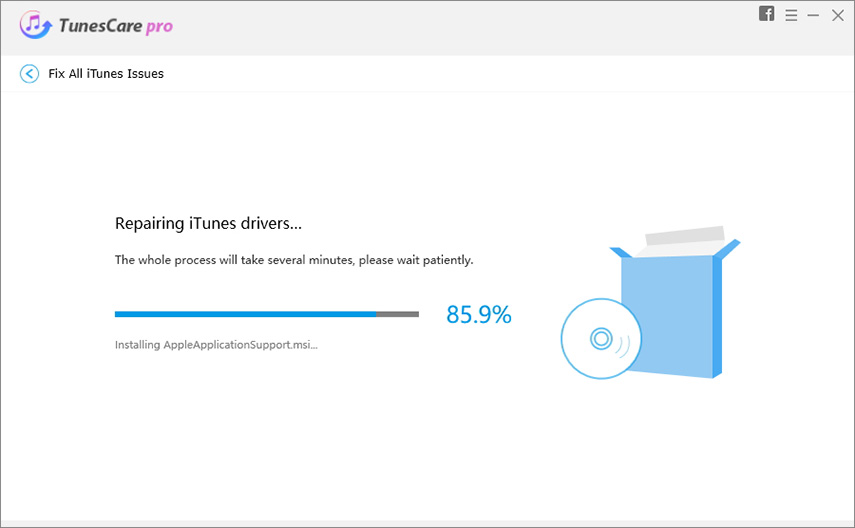 Way 13: Please contact Apple Support
If you've tried everything and still got no results, it's high time that you need to go to the Apple Center. Make sure to contact Apple support and talk about the problem to the technician experts at Apple Store.
Part 3: Best Alternative to iTunes - iCareFone, Best Free iOS Backup
If you were using iTunes to backup and received iTunes error 590624, you should know a better iTunes alternative. Putting clearly, you need Tenroshare iCareFone which ensures to backup iOS freely. You can also restore anytime you wish to. It can backup selectively and flexibly unlike iTunes. Within a click, you can backup your important data using this tool.
Step 1: Download, install and then launch iCareFone. Connect iPhone and click "Trust This Computer" on your device. Now, click on the "Backup & Restore" tab given at the top.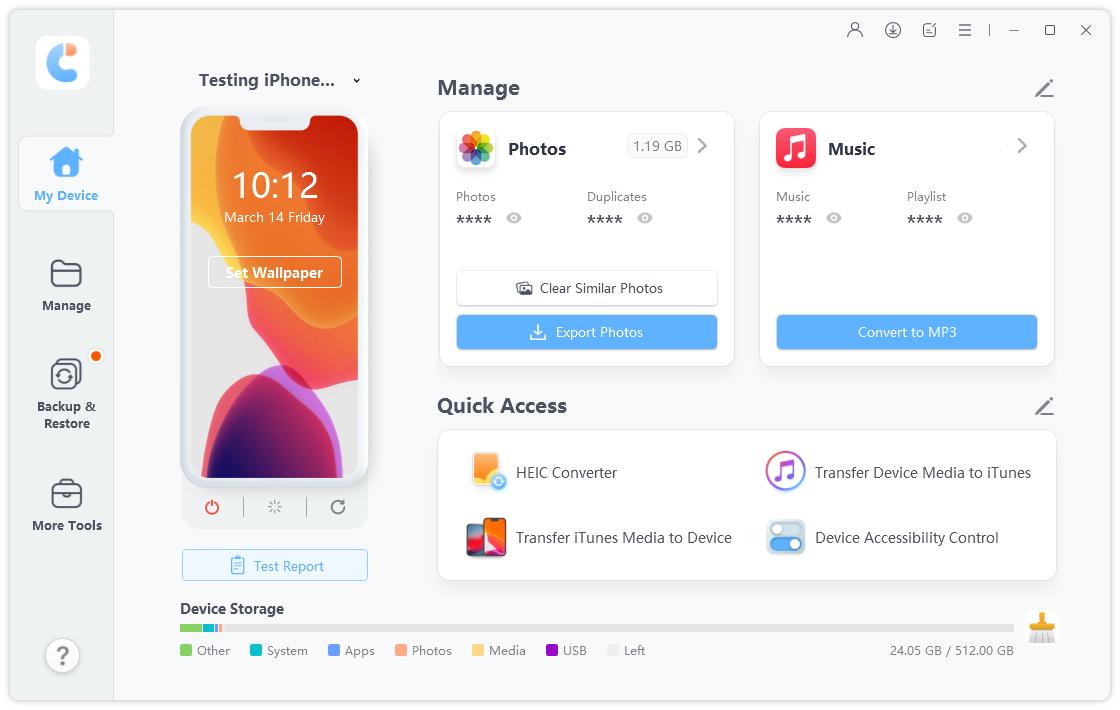 Step 2: Now, you need to choose the files that you want to backup. Click "Backup" once selected.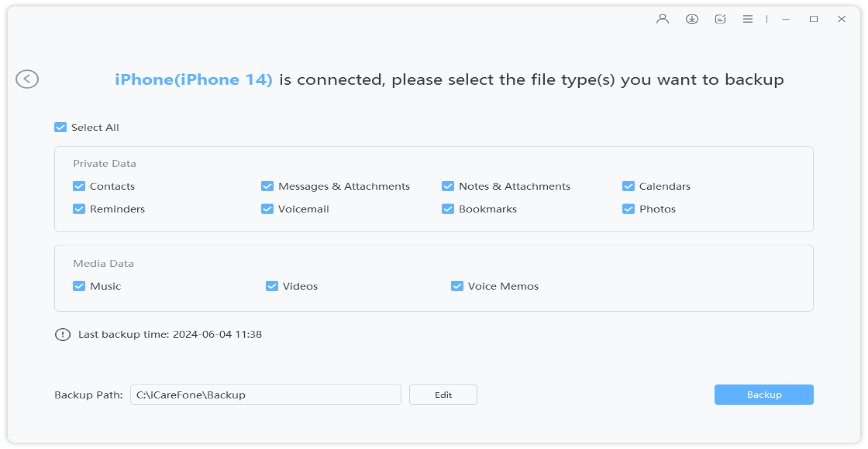 Step 3: Wait for a while until you see the "Backup Completed" message on the screen. You can now click on "View Backup Data" if you want.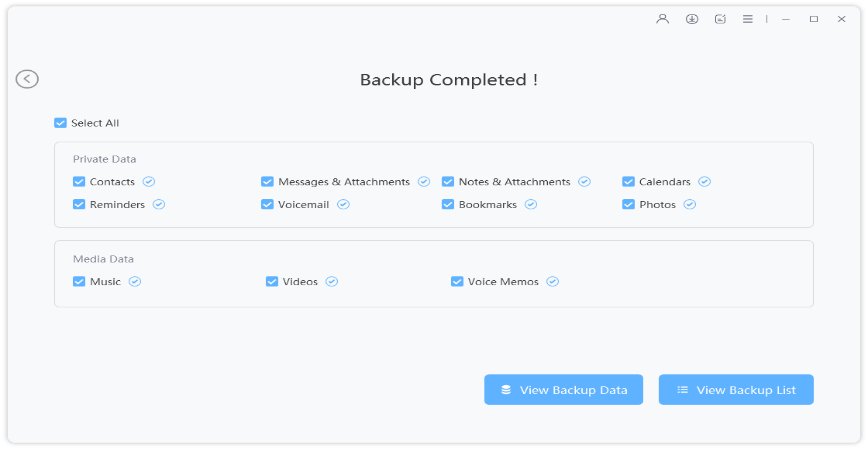 Conclusion
An iTunes error can be a serious headache and you might find yourself completely baffled when stuck with such error codes. Well, we have explained and provided fixes for iTunes error 590624 in this article. We will cover more topics and similar error codes in future. Stay tuned with us to get more information.