Write Protection Removal Software Download
by Jenefey Aaron Updated on 2022-05-25 / Update for Data Recovery
Every user at some point of time thinks it is better to have an extra layer of security for a particular file/folder or for entire disk. You may use different methods to keep your content safe whether to hide it somewhere and have a password protection but this kind of security can be used everywhere. If you want people to access your content without doing any modification on it then write protection is best for you. Write protection is one of the useful protection that helps to prevent an unauthorized access/editing of the content. In this article we will be discussing about top 3 write protection removal software download. Have a look on all of them.
6 Ways to Remove Write Protection from USB Drive in Windows 10
Part 1: What Is the Write Protection Function?
Write protection is one of the useful function that is widely used around the world. Basically, it work is to protect the content from any editing or modification. When the content is write protected we will be able to read it but cannot make any changes as the authority has not been given to us. Generally, write protection function is used in office where team leader wants other to read certain things which has been forwarded but they cannot make any sort of changes even though if they want to unless the write protection has been removed.
Part 2: Can I Remove Write Protection?
Yes, it is possible to change the write protection with an ease. There are several ways which can let you remove the write protection. Write protection is not only done is windows disk but also can be done in SD card, USB, Pen Drive etc. You can even remove write protection from all these device. All you need to know is the prefect write protection removal software that can make you work easy and fast. Some of the software are mentioned ahead, simply go through it and choose the best one.
Part 3: Best 3 Write Protection Removal Software Download
There are many write protection removal software available in the market but all of them doesn't work properly. Here, we have listed 3 write protection deletion software. Go through it and choose the better option as per your convenience.
1. AOMEI Partition Assistant Professional Edition
AOMEI Partition Assistant is one of the best partition manager that lets you manage the complete disk of the system. It includes all the cutting-edge technologies like GPT/UEFI, dynamic disk and SSD migration. You can easily resize, merge and split partition. It also let you extend partition wizard, allocate free space, create/format/delete partition with an ease. There are so many features that will help you out from every possible way.
Download Link: https://www.disk-partition.com/partition-manager-pro-edition.html
Pros:
• It has simple and easy to use interface.
• It offers free lifetime technical support.
• It supports most of the common partition task.
Cons:
• It doesn't support Linux or Mac system.
Compatibility System: Windows 10/8.1/8/7/Vista/XP
2. EaseUS Partition Master Free
One of the trusted software that easily let your create, clone, merge, move, resize and format partition. You can easily manage disk space with no data loss and fast process. EaseUS partition master free lets you merge partition, check partition, format/delete partition, wipe partition, change partition label and many more. This software can also manage storage media whether it be HDD, SSD, USB, memory card, SD card etc. it is really easy and simple to use.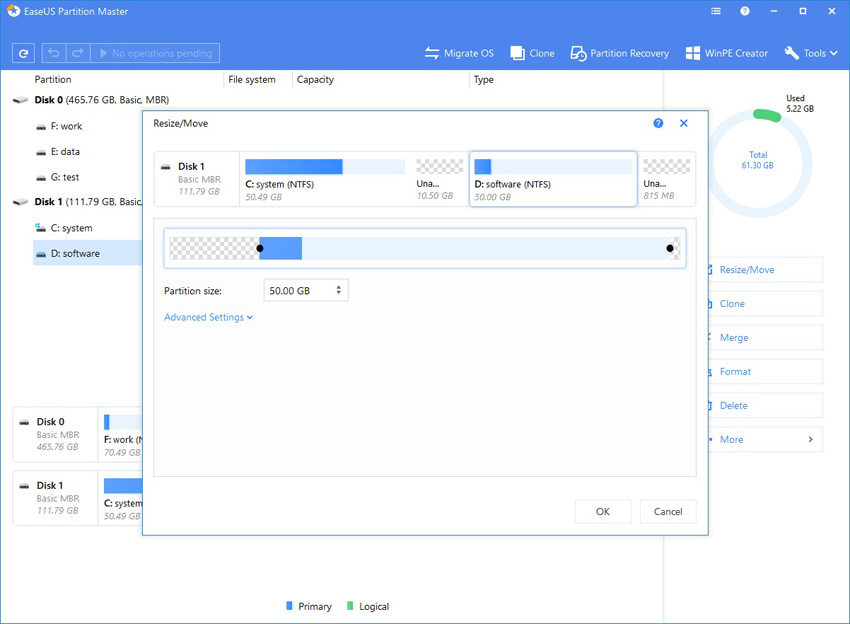 Download Link: https://www.easeus.com/partition-manager/epm-free.html
Pros:
• It offers lots of useful operations.
• It show you preview before applying them.
Cons:
• It can only be used for own self/personal use.
• It can let you manage dynamic volume.
Compatibility System: Windows 10/8.1/8/7/Vista/XP
3. MiniTool Partition Wizard
MiniTool Partition Wizard is another competitor software which offers so many features to its users. This software helps to measure drive performance as well as analyze disk space usage. MiniTool partition lets users manage partition, migrate OS to SSD, check system file, convert MBR to GPT and many more. Some interesting features that we get are disk benchmark and space analyzer for the better experience. It supports many storage device such as HDD, SSD, external hard disk, USB flash drive and many more.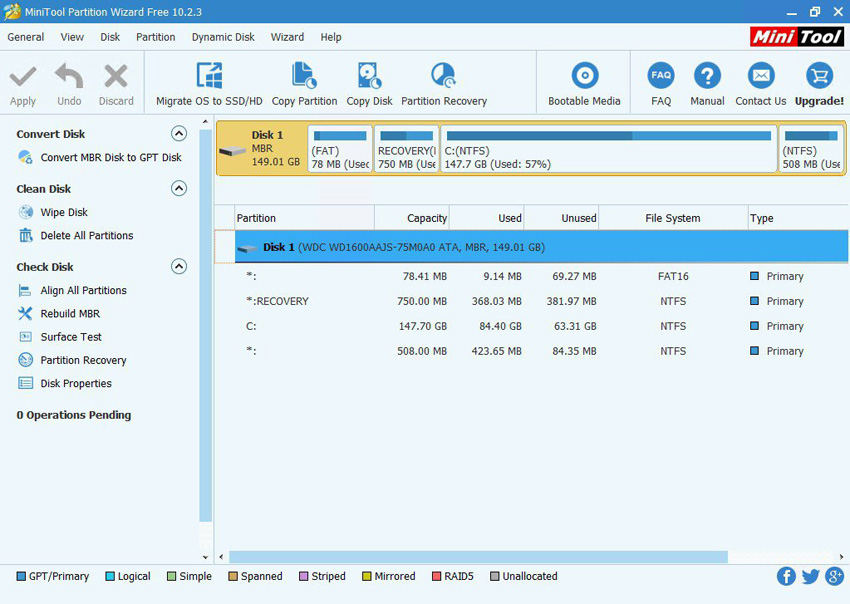 Download Link: https://www.partitionwizard.com/free-partition-manager.html
Pros:
• It is easy and simple to use.
• It supports common partitioning operations.
• It lets you extend the system partition without restarting.
Cons:
• It doesn't let you manage dynamic disks operation.
• It shows the features which will only work in pro version.
Compatibility System: Windows 10/8.1/8/7/Vista/XP
Extra Tips: How to Recover Deleted Files from Formatted SD Card/USB/Pen Drive/Trash
If you have lost your data from SD card, USB, pen drive or hard disk and don't know how to get it back. Well, there is a perfect software (4DDiG – Windows/Mac Data Recovery) that can easily get back all the formatted, deleted or lost files from compute, hard disk or any removable devices. You might have lost the data due to any reason whether it be file corruption, human error, hardware failure or unforeseen event, 4DDiG has the ability to get back all the data no matter what the reason is. It is 100 percent secure to use and has high data recovery rate.
Process to recover deleted files from formatted SD Card/USB/Pen Drive:
Buy Tenorshare 4DDiG with coupon code: 4DART30OFF to enjoy 30% OFF now!
Step 1 First download, install and launch 4DDiG – Windows Data Recovery on your computer or 4DDiG for Mac Data Recovery on your Mac.
Step 2 Next, select the location of the lost files where it was saved. If you can't remember the location simply select "Lost Partition".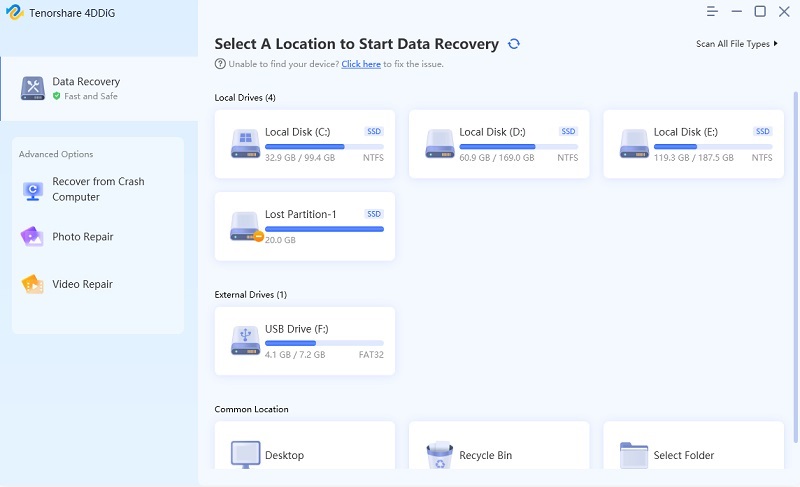 Step 3 Then click on "Scan" button, it will start to scan thoroughly and will list all the deleted files on the screen once the process is completed.
Step 4 Click on "File View" or "Tree View" option on the left to get the preview mode. You will be able to see the thumbnail for each item.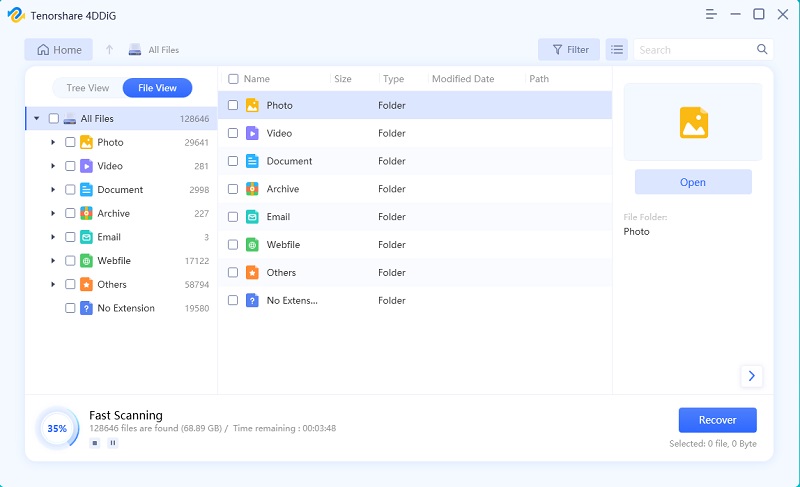 Step 5 Click on "Preview" option to see the file with info. Then click on "Recover" button to save all your recovered content. [Note: Do not save the file on the same location where you had lost data or saved previously]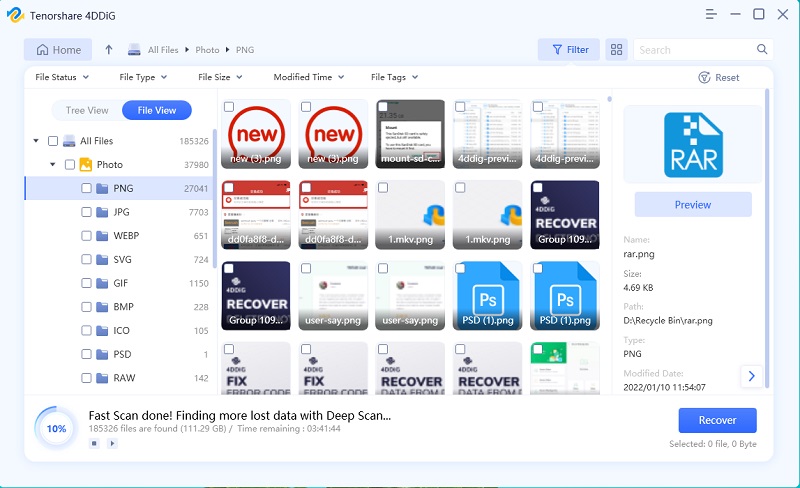 Video Tutorial on How to Recover Deleted/Formatted Data from SD Card with PC
Conclusion
In this article we have shown you top 3 write protection removal software. You guys should have known what write protection is and which software is good to remove it after reading this article. It is recommended to use Tenorshare 4DDiG Window Data Recovery software in case you want to recover lost data from hard disk, memory card or removable device. It works like a charm and has high data recovery rate. Let us know if you have any query.
A Fabulous Video Repair Tool
A wide range of repair video file formats up to 17+, MP4, MOV, AVI, MKV, F4V, and a lot more;
Corrupted video repair for phones, cameras, GoPro, drones, etc.;
Perfectly featured with 4K, 8K, 360° & VR video repair;
Compatible with Windows 10 & macOS Catalina for freshman or expert;
Updated on 2022-05-25 / Update for Data Recovery
Join the discussion and share your voice here