Have you ever encountered Windows 10 keeps freezing even not responding or computer freezes on startup? Many users complain their computer frequently freezes or completely halts, especially when they are on games or visit webpage.
Generally, computer freeze and programs not responding can be caused by a range of issues. The next content will show you the related issues and also offers you the solutions to fix computer locking up and freezing problem.
Software related issue
Windows freeze or stop responding is often caused by software related issues. If you are encountering lockups when the computer is opening a particular program, make sure you have all the latest updates for all running programs. You can find the latest updates for your software through the software developer or publisher.
Too many programs open
Each program or window you open on your computer takes some of the computers resources to keep it running. If you have too many programs open at one time, your computer may be low on resources, and as a result, is freezing. Try only running one program at a time to make sure your freezing is not being caused by multiple programs running at the same time.
Driver related issue
A computer locks up or freeze can also be caused by outdated or corrupted drivers. For example, if there is an issue that exists with your video adapter drivers, your computer could lock up while playing a game or watching a movie.
First, make sure no errors exist in the Windows Device Manager by opening the Device Manager and verifying that no "Other Devices" are listed. Next, make sure you have the latest drivers for all major devices in your computer (video, sound, modem, and network).
Heat related issue
If the computer processor is getting too hot, it can cause computer frequently freezes. If you have heard any abnormal noises coming from your computer recently, such as a high squealing, it could be an indication of a failing fan.
You can first start by verifying the fan on the power supply is working by examining the back of the computer and seeing if the fan is moving and moving smoothly. For the other fans in the computer, you have a few options. You can either open the computer or physically inspect them or, if the computer monitors the RPM of the fans, enter CMOS setup and make sure the BIOS not report any errors.
Hardware issue
A hardware malfunction or misconfiguration can cause a computer to lock up. If you have recently added any new hardware into the computer, temporarily remove it to make sure it is not the cause of your issue.
These 5 issues are the main destroyers to cause your computer continually freezes and stops responding. If the above ways still can't solve your problem, then you can use Tenorshare Windows Care Genius to fix it. It's a first-class cleanup and speedup tool for Windows 10/8.1/8/7/XP, which also optimize your PC and free up PC space.
Free Download
For Win 10/8.1/8/7/XP
Secure Download
First, download, install and launch Tenorshare Windows Care Genius on your PC.
Step1: Click Checkup to analysis the whole heath status of your PC. Then your computer will be scanned automatically. After that, you will know about how much your computer consumes after long-time usage.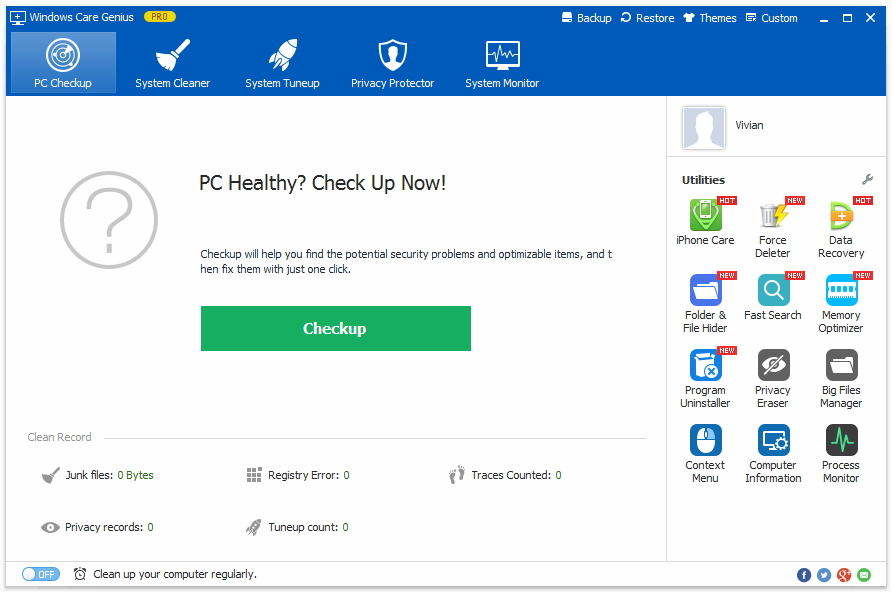 Step2. Here you can click Fix to fix all the problems or fix them one by one. After that, you can click Checkup again to check your PC's heath status again.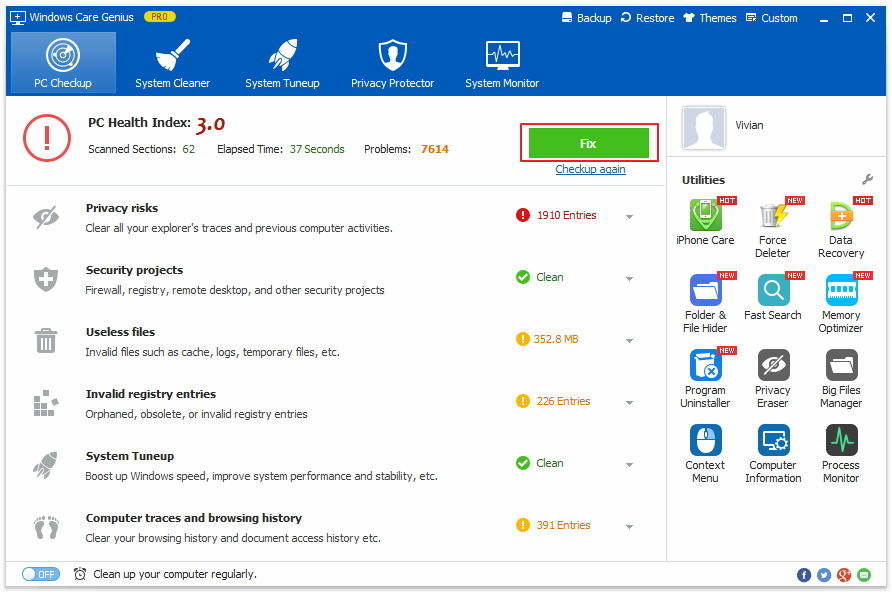 You can also turn to System Cleaner to one-click to checkup and cleanup system junk files, or go to System Tuneup to deeply optimize to PC overall stability and performance.
After the process, the Windows keep freezing not responding problem can be totally fixed. You will regain a smooth computer and enjoy it as before.
Free Download
For Win 10/8.1/8/7/XP
Secure Download
Related Articles
comments powered by