Apple is planning to release Mac OS X Mavericks this fall. Though it's still a few months away, the OS X Mavericks beta 3 update arrives and is able to be downloaded.
Mac developers and those who pay $99 fee to join Apple's Mac developer program could get the first bite of OS X Mavericks. The OS X Mavericks beta 3 update is available through Apple's developer website. Users who have already downloaded a prior beta of OS X Mavericks could update to the beta 3 directly from the Mac App Store.
Features of Mac OS X Mavericks
OS X Mavericks introduces plenty of new features to the Mac experience, including the new Tabbed Finder and Tags system for keeping files orderly, and the ability to run full-screen apps on multiple displays.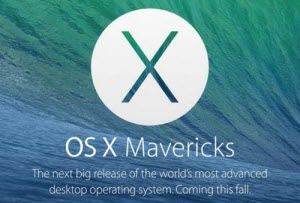 Mac OS X Mavericks improved battery life for OS X power users, which is realized by features like Compressed Memory, Timer Coalescing and App Nap. Compressed Memory rapidly compresses inactive memory used by the computer to give free space to any application in use. Timer Coalescing reduces the level of CPU interruptions and transitions by up to 72 percent. App Nap helps you save power when you're working with multiple apps at the same time.
In addition, OS X Mavericks improves the energy efficiency of iTunes HD video playback. You can watch iTunes HD TV shows and movies full screen even when you're unplugged. The video playback engine takes greater advantage of the efficient graphics hardware in your Mac and reduces the frequency of disk access.
How to Install Mac OS X Mavericks
With so many wonderful features in OS X Mavericks, you must be craving for a fresh taste of the newest Mac OS. The tips below which describe how to install Mac OS X Mavericks must be helpful to you.
1. Go to Apple's Mac developer website and download the OS X Mavericks developer preview 3. Developers and users who have paid the $99 fee will need to log in with their information to access the download file for OS X Mavericks.
2. Once downloaded, the Finder will open a window with an OS X Mavericks developer preview file will the file extension ".dmg." Double-click the file, and you'll want to drag the beta 2 of OS X Mavericks into the applications folder.
3. When the file is copied into your applications folder, find the file that says "Install OS X Preview," follow the instructions and the file will install by itself.
Finally restart your Mac. You may find your PC restarts once or twice (possibly more if this is the first time you're downloading a beta of OS X Mavericks). But once you log in, your Mac should be running the latest beta of the new OS X Mavericks.
If you are interested in other iOS devices such as iPhone, please click to see Mac Software.
Free Download
For macOS 10.13 and below
Secure Download
Related Articles
comments powered by