How to Downgrade Your iPhone from 10.2 to 10.1.1
by Jenefey Aaron Updated on 2019-07-25 / Update for iPhone Tips
As with any upgrade, it's easy to just blithely update your devices without thinking about it. There are times when this becomes a problem, either when the upgrade is interrupted for some reason, or perhaps something is upgraded that you wanted left as it was.
Either way sometimes you need to roll back your iOS device. Obviously the best time to do this is sooner rather than later, but we'll go into that in a moment. But why would you want to roll back your iOS and how do you do it safely?
Downgrading Your iPhone 7 Plus/7/6s/6s Plus/6/6 Plus/5s/5c/5 from 10.2 to 10.1.1
You know the feeling, you accept a new update from Apple and all of a sudden you have lots of great new features. But because the update is new you also have lots of great new heartaches. If the update is new and has bugs or issues then you might be in a bit of a bind. If you find yourself in a situation of having an update you don't want and want to roll back to what you had and await an update which solves the problem, what do you do?
The amount you can roll back your iOS is restricted. You can only go back as far as the last signed firmware. As long as the update is just out you should be fine. Firstly you need to get a hold of an IPSW file for the previous 10.1 firmware. (You can theoretically go back to any firmware but beware the restrictions on how far back you can go.) Direct inks to all available 10.1 IPSW files are below:
Then turn off your Find My iPhone app in settings -> icloud ->FInd My iPhone.
Attach your iPhone to iTunes and enter DFU mode (also known as recovery mode). For users of all devices but the iPhone 7 you hold down both the Home and the Power buttons on the device for 10 seconds approximately. Then keep holding the Home button and release the Power button. You will alerted that the device is entering recovery mode.
Once in recovery mode in iTunes click the devices section and hold shift on Windows (or option on the Mac) restore your iPhone. Using this technique you can choose a firmware update to install.
Plan for the Worst, Hope for the Best
If all that seems like a bit of a dangerous rigmarole, you can always use Tenorshare iCareFone to put your iPhone into recovery mode, and you can switch firmware updates with it too. Obviously if things go wrong such as gets stuck (or as part of the rollback process) with any update, your first port of call should always be Tenorshare ReiBoot. Using this free software you can load a firmware and repair your iPhone right there at the push of a button.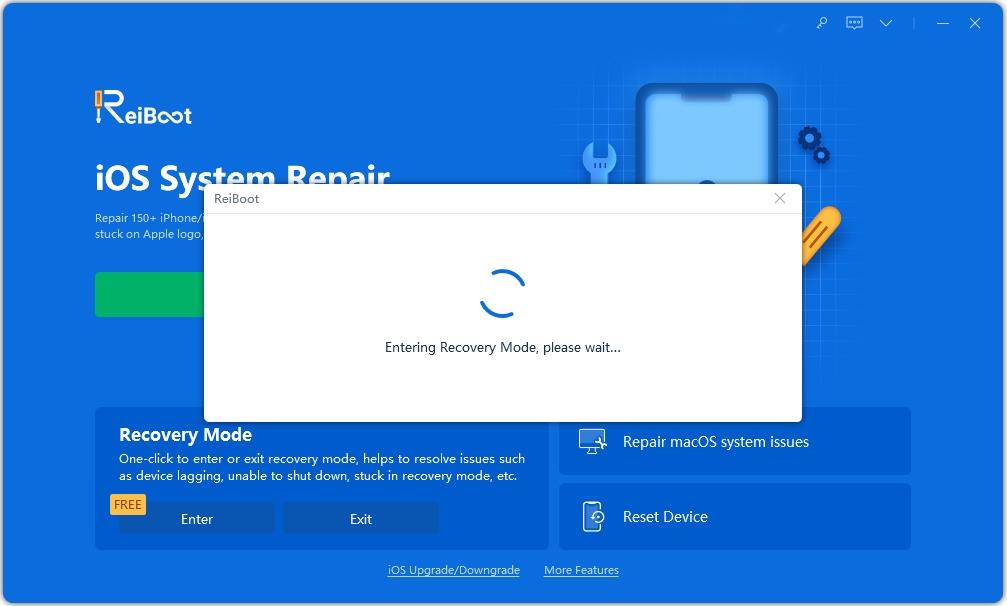 Finally a note of caution: This is a time limited operation. There is a risk doing this after too long has passed as Apple revokes the signing of the firmware updates after they become obsolete. There is no warning when this happens and once it is no longer a signed secure update you'll be stuck. So, tread carefully and make sure you keep backups of your current working state so you can get back to it if anything goes wrong. In this way Tenorshare iCareFone can be your friend.