How to Restore Data from iCloud Backup
When your iPhone is lost, stolen or inaccessible, but fortunately you have backed up your iPhone data in iCloud, UltData has brought a handy way for you to retrieve data from iCloud backup file. If you have iCloud backup, then recovering data from iCloud backup file will be your best choice. You can download iCloud backup to local and selectively recover your data from iCloud backup.
Before getting started, please ensure the data you want has been backed up to iCloud, and your computer is connected to Internet.
Step 1: Select Recovery Mode and Log in to iCloud
Switch to "Recover from iCloud Backup File", and sign into iCloud with Apple ID.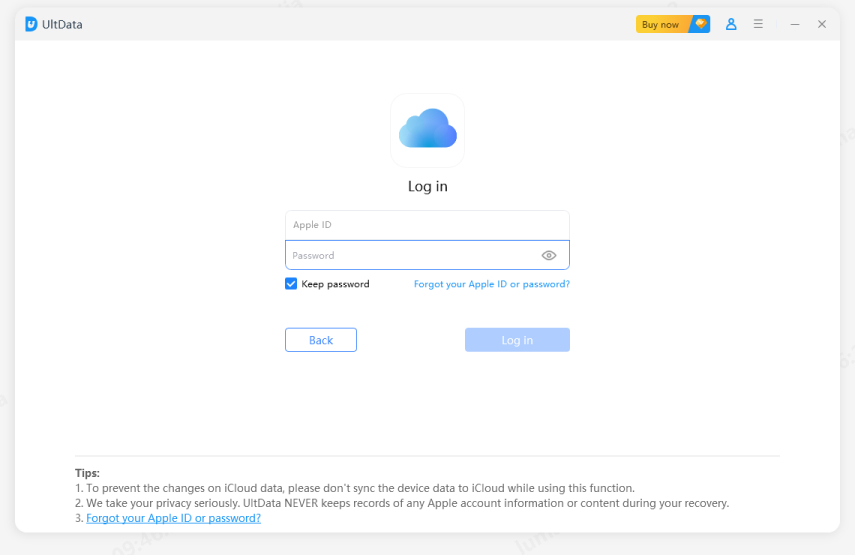 Step 2: Choose Specific iCloud Backup
After you log into the iCloud account, all backups associated with this Apple ID will be listed. You can check the details (name, date, version, and size) of each backup file. Choose the backup that contains your lost data and click "Next" button.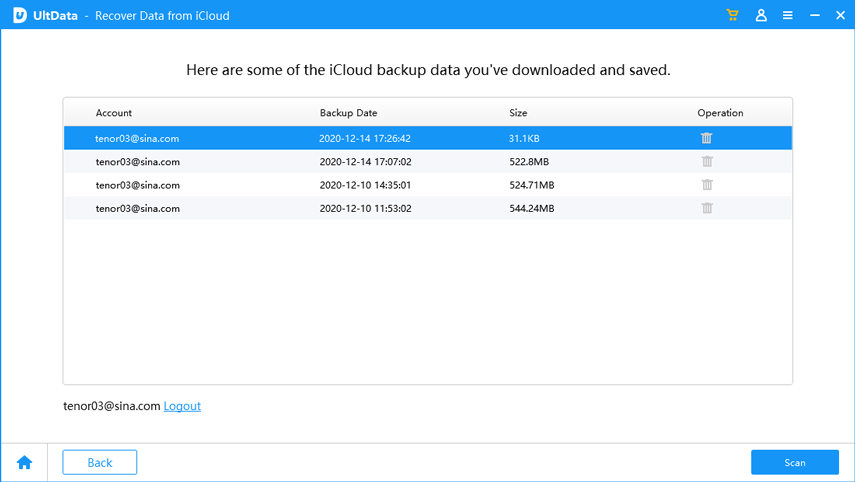 Step 3: Pick up File Types to Download and Scan
In the next window, you are allowed to select file types for downloading and scanning. To speed up the process, you can just download those file types that you need. Click "Next" button to start downloading these items from cloud.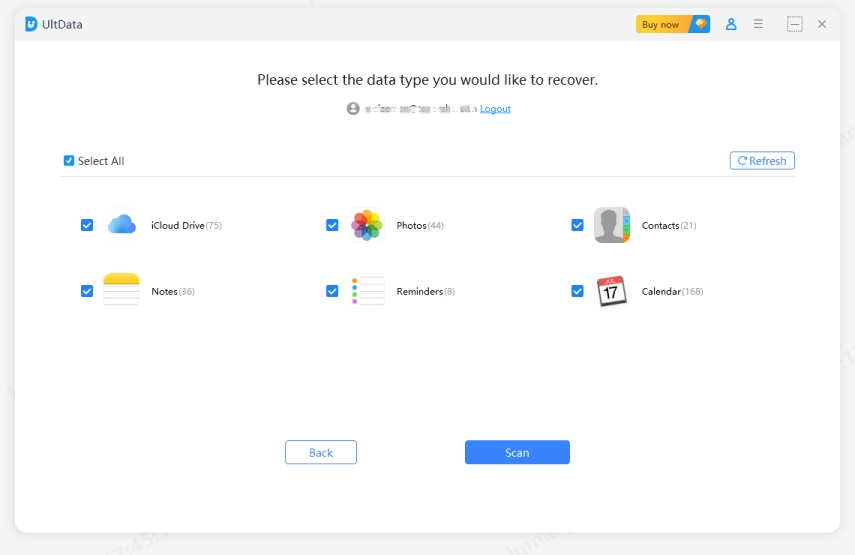 Step 4: Download Files from iCloud
The download process takes a while, depending on the backup size and internet speed. Once completed, UltData starts automatically scanning data from these file types, and you will be able to preview detailed items.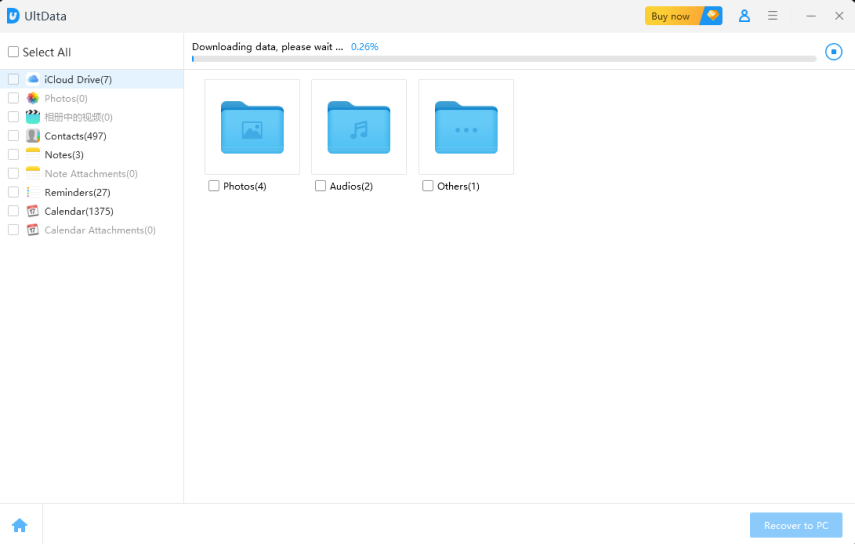 Step 5: Preview Detailed Data from iCloud Backup
Your data in iCloud backup will present a result for previewing and recovering. Clicking a category on the left can expand detailed items. The results contain both existing and deleted info from your backup. You can choose "Show Only Deleted" at the bottom to display deleted files only.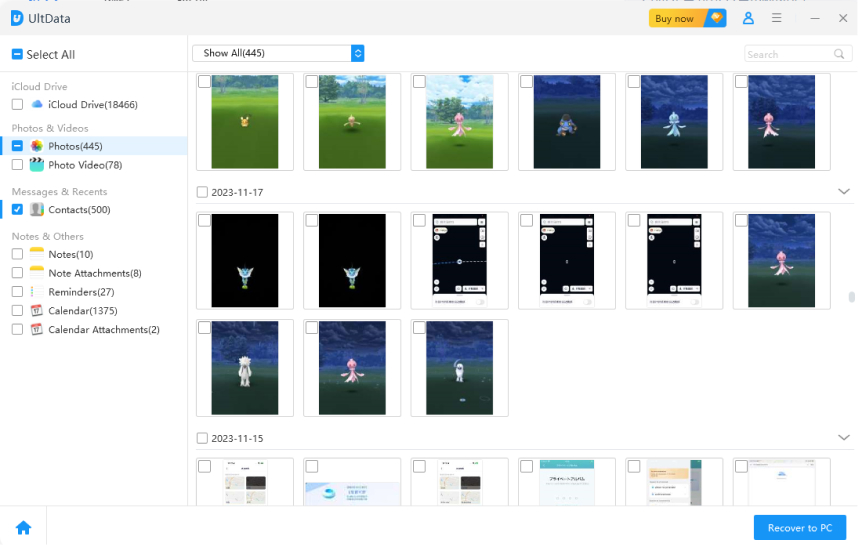 Step 6: Choose Files for iCloud Data Recovery
Pick up items that you want to restore and click Recover button. You can selectively recover desired items instead of recovering all files. Moreover, you can click Output Setting button on the top right corner to select the formats for different files. Media contents (Photos, Videos, and Memos) will be restored as original formats.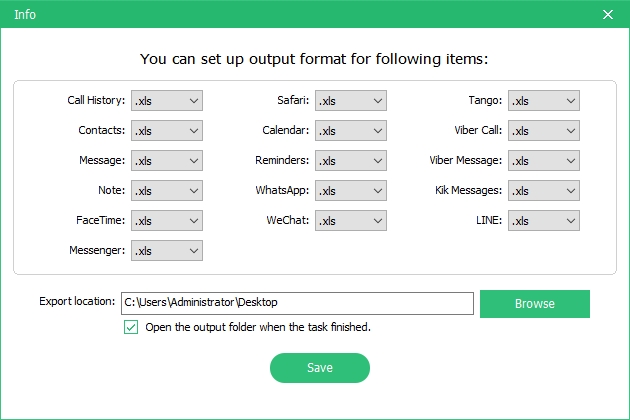 Note: For contacts, messages and notes, there are two recovery options: Recover to Device(there could be some limitations of exporting different types of files) and Recover to Computer. If you choose "Recover to Device", please connect your iPhone, iPad or iPod to computer with a USB cable. Messages will be transferred to your device as new unread messages in iPhone Message app, so do Notes and Contacts.