How to Speed Up Your PC Internet Connection on Windows 10/8.1/8/7
Does your PC Internet connection is increasingly slow? A slow Internet connection can be a productivity killer. Windows Care Genius provides an all-fix solution to improve network speed.
Many of us have the experience of a slow internet connection. It takes forever to open Netflix or log into a game. This drives us mad. The first thing you can do is check in with your ISP and see what speed you're paying for. When it proves that you are paying for a good network speed, you can use Windows Care Genius to troubleshoot slow Internet connection on your PC.
Why is Windows Care Genius the Best Network Speedup Utility?
When searching on Google, while there are lots of suggestions and articles writing about Internet connection optimization and speedup, most of which are complicated and tedious. With Windows Care Genius, you can boost Internet connection with several clicks, quite easy and simple.
How to Speed Up a Slow Internet Connection on Windows 10/8.1/8/7?
Download and install Tenorshare Windows Care Genius to a Windows PC or laptop running Windows 10/8/7/xp/vista. Open it after successful installation. Following is a guide to speed up Internet connection with Windows Care Genius.
Step 1. There are five function tabs on the top interface. Please choose "System Tuneup" to enter system speedup center.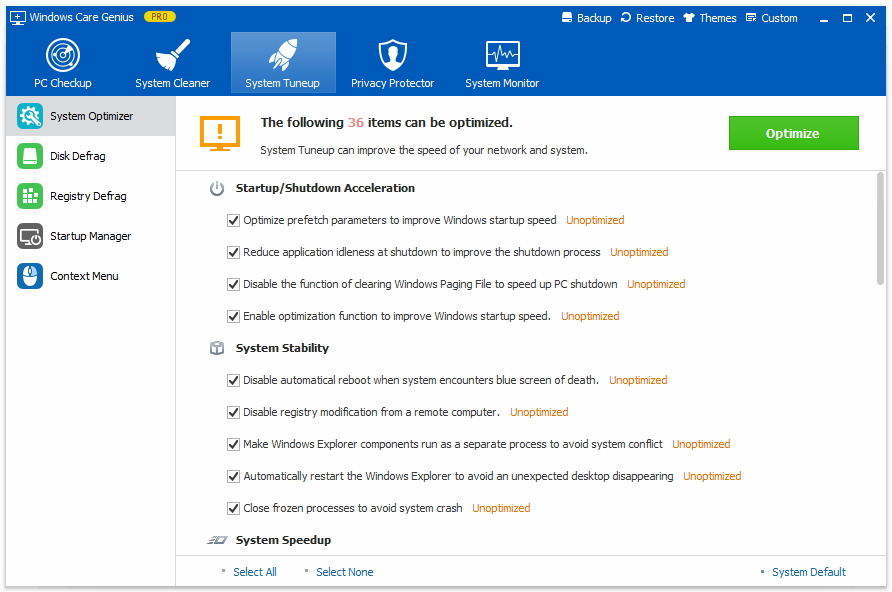 Step 2. Windows Care Genius speed up your PC from five parts: System Optimizer, Disk Defrag, Registry Defrag, Startup Manager and Context Menu. Internet acceleration is a part of System Optimizer. So select "System Optimizer" (default) and scroll down, you will find "Network Speedup".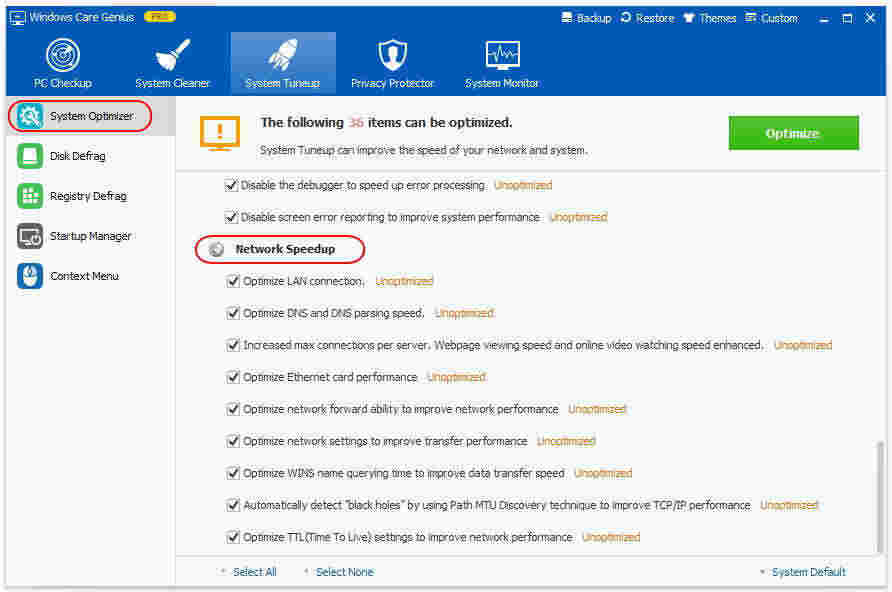 Step 3. Windows Care Genius improve the Internet connection from 9 small aspects, including optimize LAN connection, DNS and DNS parsing speed, optimize network settings, etc. The "Unoptimized" tag tells you which aspects of Internet connection can be optimized.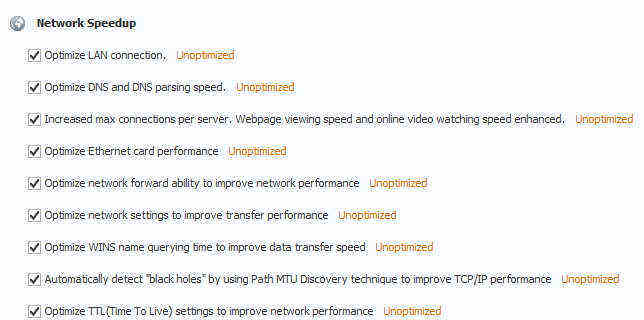 Step 4. Select these unoptimized items and click Optimize button to immediately optimize them. After a few seconds you will find that all aspects of Internet connection have been improved. Your Internet connection has been speeded up a lot accordingly.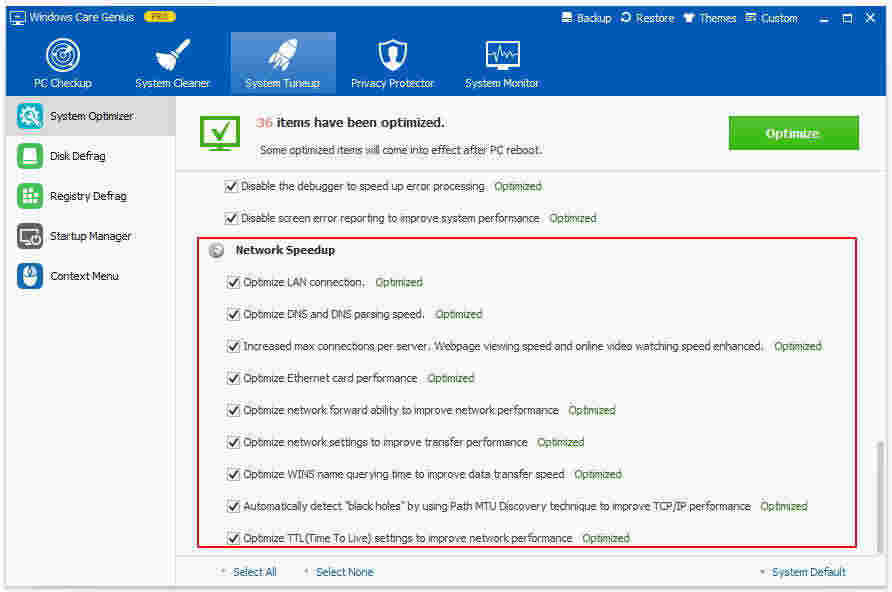 Thanks to this PC speedup and optimization software, we can easily speed up the Internet connection with several clicks. Windows Care Genius offers an all-in-one solution for PC care. It speed up our PC by deleting unwanted junk files and protect our privacy by erasing sensitive data.