Some iPhone 5S users have found the iPhone 5S displaying a blue screen of death (BSOD) and restarts, which is typically an error found on Windows PCs. Videos from YouTube show that the phone's screen briefly flashes to blue and the BSOD lasts one second or two before the screen goes black, and the Apple logo appears, signifying a reboot.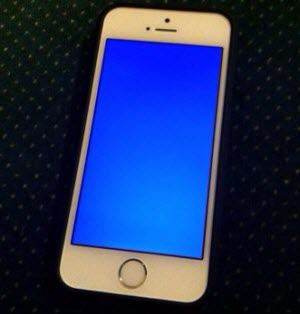 Here are some of the from Apple's discussion forum.
mease87: My iPhone 5S (iOS 7, 32GB) screen turns blue and reboots when I exit the Numbers app made by Apple.Anyone have any kind of idea ?
sks0145: When I use iOS7 on iPhone 5S, When I open a Keynote App and check the presentation, and close it, it crashs with bluescreen of death and reboots iPhone 5S.
sukhdit: For a couple of days now my iPhone 5s randomly displays a blue screen and restarts upon pressing the home button. I was told to update the software which I did but the problem presists. Anyone know why...?
Possible Solution to Stop Reboots Caused by iPhone 5S BSOD
Some users are considering making an appointment at an Apple Store to have r device examined by a technician, or contact Apple Support. It seems that these won't help as someone already did so with no avail. This is probably because the iPhone 5S blue screen of death seems rather a software problem than hardware problem.
Fortunately, a couple of possible fixes to stop the reboots have been discovered on the Apple discussion website.
Solution 1: When stuck in iPhone blue screen of death in iWork, users can either exit back to their documents list before opening the app switcher. Or they can turn off iWork (including Pages, Keynote, and Number apps) data syncing with iCloud.
Solution 2: You can try to hard rest your iPhone 5S. Hold the Home and Power button for about 10 seconds until iPhone restarts itself. In many cases, this hard reset to reboot iPhone in blue screen of death can work.
Solution 3: Use the freeware Tenorshare ReiBoot to force the blue-screen iPhone 5S to reboot. After the reboot, it might be normal again.
Solution 4: Wait for the next iOS 7 update to fix this bug and update to the latest iOS 7 when it is avaliable.
We'll keep updated with the latest available solutions on the iPhone 5S blue screen of death. Besides the BOSD error, several problems have been reported since Apple released its latest mobile software update, such as iOS 7 battery drainage problem which we've covered in previous post.
Free Download
For Win 10/8.1/8/7/XP
Secure Download
Free Download
For macOS 10.13 and below
Secure Download
Related Articles
comments powered by