iFunbox is a popular app for managing files and apps on your iOS device. It's free but then from a certain angle that's not very reassuring. For example, if you come to rely on it for installing apps and managing your media on your iOS devices, what do you do if for some reason it stops working?
While this doesn't happen a lot, as with all applications that bypass Apple's ecosystem very occasionally you will find an update that locks the app out, as happened with iOS 8.3 last year. The problem is usually fixed with an update to iFunbox (or whatever the app is), but what if it's weeks before an update arrives and for some reason you can't access your phone?
iFunbox Not Working? Perhaps You Need Insurance.
There are a lot of free apps around which help you manage your files on your iPhone or iPad, and they help you to bypass the Apple ecosystem. The ecosystem is the iOS devices and iTunes, and it's quite hard to do without all parts of the ecosystem.
That said it is sometimes advantageous for you to be allowed to pass media and apps to and from your iOS devices without iTunes. But you really need some kind of insurance against problems. Ifunbox is not an Apple approved product and sooner or later Apple are going to try and stop you using it. They will say it's for your own good as the ecosystem protects users from intrusion and software failure.
The best kind of insurance is making sure the thing your are protecting yourself against cannot happen. If you have a means to correct, restore and reinstall your iPhone after a calamity then you can pretty much do what you like.
Best iFunbox Alternative for Windows to Manage Files and Apps on iPhone
Obviously our preferred solution is Tenorshare iCareFone, the all in one solution to all iPhone problems. With it you can easily  manage and transfer files and apps on your iPhone, iPad and iPod without iTunes restrictions, reboot, restore, clean and speed up iPhone, back up and unstick your iPhone if the worst happens. And it's all done with the click of a mouse. And best of all it plays nice within Apple's ecosystem and so can never be locked out by an update.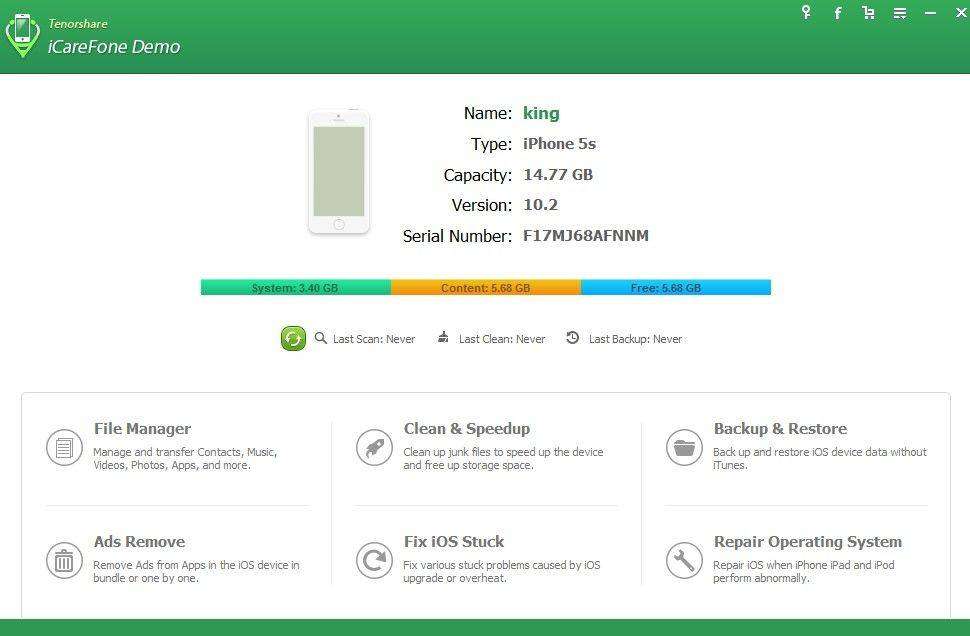 Steps to manage files and apps on your iPhone, iPad and iPod with Tenorshare iCareFone
First, you need to connect your device to the computer via a USB cable. Launch the program, click on "Files Manager" from the main interface to use this function.
Among the 8 types of files, choose Music. And from the next interface, you will get options to add new songs, delete songs, edit songs and export songs to computer.
With 2 steps, you can easily manage (add, delete, edit and export) files and apps on iPhone. Go ahead and give this best iFunbox alternative for Windows a try.
Free Download
For Win 10/8.1/8/7/XP
Secure Download
Free Download
For macOS 10.13 and below
Secure Download
Related Articles
comments powered by