iPhone 15 vs. iPhone 14: Upgrade or Not
by Anna Sherry Updated on 2023-09-15 / Update for iPhone 15
Apple has finally unveiled its new iPhone 15 series at the Wonderlust event. This year, we also see a few things that have been upgraded on iPhone 15, 15 Plus, 15 Pro and 15 Pro Max. Are you considering or is it worth changing from iPhone 14 to iPhone 15? Let's find out.
Part 1: iPhone 15 vs. iPhone 14: 10+ Differences and Upgrades
| FEATURE | iPhone 14 | iPhone 15 | iPhone 15 Pro |
| --- | --- | --- | --- |
| Color | 6 colors | 4 colors | 4 colors (Titanium) |
| Mute | Mute switch | Mute switch | Action button |
| Charging | Lightning cable | USB-C | USB-C |
| Dynamic Island | Only on Pro | Yes | Yes |
| Camera | 12MP Dual-camera | 48MP Dual-camera | 48MP Triple-camera |
| Chip | A15 | A16 | A17 Pro |
| Battery | Up to 20 hours | Up to 20 hours | Up to 23 hours |
| Design | Aluminum, glass back | Aluminum, color-infused glass back | Titanium, textured matte glass back |
| Capacity | 128, 256, 512 GB | 128, 256, 512 GB | 128, 256, 512 GB, 1TB |
| Price | $699 | $799 | $999 |
1. iPhone 15 Models and Colors
Like iPhone 14, the iPhone 15 lineup drops the mini model too. And the iPhone 15 and iPhone 15 Pro is 6.1 inch while 15 Plus and 15 Pro Max is 6.7 inch. As for the colors, iPhone 15 lineup is very different from iPhone 14.
iPhone 15/15 Plus: Black, Green, Yellow, Blue, Pink
iPhone 15 Pro/15 Pro Max: Black Titanium, Blue Titanium, White Titanium, Natural Titanium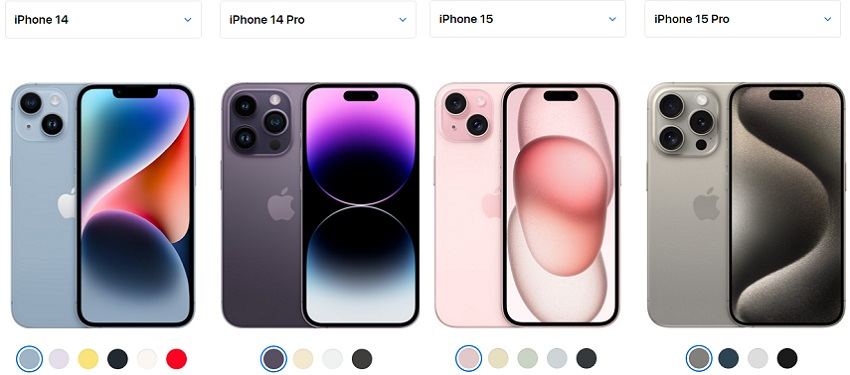 You may also be interested in iPhone 15 wallpapers.
2. iPhone 15 Mute Action
One highlight of the wonderlust event is the action button in iPhone 15 Pro and 15 Pro Max. The action button replaces the traditional switch to change between mute and ringer, and brings more features. But iPhone 15/15 Plus still has the same flip mute button switch.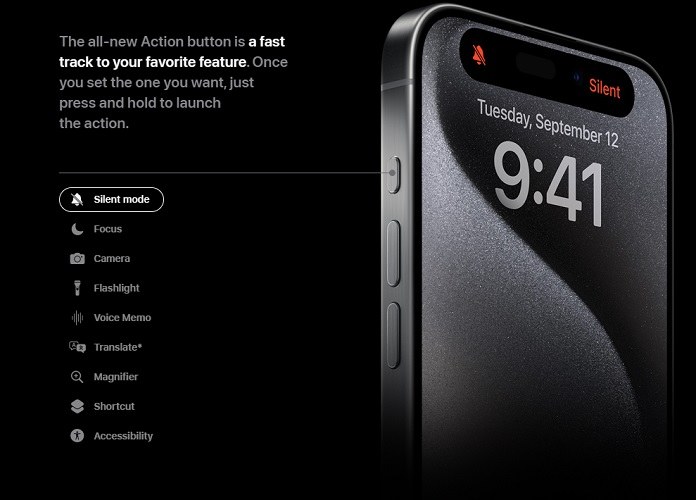 3. iPhone 15 USB-C Charging
It doesn't happen a lot that Apple would change something drastic in their iPhones. But This year, one of the biggest upgrades is the arrival of USB-C cable in the iPhone 15 lineup. Charging would still take the same time as the lightning fast cable, and the transfer speed is significantly better only in iPhone 15 Pro. But it is still a very much awaited feature.
4. iPhone 15 Dynamic Island
Dynamic Island first appeared on iPhone 14 Pro, causing great popularity. On iPhone 15 series, all 4 models will have this dynamic island, bubbling up alerts and Live Activities. It is no longer an iPhone 14 Pro-exclusive function.
5. iPhone 15 Camera
iPhone 15 camera reaches a new level. The Main camera on iPhone 15 lineup shoots in super-high resolution with 48MP Main camera. More optical zoom options like 2x, 3x are available. After being updated to iOS 17, iPhone 14 Pro also supports up to 48MP.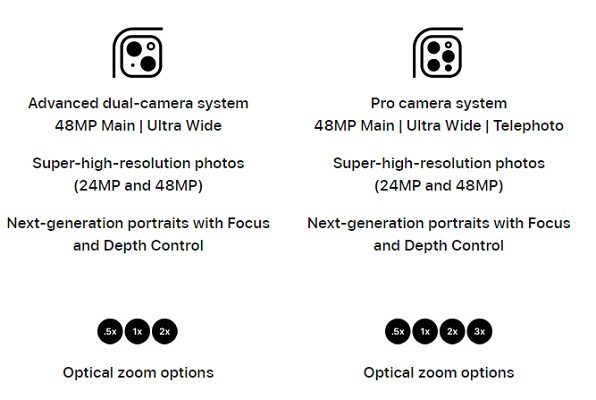 6. iPhone 15 Chip
Another highlight of iPhone 15 Pro is the A17 Pro chip. According to Apple, A17 Pro is a game-changing chip with groundbreaking performance. With 6 cores, it is up to 20% faster GPU, producing high‑resolution graphics with less power. However, the iPhone 15 is still using A16 like iPhone 14 Pro.
7. iPhone 15 Battery
iPhone 15: Up to 20 hours video playback
iPhone 15 Plus: Up to 26 hours video playback
iPhone 15 Pro: Up to 23 hours video playback
iPhone 14 Pro Max: Up to 29 hours video playback
Many people complain about iPhone 14 battery draining. Apple says that there is a great upgrade in iPhone 15 lineup. But the actual situation will not be known until we get the phone and use it.
8. iPhone 15 Design
The design difference and upgrade are more reflected in iPhone 15 Pro & 15 Pro Max, specifically, it is the titanium with textured matte glass back. The titanium design makes iPhone stronger but lighter with thinner borders.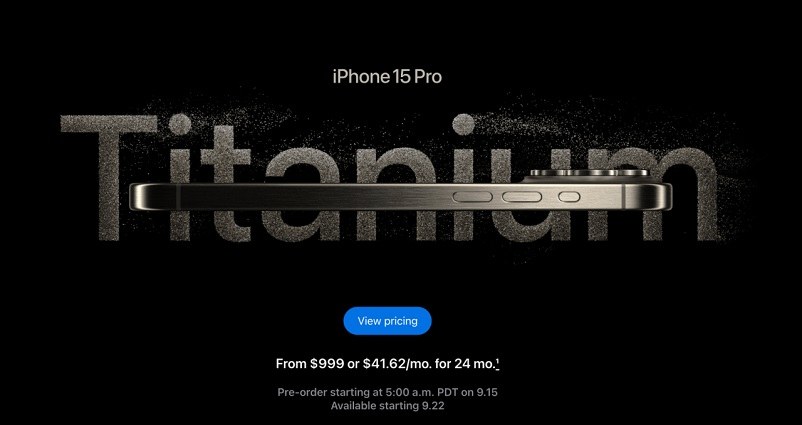 9. iPhone 15 Capacity
There is no difference Apple makes in capacity. Both iPhone 14/14 Plus and iPhone 15/15 Plus have 128, 256, 512 GB while Pro models have one more 1 GB option.
10. iPhone 15 Price
Price has always been a topic that people are most concerned about. To put it simply, the price of the iPhone 15 series is $100 higher than that of iPhone 14. iPhone 15 starts from $799, iPhone 15 Plus from $899, iPhone 15 Pro from $999, and iPhone 15 Pro Max from $1199.
Part 2: Should You Change from iPhone 14 to iPhone 15
Now the big question. Is it worth upgrading to the latest iPhone 15 lineup when it's a hundred dollars more expensive than iPhone 14? Some people say that iPhone 15 is last year's iPhone 14 Pro without the third camera but with USB Type C. If you stick to your iPhone 14, you'd not miss out on a lot. If you choose to upgrade to iPhone 15 Pro, you will also have greater experience with A17 Pro chip, better camera and design. It is really up to you and your budget.
Part 3: When Can You Buy iPhone 15
The choice of upgrading to the new iPhone 15 is subjective. If you decide to buy iPhone 15, set the alarm and prepare for the order. The following is the iPhone 15 release data:
Pre-order: 5 a.m. PDT on Friday, September 15. Order your preferred iPhone 15 online. You will get your iPhone 15 by delivery or from Apple Store on Sept 22.
On-sale: Friday, September 22. Online and in-store sale are both available.
Part 4: How to Transfer Data from iPhone 14 to iPhone 15
Assuming that you decide to buy iPhone 15/15 Plus/15 Pro/15 Pro Max, you have to transfer data from your old iPhone, right? Not everyone has enough iCloud space. And there are many types of files that iTunes can't back up. This brings us to Tenorshare iCareFone. It will seamlessly back up iPhone 14 and restore to iPhone 15 selectively with a data preview.
We are going to see how we can backup and restore our old iPhone's data to the new iPhone 15. Even if you still use your old iPhone 14, iCareFone can be a great iOS data management tool for you too.
Start Tenorshare iCareFone on your computer. Connect your iPhone 14 to the computer and click on Backup & Restore.

You can decide what file types to be selected for backup. Click on Backup. The process takes some time.

After that, you can view backup data and restore it to your iPhone 15. Connect your new iPhone to the computer.

In Backup & Restore > Restore tab, you will see all the available backups you can restore.

Select a backup and click View. All the data will be ready for preview.

Click the files you want, and then click on Restore to Device to get our data to iPhone 15.
Conclusion
Since the new iPhone 15/15 Plus/15 Pro/15 Pro Max finally arrived, the heated iPhone 15 vs. iPhone 14 discussions have begun. We have compared the detailed features of iPhone 14 and iPhone 15 series, which hopefully can help you. After you get iPhone 15 and prepare to transfer data, we recommend using Tenorshare iCareFone as the best iCloud and iTunes alternative.
The World's Best iOS 17 File Manager
Free backup everything you need on iPhone/iPad/iPod
Transfer music, photos, videos, contacts, SMS without limitation
Selectively restore files without erasing current data