The Best Apple TV Hacks Everyone Should Know About
by Jenefey Aaron Updated on 2020-03-23 / Update for Apple TV
The Apple TV is already cool all on its own, but that has never prevented us from trying to make it even better. Apple TV hacks can help you get the most out of your Apple TV experience. In other words, they can make it easy for you stay on track with all your binge-worthy shows on Netflix or Hulu or stay updated on the latest podcast you are following. The following are just some of the best Apple TV hacks to help you make your Apple TV even better;
1. You can Stream From a Friend's Apple TV
With your Apple TV, you can stream media including video, music and photos from your computer to your TV. But Apple TV can only connect devices that share the same Wi-Fi network. If you are at a friend's house, you may be out of range. In this case you can use an app called Younity app that allows you to take any media and stream it on any Apple TV on demand. Plus, it is completely free to download on iTunes.
Younity also has a lot of other functions like the ability to merge all the content in all your devices. This means that all the photos, music and photos that you have on your computer iPad or iPhone will be merged and available to play on the Apple TV at the same time. This gives you the benefit of streaming your music from your laptop to your brother's iPhone without having to reconfigure your settings.
2. Talk to Your Apple TV
If you have the new Apple TV and remote, you can use Siri just as you would on your iPhone. You can complete voice searches and get matching results for your queries. This way, Siri can help you easily locate any movie or TV show you need.
The functionality also extends to an app search on tv0S 9.2. You can either use Siri to request a specific app or a type of app in which you will get multiple results and choose. To use this cool function, just press the microphone button on the remote and ask Siri for what you want.

3. Reduce Sensitivity on the Touch Surface
If you find that the touch surface is a little too sensitive for your needs, you can easily fix this in the settings. Simply go to "Settings > Remotes and Devices > Touch Surface Tracking. You may find that the default is set to medium and that you can easily change it to fast or slow.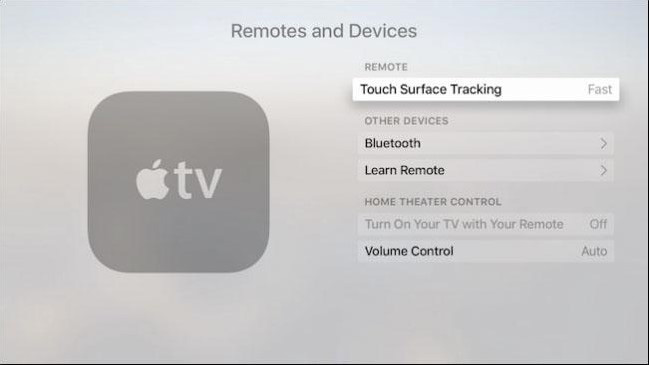 4. Rewind or Fast Forward (Sort of)
What most people don't know is that Apple TV actually has a way for you to go back 10 seconds into any media playing on the TV or 10 seconds back. This is a cool trick that you can use to go back when you miss something important or fast forward past a commercial. It may not be as efficient as a fast forward or rewind, but it works. To use this feature just tap on the Touch surface on the left to go back and on the right to go forward 10 seconds.
5. Put your Apps in Folders
With the new Apple TV, you can easily organize all your apps in folders just as you would on your iPhone or iPad. To put any app in a folder, highlight the specific app and then hold down the Touch Surface until the app begins to jiggle. You can then simply drag and drop the app into a folder of your choice.
If you want to create a new folder based on that app, press the Play/pause button and choose an option. Type in the name of the folder and you're good to go.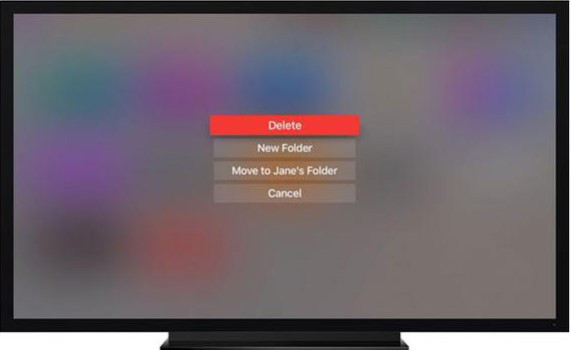 Bonus Tip: Easily Fix Apple TV Issues
If you have been using iOS devices, you probably know that sometimes they behave abnormally. These issues including iOS stuck problems like a device stuck in recovery mode also occur on the Apple TV. To fix any issue you may be having with your Apple TV, we recommend you use Tenorshare ReiBoot, an iOS System Recovery program that is designed to help you overcome all these issues.
It is easy to use, compatible with all versions of the iOS software and highly effective. Try ReiBoot to get your Apple TV Working normally again.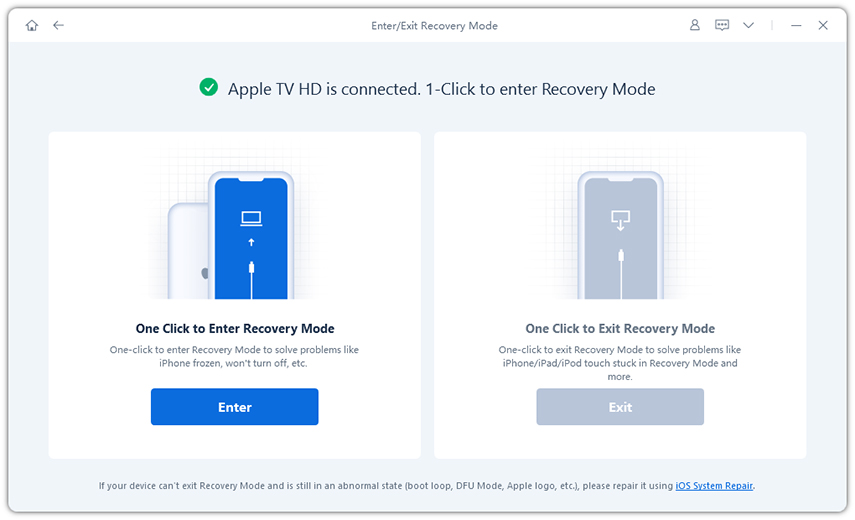 Summary
The Apple TV hacks listed above may be functionalities you did not know existed on the device. One this is for sure, each one of them will make using Apple TV very easy.