No matter how fast or shiny computers might be when they're new, it is inevitably to get slower over time after you install a dozen programs, load it with antispyware and antivirus tools, and download untold amounts of junk files from the Internet. Whatever the causes, there are lots of methods to help speed up Windows and make your PC work better. Besides, today I would like to introduce the best PC optimizer software by 2016. Tenorshare Windows Care Genius is an all-in-one PC care tool offering up to 22 powerful features to make your computer run the best.
Why Is It The Best PC System-Optimize Utility of 2016?
It supports check your computer heath statue and optimize all Windows 10/8.1/8/7/XP computer the best with one-click.
Be able to automatically detect useless files such as shortcuts, traces, cache, cookies and then delete those all junk files from your computer to make it run faster
Completely and permanently cleanup browsing history, accessed files to protect your private information from being traced.
Enable you to monitor all active process in real time, which allows you to close any slow-down and useless program to run your computer faster
How to Checkup and Make the Best PC Optimization on Windows?
Actually, there are a great many reasons could make your computer slow down. Especially when you run storage-consuming programs, I suggest you to regularly checkup and cleanup it to make it perform the best. On this point, Tenorshare Windows Care Genius deserves the name as the best Windows optimizer of 2016, definitely. Click download button posted below to download it for free and install it on your computer. Then you can optimize your computer as follows.
Free Download
For Win 10/8.1/8/7/XP
Secure Download
Step1. Run the program and click Cleanup. Your computer will be automatically detected and rated ranging from 10-0 according its heath status.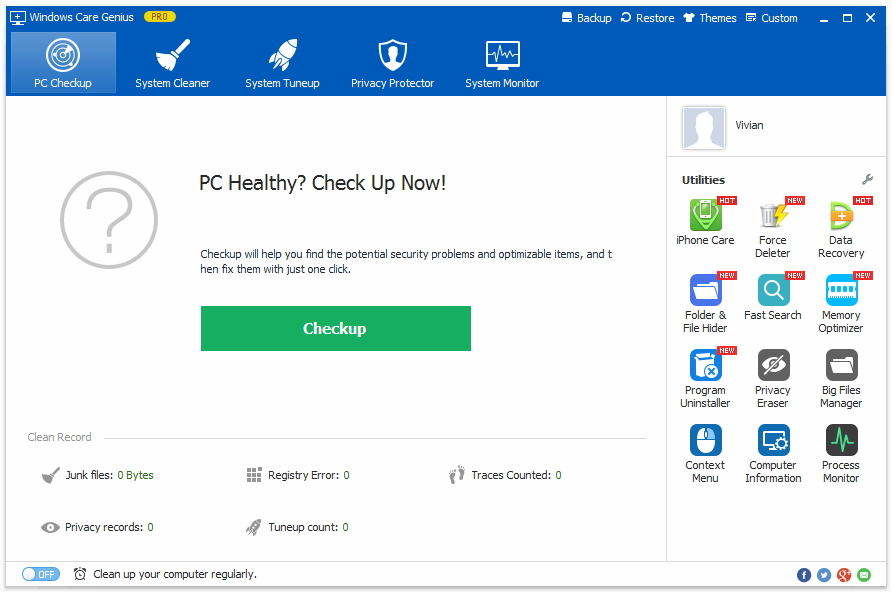 Step2. Click Fix to solve all the problems with one-click. After that, you can re-click Checkup to check its heath status.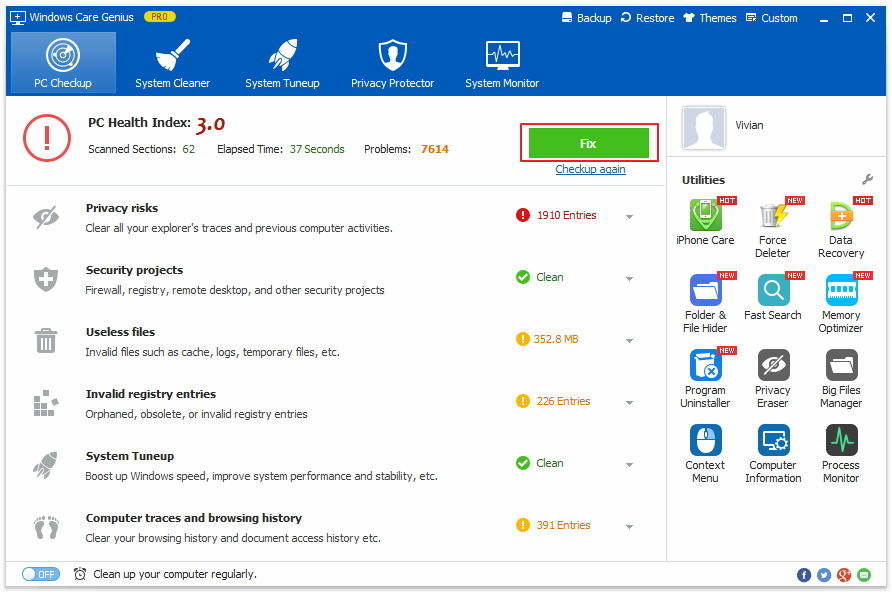 Step3. Switch on Clean up your computer regularly in the lower-left corner of interface and tick Silent mode. Here you are allowed to set times to automatically checkup and cleanup your computer in the background.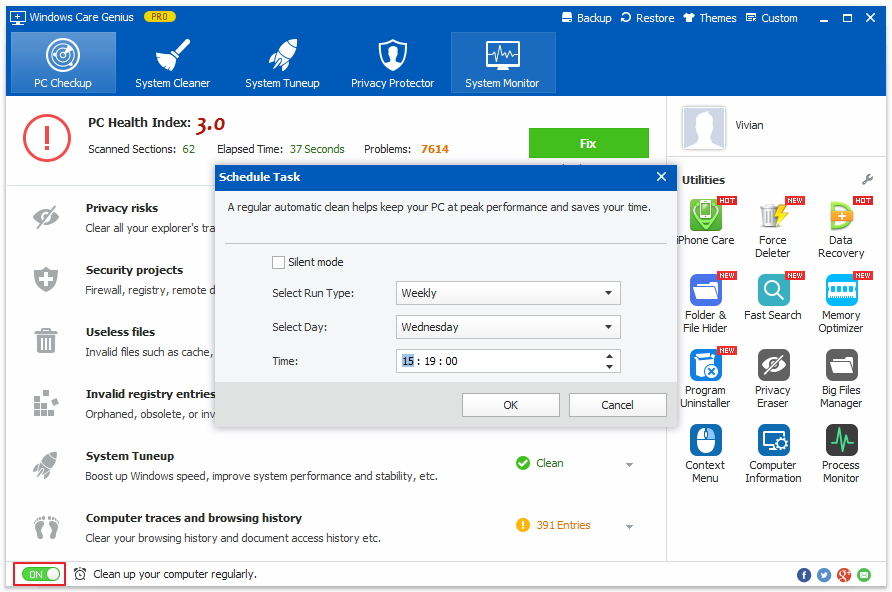 Besides, if you want to deeply cleanup your computer, click System Cleaner to make it. Then you will find it is the best PC registry optimizer in 2016. Surely, System Tuneup, Privacy Protector and System Monitoring also can be used to help you protect and improve PC performance. If you have any problem, you are welcomed to leave it in the comment section.
Free Download
For Win 10/8.1/8/7/XP
Secure Download
Related Articles
comments powered by