How to Speed Up Your Slow Windows 10 PC after Upgrade
Computer boots extremely slow after upgrading to Windows 10? Windows 10 PC performs extremely slowly after upgrade? Many Windows 10 users are facing slow performance issue in Windows 10. In this article, we will show you how to optimize and speed up your Windows 10 computer. With these useful tips, it will help your computer run faster.
To get started, you need a professional Windows optimizer – Tenorshare Windows Care Genius. It is an all-in-one system care tool to optimize PC stability and overall performance, giving you faster PC enjoyments, downloads, uploads, web surfing and more.
Part 1: Speed up Slow Boot-Up Issues after Windows 10 Upgrade
A number of users have taken to Microsoft's forums to complain that the upgrading Windows 10 has slowed their PC boot-up time. Windows Care Genius is the best Startup Manager to fix slow startup speed after your free Windows 10 upgrade.
Run Windows Care Genius and click on System Tuneup and then click Startup Manager. Here you can see all startup programs on your PC
Switch the unnecessary startup programs to make your Windows 10 PC boot faster.
Part 2: Fix Slow Internet Issues after Upgrading To Windows 10
Many Windows 10 users have massive bandwidth issues and slow internet speeds after upgrade. Nevertheless, you can easily fix slow Wi-Fi and Internet speeds in Windows 10 with Windows Care Genius.
Run Windows Care Genius and click on System Tuneup and then click System Optimizer. Scrolling down to Network Speedup and select all items under this category.
Click "Optimize" to improve the speed of your network in Windows 10.
Additionally, System Optimizer also can accelerate the startup/shutdown time, improve system stability, and speed up the overall system for you.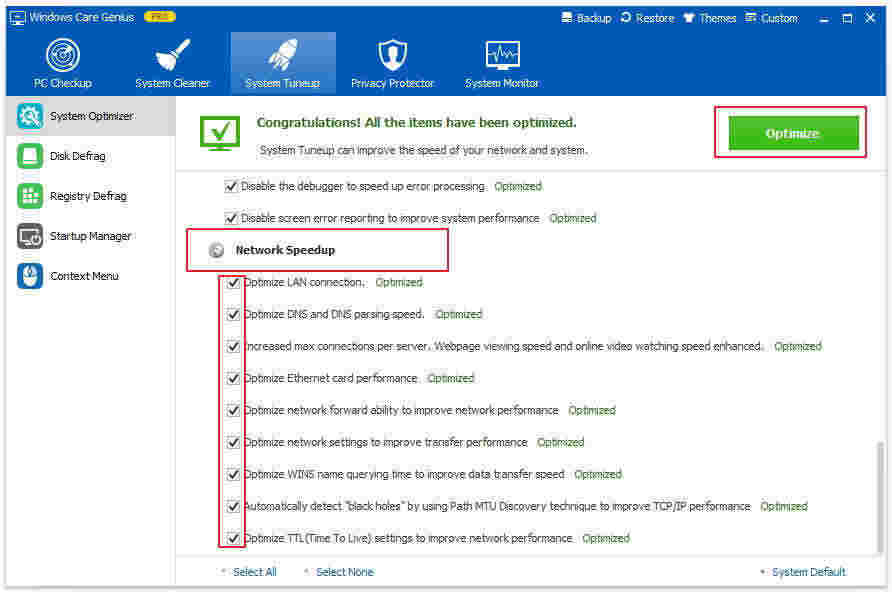 Part 3: Fix Slow Performance Issue in Windows 10 and Increase Overall System Speed
Windows 10 runs very slow on your PC? Your PC does get slower and slower over time. In this time, you have to full health check up your PC and fix all the problems that slow down your Windows 10 PC.
Run Windows Care Genius and click Checkup to analysis the whole heath status of your PC.
After scanning, you can see all the possible problems on your PC. Click Fix to fix all the problems.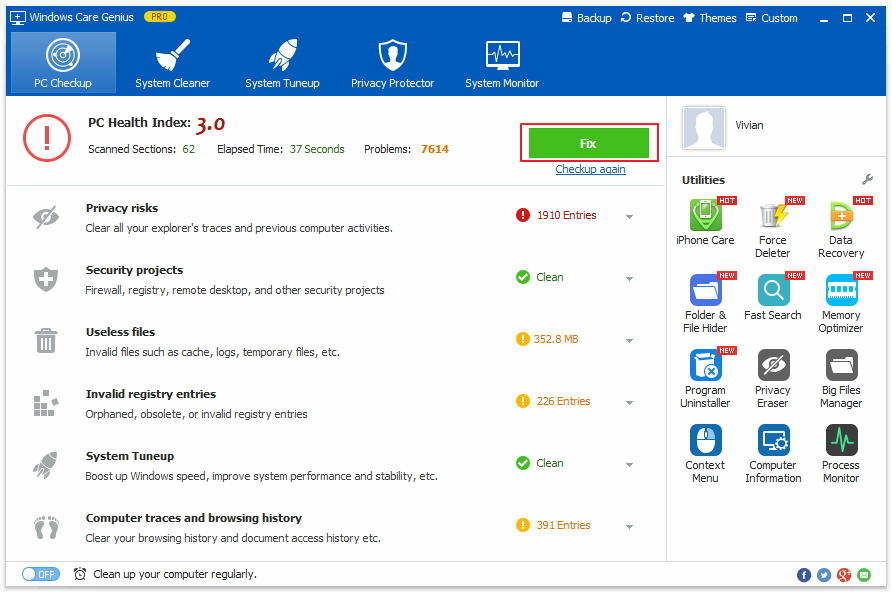 With this powerful program, you can almost solve all your Windows 10 issues. Get Windows Care Genius now and have better enjoyments of Windows 10.