Everything You Need to Know about MP4 Video Format
by Jenefey Aaron Updated on 2019-07-25 / Update for Video Converter
MP4 is a great way to provide high quality videos along with compression that gives great file size. Many hosting services, such as Vimeo, now list MP4 as their preferred file format. Though having a bunch of MP4 videos files, still you might want to know what MP4 video format is, what free MP4 players are available, how to convert MP4 videos and the like. In this post, we'll give you answers for all these questions.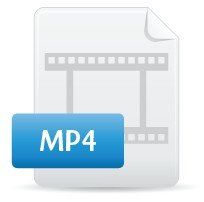 What's MP4
MP4 is short for MPEG-4 Part 14. MP4 is based on MPEG-4 Part 12 which was in turn based on Apple's MOV file type. MP4 is a container format, meaning it is used to store audio and/or video data, rather than to code the information. MP4 video and audio can also be streamed over the internet.
The only official filename extension for MPEG-4 Part 14 files is .mp4, but many have other extensions, most commonly .m4a and .m4p. M4A (audio only) is often compressed using AAC encoding (lossy), but can also be in Apple Lossless format. M4P is a protected format which employs DRM technology to restrict copying. MPEG-4 Part 14 is a standard specified as a part of MPEG-4.
Free MP4 Players
Did you find a MP4 file on your computer and wonder what program can you use to open this video? Actually there are a lot of MP4 video players and they are all FREE. Just pick out the top 3 free MP4 players here for your selection.
Get free MP4 video player download:
Note:
If you know any other program that can open or edit MP4 files, or you know anything else useful about MP4 files, please let me know and I will add them to this page.
If still no program can play the MP4 video file for you, think about converting MP4 to other file extensions with MP4 Video Converter.
MP4 Video Converter
Indeed, most of us have video compatibility problems. Tenorshare Video Converter for Mac has paved our way as it allows converting between more than 100 video and audio formats. With this Video Convert for Mac, you can enjoy any videos without worrying about compatibility. You can easily convert MP4 videos to AVI, M4V, MKV, WMV, etc., so is the other way round.
In doing so, you can convert any video files into supported files for the iPhone, iPod as well as Zune, PSP, XBox and virtually any devices/players.