[Ultimate Guide] How to Reset Restrictions Passcode on iPhone 11/X/8/7
by Anna Sherry Updated on 2021-05-31 / Update for Reset iPhone
Restrictions on iPhone, also known as parental controls, is a useful feature to prevent access to specific apps and features. Well, you will get into big trouble when you forgot restrictions passcode, you cannot buy anything on your iPhone. Even restoring the iPhone won't remove the restrictions passcode.
Forgetting an important password can be hectic, but unfortunately, it is a common feature these days. You have lots of passwords to remember, so it shouldn't come as a surprise if you forget one. Talking of forgetting passwords, most people tend to forget their iPhone passcodes for one reason or another. We will be telling about iPhone restrictions, including how to reset restrictions passcode on iPhone. In fact, we will review all the options you have to reset restrictions passcode on iPhone without breaking a sweat. Let's delve in, shall we?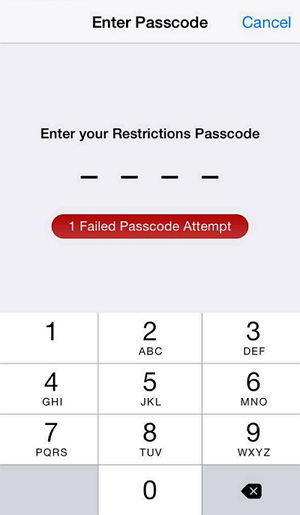 Here are some help requests on Apple communities:
"i have forgoton restrictions password, how do you reset it?" –ORYANO
"I forgot restrictions password to reset my phone. Can any one help me on this? iPhone 6, iOS 11.2.5 " --Naser91sh
"How do you reset your Restrictions Passcode if you have forgotten it?" -- Ernie Crews
Note Tips:
Note: In iOS 12, Apple replaced the Restrictions with Screen Time. And if you update to iOS 12, your old Restrictions passcode is now your new Screen Time passcode.
So, here are still some ways to reset the restrictions passcode on iPhone.
Method 1. Erase All Content and Settings
You can easily remove your forgotten Restrictions/Screen Time Passcode by resetting your device to the factory settings. But this will cause all data loss and you cannot restore your old backups because your backups will include your passcode too.
Go to Settings > Reset > Reset All Content and Settings.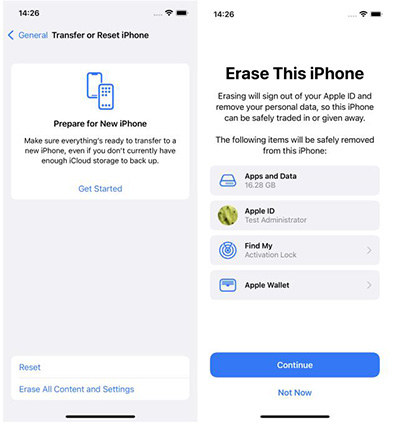 Method 2. Recover iPhone Restrictions Passcode without Data Loss
A better way to reset Forgotten Restrictions/Screen Time Passcode is using Tenorshare 4uKey. With it, you can easily reset reset restrictions passcode without restore.
Open Tenorshare 4uKey on your computer after installing and click on the "Remove Screen Time Passcode" option.

Connect your iPhone to the computer. If prompted to trust device do so.

Click on the Start Remove button, the program will start removing the forgotten time screen passcode on your iPhone. When it completes, the program will notify that it is successful.
Video Guide
Method 3. Recover Restrictions Passcode from iTunes Backup File
So visit this site https://www.icopybot.com/download.htm and download the right version for PC or Mac.
Install it to your computer and launch it.
Once it is on, you will see a folder containing your phone's backup at the left panel of the tool.
Click on that Folder > System Files > HomeDomain > Library > Preferences .
Find the file with name "com.apple.springboard.plist", right click the file and choose to open it with Wordpad or Notepad.
Within the open file, look for these lines:
Now save and close the file. Connect your device and restore it from backup.
Method 4. Reset Forgotten Restrictions Passcode by Restoring with iTunes
You can also reset restriction passcode by restoring with iTunes. This will cause all data loss and you also cannot restore your old backups because your backups will include your passcode too.
Step 1. Connect your iPhone to your computer using a USB cable and launch iTunes. Be sure that your iTunes is updated to the latest version. Ensure that 'Find my iPhone' is off.
Step 2. Go to the 'Summary' tab, then click on 'Restore iPhpne.' When asked to confirm, click on "Restore" again.

Extra Tips: How to Reset Restrictions Passcode on iPhone if you Remember the Password
Let's look at how to reset restriction passcode on iPhone if you remember the passcode. In other words, you haven't really forgotten your password but you simply want to change it for security reasons. So, how do you do this? It is simple!
Click on "Settings > General > Restrictions > Enter the existing Passcode
Click on Disable Restrictions and you will be prompted to your existing passcode again.
You can then enable the restrictions passcode yet again if you want to and you will need to enter a new password. It is that easy!
Final Remarks
That's it about restoring your lost iPhone passcode fast without having to lose everything stored on your phone. If the option doesn't work then you will have to go for the restore option but before you do, backup! You can use iTunes, iCloud or better even iCareFone tool to do better, faster and smoother backups for your much coveted data.