How to Fix Dell Laptop Won't Turn On
by Jenefey Aaron Updated on 2019-08-16 / Update for Fix Windows
Laptops have gained a special place in our day-to-day life owing to their increasing use in each and every field. IN today's tech world, laptop plays very important role. Let the purpose be any, from office work, watching movies, personal work, playing games, backing up data, and so on. Laptops are here for us. But what if your laptop suddenly doesn't turns on! The reason can be many for "Dell laptop won't turn on" issue. Let us have a look at these reasons first.
Part 1: Common Dell Laptop Won't Turn On Issues
As said, the reason behind "Dell laptop screen won't turn on after closing lid" issue can have numerous forms. Some of which are enlisted below for your reference.
Laptop not turning on
Laptop stuck at boot screen
Laptop not turning on power light blinking
Laptop stuck at blinking cursor
Laptop not turning on and beeping
Laptop stuck at black screen won't turn on
Laptop stuck on windows loading screen
Laptop won't turn on power light just flashes
Laptop stuck installing updates
Laptop won't turn on or charge
Let the reason may any behind your "Dell laptop not turning on" issue, we have solutions for all such cases.
Part 2: How to Fix Dell Laptop Not Turning On
Now that we are done with all the situations you may face while handling a laptop, we will now discuss the best solutions for your "my Dell laptop won't turn on" issue. Find the one that best suits your problem.
Solution 1: Check the Power Supply and Battery
The very first thing to do is to check if your Dell laptop is getting sufficient amount of power to turn on efficiently. If it will not get sufficient power, how can you expect it to turn on! Follow a check of below mentioned points before going on to actual solutions:
Try changing the power source of your Dell laptop wherein the adapter of your laptop is connected
Now verify whether any lights are displayed on the charger; Dell chargers come with an indicator that indicated if any power is there
In case no lights are seen, try with some different charger
In addition, depending on the laptop model, on the laptop's front side LED lights are present; these turn on when the charging is on
Solution 2: Press Power Button
The electric current or power supply remaining in the circuits even though your laptop is not connected to any battery or power supply is known as flea power. This flea power or static electricity might get collected in the circuits. And hence this can interrupt the normal starting up process of your Dell laptop. To remove this flea power entirely, follow below steps.
Step 1: Remove the battery from your laptop entirely.
Step 2: Now press your laptop's power button for at least 30 seconds.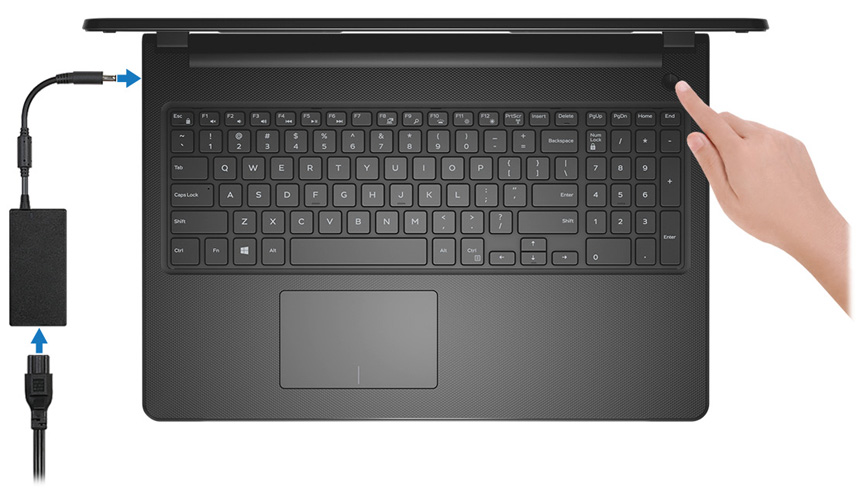 Step 3: Now simply connect your AC adapter and try to turn on your laptop but without battery. The flea power will be removed now. Now try turning on your laptop with battery and you will find that your "Dell laptop screen won't turn on but has power" issue no longer exists.
Solution 3: Boot Dell Laptop with Windows Boot Genius (100% Work)
If your "my Lenovo laptop is stuck on the Lenovo screen" still persist, go for a professional help, that is, Windows Boot Genius.The tool will solve yournumerous screen stuck issues without any efforts. Thetoolis an ultimate and best solution to get your screen stuck issues solvedinstantly. Follow below steps to solve the "Lenovo stuck at logo screen" issue.
Step 1: Download, install and run the software on your laptop. You need to make a bootable disk with the help of a prepared flash drive or CD/DVD. In case of a CD/DVD, insert the disk in CD-Rom driver. In case of flash drive, connect your pendrive using the USB port. Tap on Burn so as to initiate the burning repair disk process.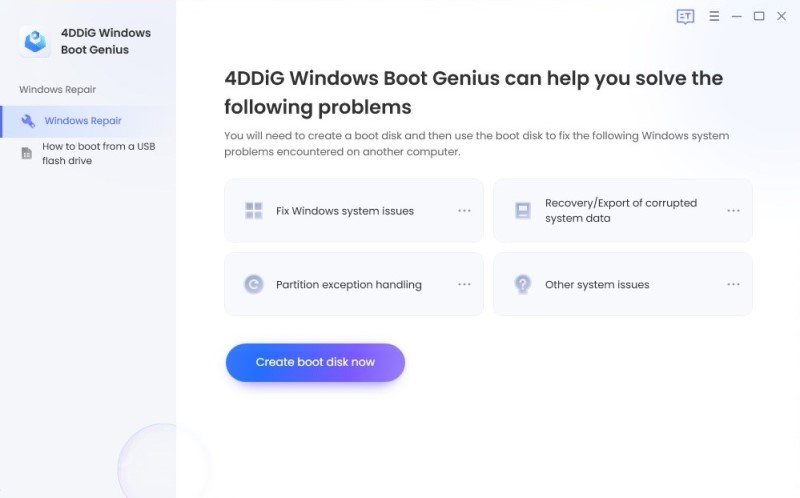 Step 2: Connect this bootable disk to your Dell laptop having issues. Now press the F12 key constantly so as to boot your device. Click Enter.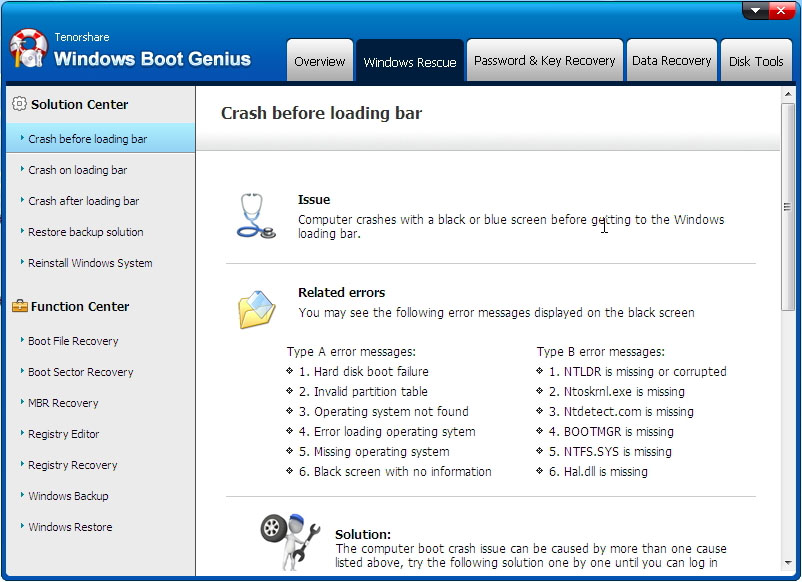 Step 3: Tool's UI will be seen on the screen. Choose the appropriate reason from the left side menu for your "my Dell computer won't turn on" issue. Now simply follow the on-screen instructions. There you are.
Solution 4: Dell Customer Service
If none of the above solutions work, then we are sure your Dell laptop is facing some hardware issue. And in this case, software solutions just won't work! Occasionally it might happen that your Dell laptop is dealing with some internal issues and in such cases the Dell expert is the best person to visit. You can directly call Dell customer service center or even have a Facebook chat. Cherry on the cake is, if your Dell laptop is under the warranty period, you can get your laptop fixed or even replaced.
Summary
We have discussed the best solutions for solving the "Dell laptop won't start up" issue. Simply choose any from the above list. However, we highly recommend Windows Boot Genius as it is the best and the simplest way to solve the "Dell laptop not turning on" issue. The tool is a pro in solving any type of stuck-related problems your Dell laptop is facing. Do share you feedback in below comments.