Full Guide on iPhone 7 iCloud Backup
by Jenefey Aaron Updated on 2019-07-25 / Update for iPhone Backup
If you are using iPhone 7 then a question like "How to backup iPhone 7 to iCloud?" may have popped-up on your mind already a number of times now. It is not unusual that being a user of one of the best smartphones in the world, one can have various sensitive files on his/her device and it is quite natural to look for a more secure place to store data. Well, there are many reasons to backup a few files from your iPhone like the upgrade to a new iOS or you just want to backup because you want to clear space on your iPhone. Regardless of the reasons, you need a safe and easily available option to backup your iPhone, and this is where iCloud comes in. This is a decade old app with many features and among them is the Backup feature. It is reliable and used by most of the iPhone users in the world. But is it the only option? Let's find out.
Part 1: How to Backup iPhone 7/7 Plus to iCloud
For almost a decade iCloud was considered one of the greatest apps and the most suitable option to backup iOS devices. So, if you own an iPhone 7, then you can definitely backup iPhone 7 to iCloud. The method is very simple and same in case of iPhone 7 Plus as well. So, if you want to have a clear idea of how to backup iPhone 7 Plus to iCloud then read the instructions below:
As you know, it is a strict requirement to have a strong Wi-Fi connection in order to use iCloud backup.
1. So, first you have to connect your iPhone to the Wi-Fi network.
2. Now, go to Settings and find iCloud.
3. Tap on iCloud and then tap on Backup.
4. Finally, tap on Backup Now option to backup your device on iCloud.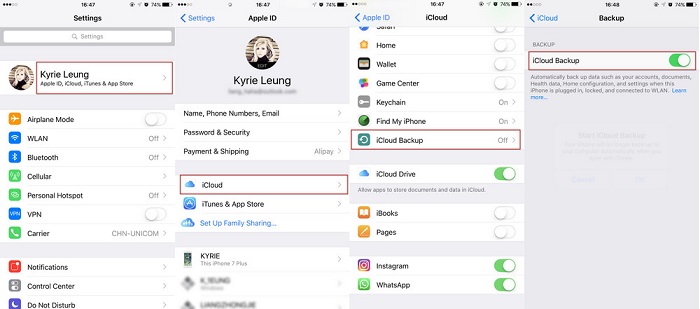 So, this is how you can make an iPhone 7 iCloud backup. Overall it is very simple and convenient to use iCloud to backup your iPhone 7 or 7 Plus.
Part 2: About iCloud Backup and iCloud Storage Plan
iCloud is considered as one of the greatest iOS apps ever designed, and as usual, the app comes with cloud storage and other attractive features. Most people use the app to store backups. As an extension of your hard drive any registered user get a small amount of storage space. Initially only 5GB of free space! But if you are need of more, you have to pay a significant fee. You will be able to upgrade your iCloud storage plan from any devices like iPhone, iPad, Mac, PC etc. You will have 3 options to choose from; 50GB or 200GB or 2TB. All the plans, except for the 50GB can be shared with your family and you have to provide a monthly payment for that cloud upgrade.
Taking America for example, if you are using 32GB/128GB iPhone 7, you will need $ 3.99 per month to store your files, which is to say, $ 47.88 each year.

Note: For more information about iCloud storage pricing on your place, please refer to this link.
Although, the cloud storage is the most important part of the app, there are a few drawbacks of the app that hinders its performance. They are:
First, you have the internet problem. When you are backing up your iPhone files to the iCloud server you have to be connected to a strong Wi-Fi network, otherwise, you will fail to backup data.
The security issue is always there. Even though the company claims to have unbreakable security, there is still a possibility that your files can be accessed by someone else online.
iCloud won't backup all of your files like the songs you didn't buy from iTunes Store.
The slow transfer speed.
Finally, the storage space provided by the company to its users is really low, only 5GB. If you want to upgrade, you have to pay a monthly fee.
Now, that you have a clear idea of the amount you have to pay if you want to upgrade your cloud storage, you can look into other feasible options and choose the one that seems pocket-friendly to you. And when it comes to effectiveness at a reasonable price, there is nothing that can beat Tenorshare iCareFone. It is a professional data transfer tool which has the capability to backup data selectively from any iOS device straight to PC or Mac. If you get the 1 year licensed version of Tenorshare iCareFone then you have to pay only $ 39.95 with unlimited files, but if you get the 2TB iCloud you will have to pay close to $ 120 a year and close to $ 36 a year for the 200GB option. So, it is pretty clear which one is cheaper.

So, now if you want to use Tenorshare iCareFone to store your iPhone backup, then read the following procedure to get to know it better:
1. Start by download and installing iCareFone on your PC.
2. Now, connect your PC and iPhone with a USB cable and wait for iPhone detection.
3. After you confirm the connection by tapping on the prompted message on the iPhone, run Tenorshare iCareFone on your PC.
4. The main window of Tenorshare iCareFone will be visible to you, select the Backup & Restore option.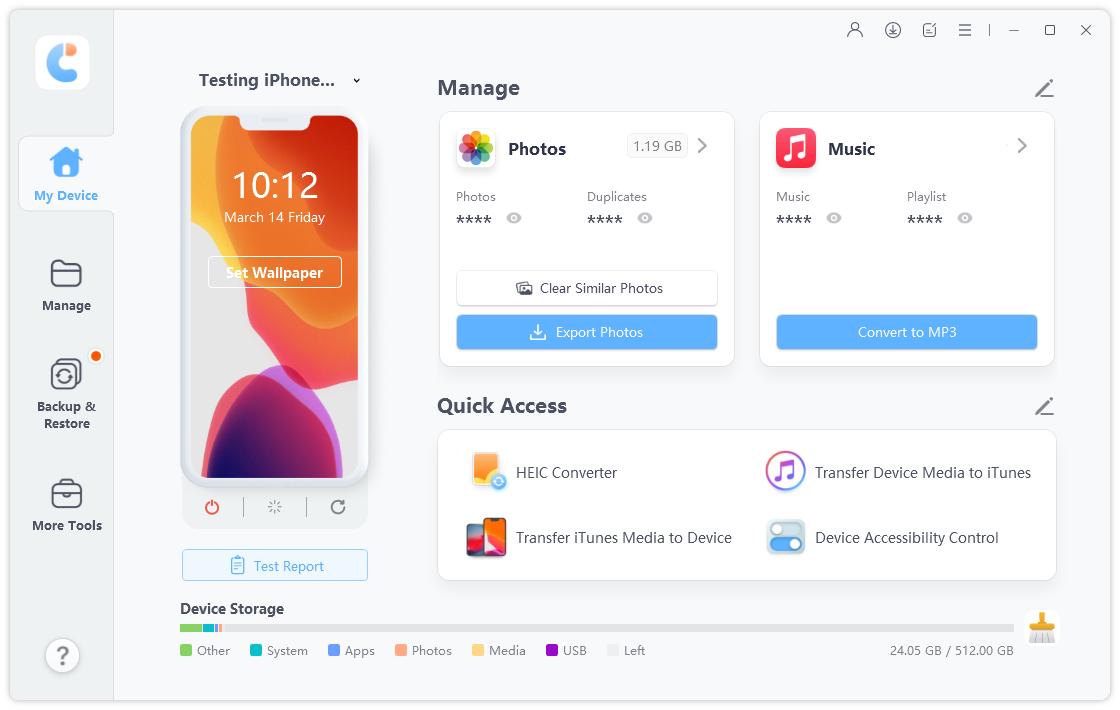 5. This option will provide you with all the available files on your device and all of them will be selected by default.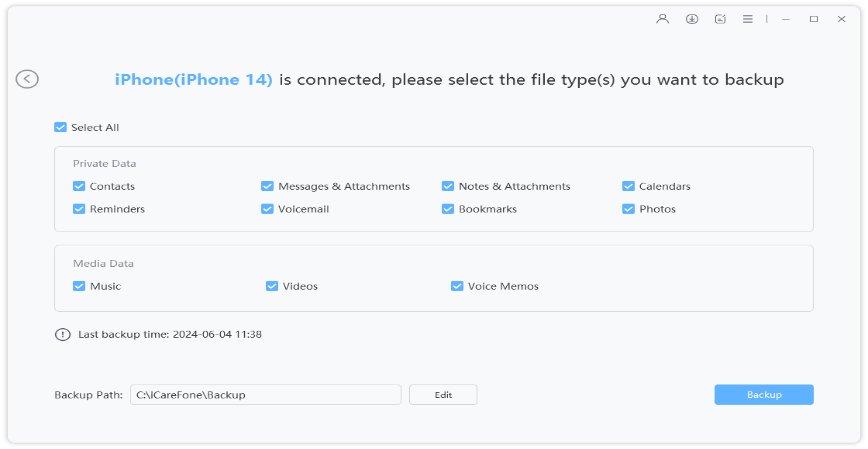 6. You can customize the selection and then tap on the blue Backup button below.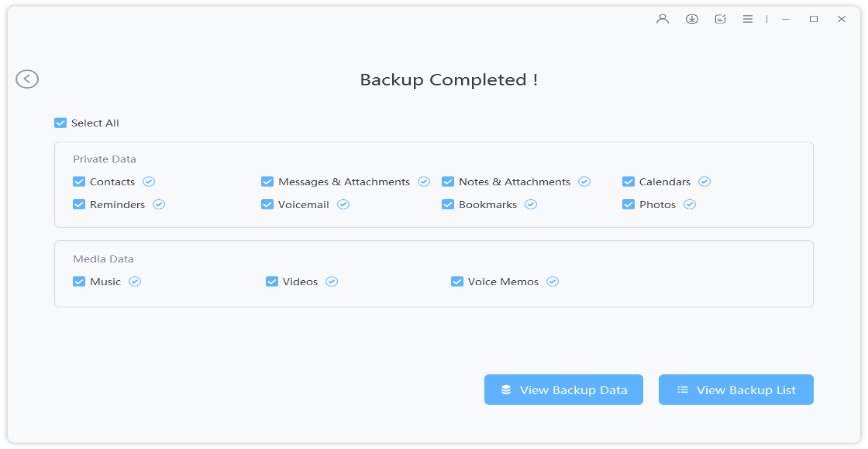 The convenience of iCareFone is very clear, and that is the reason its popularity has increased almost overnight.
The advantages of Tenorshare iCareFone:
Tenorshare iCareFone is very convenient and user-friendly.
You don't have to worry about the storage space issue as this app saves the backup directly on your computer.
The transfer speed is very fast and there is no risk of data loss.
Selectively backup files.
Accessible backup files after transfer.
The yearly subscription is much cheaper than iCloud and you don't have to stay connected to any Wi-Fi network.
Conclusion
Therefore, you can easily make a backup of your iPhone 7 or 7 Plus on iCloud. It is simple but efficient but you also have to consider the drawbacks of the said app. Although the app has been running for over a decade now, there are still a lot of issues that cannot be neglected like the security issue, slow transfer speeds, and the file corruption problems from time to time. There is also the matter of the monthly fee that you have to pay if you are going use the upgraded storage, which you have to because the free storage is very small! But if you are having second thoughts about the upgraded cloud storage, you can always go for Tenorshare iCareFone. It is much cheaper and doesn't have any of the drawbacks of iCloud. Go for it!