iOS 15/14/13/12/11/10/9 Spotlight Search not Working Properly: How to Fix
by Jenefey Aaron Updated on 2021-09-18 / Update for iOS 9
Overview: This post will discuss one of the major iOS 9 problems: iOS 15/14/13/12/11/10/9 spotlight search not working properly or spotlight search returns no results in iOS 9.
Spotlight Search enables you to search everything from iPhone, iPad, App Store from home screen efficiently. With the iOS 9 upgrade, Spotlight Search has gained new features and improvement. However a serious bug has been reported by many users:
Symptom 1: iOS 15/14/13/12/11/10/9 Spotlight Search not working properly (From Apple Support Communities)
Symptom 2: Spotlight Search iOS 15/14/13/12/11/10/9 contacts not showing in results. (From Apple Support Communities)
Some users even report that Spotlight doesn't show any search results when you try to search for something.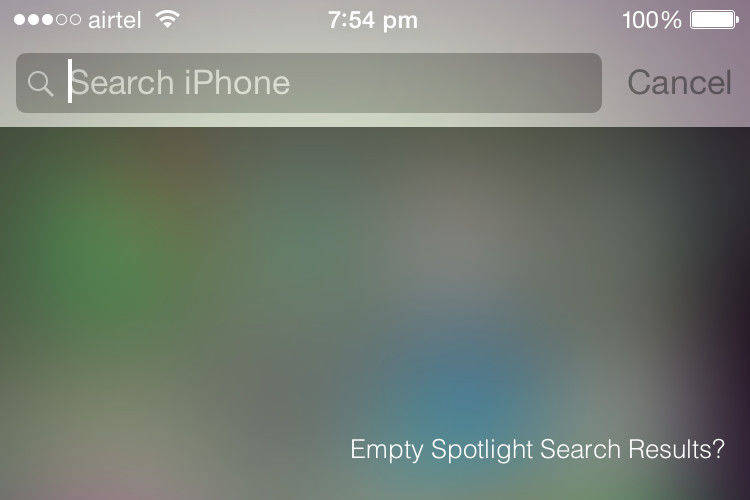 If you are facing this issue, here's how you can fix this efficiently. Actually, the suggestions below apply to similar issues occur on iOS 10/9.3.2/9.2/9.
Tip 1: How to Fix iOS 9 Spotlight doesn't Show any Search Result
Since some users reported that they fix the problem successfully using this method, we put it in the first place in particular.
Step 1: Go to Settings > General > Spotlight Search.
Step 2: Shutting down all the Spotlight stitches.
Step 3: restart your phone by pressing Home and Slide buttons at the same time.
Step 4: toggle on the contacts switch in spotlight, and later you can also enable other searches if you want.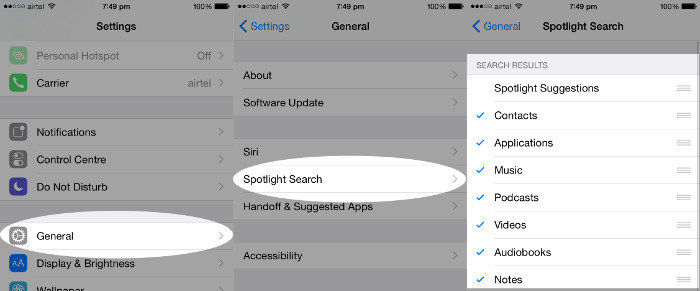 Now hopefully, Spotlight Search will work properly again. if it is still not fixed, you can have a look at the tip 2 in the following.
Tip 2: How to Fix Spotlight Search not Working on iOS 9
Step 1: Go to Settings > General > Language & Region.
Step 2: on the iPhone, tap on iPhone Language.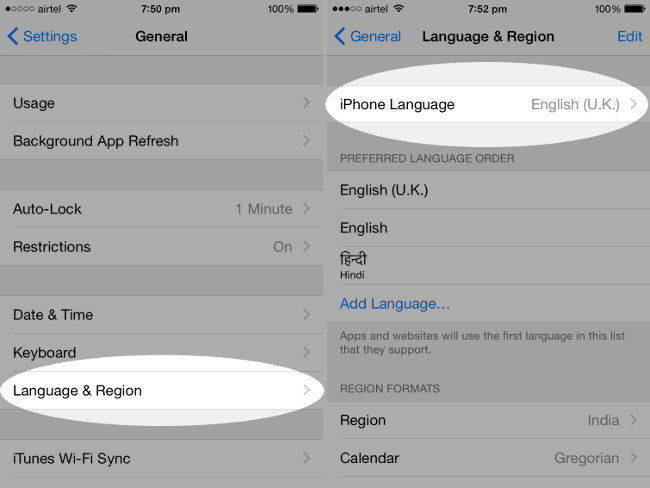 Step 3: select your preferred language. Tap on Done.
Step 4: tap on Change to the selected language.
This might help fix this because Spotlight Search works with certain languages as specified by Apple on its official website.
The above-mentioned are the top 2 methods used by most people. However, it seems that not all of you can finally make it using these two ways. In addition, you can also try to send your iOS device an email, which is said to make Spotlight Search start working again. It may sound absurd, but no harm can come of trying. All you need to do is send yourself an email to whatever mail account is set up on the iOS 9/10/11 device, and once the new mail is detected by iOS Mail app, the Spotlight can suddenly work again.
Note:
with the upgrade of iOS 9, you may find more iOS 9 upgrade problems. Follow our posts continuously to know more
iOS 9 tips
and knowledge, and solve
iOS 9 upgrade problems
.
Give the methods a try and let us know if they work for you. If you have other workaround, be sure to share with us, too.