How to Transfer Data from iPhone to Samsung Galaxy S9
by Jenefey Aaron Updated on 2019-07-25 / Update for iOS File Transfer
Samsung Galaxy S9 is a powerful device featuring 1.7 GHz octa core processor, 4GB ram, Android Oreo and a beast camera with lots of exclusive features too. There is no reason why you won't switch to a device like this. Most of the time witching phone isn't a hassle but moving your data is a big struggle especially if you were using an Apple phone recently. But no more worries below are some of the best methods you can use to transfer data from iPhone to Samsung Galaxy S9 quick and secure.
1. Transfer Data from iPhone to Samsung Galaxy S9 using Smart Switch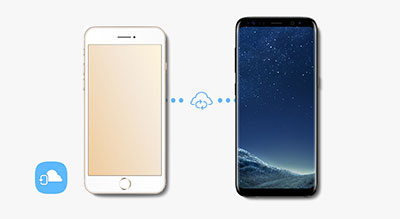 The very first step is to actually making sure that you have latest version of Smart Switch installed on your device. If not you can simply visit Playstore and download it, once you have done installing the app proceed further. One thing must be noted here, make sure you have version V3.3.02-4 or higher.
Before starting the process of transferring data make sure that both of your devices are fully charged because huge data can take a long copying time, if device is low on battery transferring can be interrupted.
Get an iOS cable and an OTG cable too which will be used to plug in USB into Samsung Galaxy S9.
Once you have acquired OTG and a iOS micro-usb cable plug it in both devices and launch Smart Switch app on S9. Once the app has booted up select USB connection in selection menu.
Now the Final step is to select all the data you want to transfer and tap Transfer button.
Transfer process will start shortly, now just keep patience till whole data is copied and don't unplug devices till completion message shows up.
2. Copy data from iPhone to Samsung Galaxy S9 Wirelessly
The process is pretty much same as, USB transfer method but this can be super useful when you don't have OTG or USB. There are few additional thing you must take care to copy data from iPhone to Samsung Galaxy S9 in this method but overall it's not a hassle but there is a slight complication if you have used iOS 9 backup because iOS 9 backups are partially supported by Smart Switch and can only be used to transfer Contacts, Calendar, Photos, and Videos only.
First of all you will have to prepare content in iCloud to transfer, if you haven't turned on iCloud backup then turn it on by following these steps on your iPhone. Go to settings and then tap iCloud, swipe and select Backup and tap back up now.
Once you have completed backing up your data on iCloud, open Smart Switch app on you S9 and tap Wireless button, now touch receive and select iOS to proceed.
Now you will be prompted to sing in to your Apple account, enter your user name and password and sign in. Once signed in select your basic and additional content and import it.
Now wait for the transfer process to get completed.
3. How to Transfer data from iPhone To Samsung Galaxy S9 using Syncios Data Transfer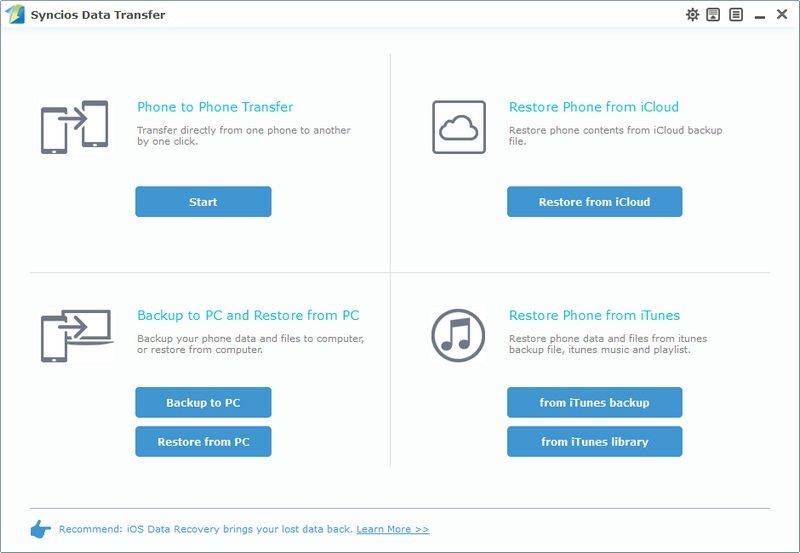 This program provides an easy alternative for copying your important data from your old device to a new device.
The very first thing you need to do is download Syncios Data Transfer tool on your PC and install it.
Once you are done with installing the application, launch it, several options will be displayed on screen. You need to select Phone to Phone Transfer mode.
Now connect both devices with your PC and keep them unlocked and under your eyes, make sure USB Debugging is enabled on your Android device.
Keep an eye on both of your phones and tap trust or allow pop ups if there are any on any of your device.
Once the connection is established make sure sender device which is iPhone in this case must be on left side and S9 should be on right side which is going to receive data.
Select the data you want to transfer and click Start copy button, now wait till the completion message is shown on screen.
Tip: If you have lost your data or deleted it by mistake during the process of transferring, it can be simply undone using Android Data Recovery Tool. Which is one of the best tool for data recovery. It can restore all sorts of files including images, videos, contacts, texts and music etc. It is easy to use and can safely restore your precious data in no time.