How to Transfer Data from Old Samsung Phone to Samsung Galaxy S9
by Jenefey Aaron Updated on 2019-08-29 / Update for Android Data
Changing smartphone is something you can't avoid, with time new devices are introduced for consumer user having high end specifications and beast performance. There is no reason why you don't want to switch your android device. Recently Samsung introduced their new flagship Samsung Galaxy S9 having top notch specs and quality built. If you have bought it and looking for ways to transfer contents from old device to Samsung Galaxy S9 then you can try the methods discussed below in this article.
Way 1: Using USB Cable to Copy Data from Old Phone to Galaxy S9
As simple it sounds, there is not much to do in this method, simply follow the instructions given below:
Connect your old device with your computer via USB cable
If you have connected it for very first time then, wait for sometime while Samsung drivers being installed
Open "My Computer" on your PC, you will see your Device Name
Open your device to view documents and multimedia files
Select and copy those files you want to transfer on your computer
You can also copy everything, if you are not sure what folders to copy
Now Connect your Samsung Galaxy S9 and open it from My computer
Paste the copied files in your new device
This method is simple and easy and will suffice but the only issue is you can't copy contacts, texts, call logs, notes and other data. If you want to transfer everything then follow through the article.
Way 2: Using Cloud Services to Transfer Files from Old Samsung Phone to Samsung Galaxy S9
Most of Smartphones users have moved towards cloud storage for most of the data and there is no reason you shouldn't use cloud storage like Google Photos, Google Drive and DropBox etc. These services will make your data portable and easily accessible anytime anywhere, all you will need is an internet connection. You can use Google Photos to transfer important photos and videos and can use Google Drive or DropBox for old samsung phone to S9 data transfer. If you have not been using Google Photos already, this is the best time to start using it. Follow these instructions to setup Google Photos for transfer of pictures and Videos and it will also keep them backed up.
Open Playstore on both of your devices and search for Google Photos and install it if you haven't installed already.
Open Google Photos on your older device and login with your Google account.
Once you have logged in, it will automatically start to sync your photos and videos from your gallery.
Once the sync is completed, open Google Photos on Galaxy S9.
Now login with the same account you have used earlier.
Once you are logged in, you will get access to all of your photos and videos from there. You can also save them on internal storage if you want.
This method will keep your photos and videos backed up and accessible everywhere if you want to transfer data from older android phone to S9, the best way is using Cloud storage. You can use Google Drive, DropBox, OneDrive to store your documents and other formats of files too. These cloud service are getting better by time and provides cross platform support too. Whether you want to transfer data to new device or not, using cloud storage and services is one of the recommended thing to do, no matter what. It will keep your data safe and secure and in case of data loss, you can recover it easily.
Way 3: Using Google Contacts to transfer Contacts
Above methods work flawlessly to copy data from old phone to galaxy S9 but the only issue with them is they don't support transfer of contacts. Contacts are most essential form of data saved in any smartphone. There are number of methods for transferring contacts like creating VCard packages and moving them to other device but I will cover the best and robust way to copy contacts from a device to another device In order to transfer contacts follow these steps:
Go to Settings>Accounts and Sync on your old device.
Enable Account and syncing service on it.
Now look up for the Gmail account and select it.
You must enable "Sync Contacts" option.
Tap "Sync Now" button and wait while its being synced.
Once it is done log in with the same Gmail account on your Samsung Galaxy S9, you will automatically get all of your contacts instantly.
Bonus Tip: How to Recover Deleted Android Data
Most probably the above mentioned methods will help you transfer all of your data from older device to your new Samsung Galaxy S9 but for some reason if you face data loss, no worries you can recover that data using Android Data Recovery tool.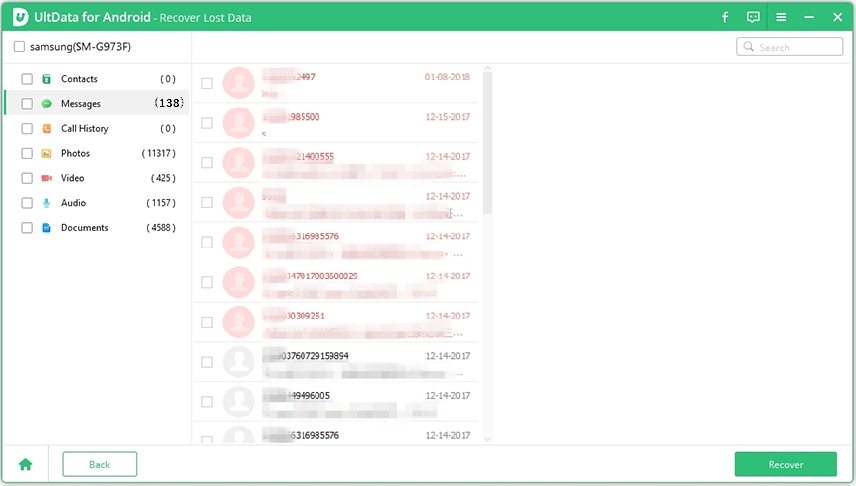 Tenorshare Android Data Recovery is one tap solution which can restore deleted or lost data in matter of seconds. It supports huge formats of data including multimedia and document files. All you need to do is download and install the program on your computer, connect your android phone and follow on screen instructions. It provides multiple data recovery modes, deep scan takes more time but can restore almost every bit of data safe and secure without any corruption issues. If you are not sure how to use it, you can check out Android Data Recovery Guide.
)