Best 9 Parental Control Apps for iPhone for Free
by Jenefey Aaron Updated on 2021-07-02 / Update for Mobile Tracker
Most of the parents nowadays are working and they can't keep an eye on their child round the clock in order to keep them safe from unwanted things. Apple has already thought about your child's safety and has created a thing called parental control for your iOS 12 and later devices. You can install free parental control apps on your device to keep an eye on your child's activity. You can do it without irritating your child, yelling at them and getting frustrated yourself. Only you have to create your desired settings on your device which is linked to your child's device and the settings get synced automatically. Check out top 9 free parental control apps for iPhone.
Part 1: Top 9 iPhone Parental Control Apps
iPhone parental monitoring app is the best way to keep your child secured and make sure they are not involved with malicious people and activities which can harm them. Children do not know what is wrong for them as they are innocent at this age. You don't have to stay with them all the time to keep them safe. This can also trigger irritability in your child's behaviour as their privacy is being disturbed all the time. Give them their "me time" and get control of their activities remotely by using parental apps for iPhone. Here is the list of 9 best parental control apps with their description to help you choose the best one for you.
1. Spymer
If you are looking for the best parental control app for iPhone, here you go. Spymer allows you to keep the track of 12+ data types from your child's device. You can monitor your child's activity from your device by checking their apps, messages, contacts, websites, and many more.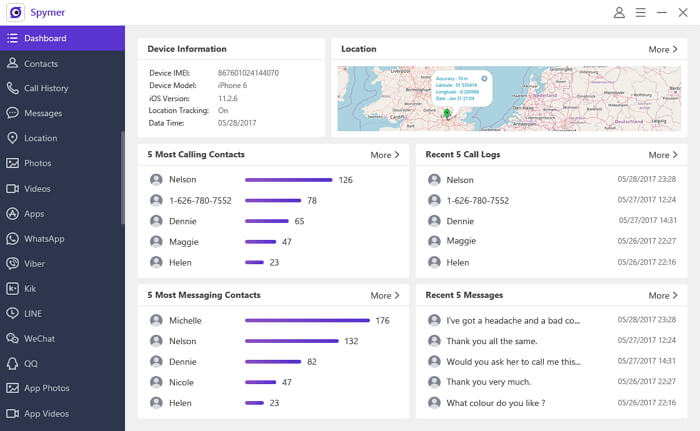 Pros:
Allows you to keep track of available and deleted iPhone data in a secured environment.
Keep you aware of your child's frequently contacted list via messages and calls.
Target phone doesn't require jailbreaking.
Cons:
You need to register to get the full version in order to access all of the apps features.
Website: https://spymer.sooftware.com/windows
Review: "Every parent wants to keep their child safe. But it's sometimes hard to do that with all the dangers lurking on kids nowadays through their mobile devices. If your kids are using iOS device, then there is a solution. You can use the app called Spymer."
Rating: 4/5 stars
2. Pumpic iPhone Keylogger
This app is much better than the other applications listed because it captures all the keystrokes on your child's device, and keeps you aware of all the situation without letting your child know that he is being monitored by you.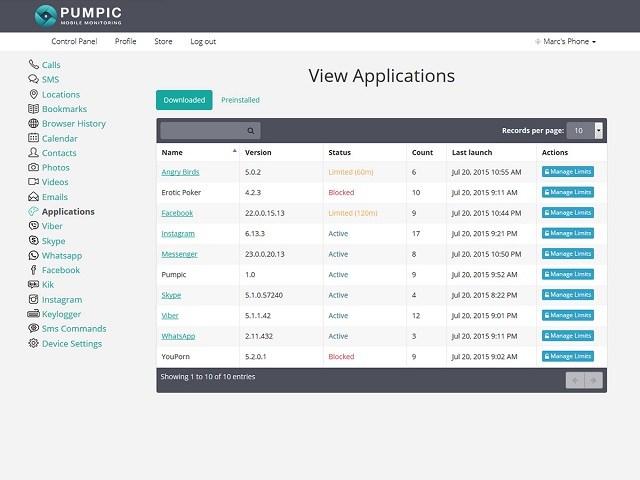 Pros:
Captures each and every key stroke or press on the target device.
Secretly tracks the passwords, messages, card number, websites etc. on the target device.
Can provide website browsing history, call logs for instant messaging apps, and social networks history.
Cons:
Only works with limited browsers which are Chrome, Firefox, and Internet Explorer.
The interface is a bit awkward and complicated for some users.
Website: https://pumpic.com/keylogger-for-iphone.html
Review: "I added Pumpic to my list of parental control solutions several months ago but wanted to return for a more thorough review. Pumpic is a monitoring tool for iOS and Android devices. As with most solutions, there are broader monitoring features available for Android phones than iPhones, and this is due to the restrictions that Apple places on developers. But even so, for parents looking for a way to keep tabs on their child's phone activity, Pumpic has a lot to offer."
Rating: 4.8/5 stars
3. iKeyMonitor
This parental control app is able to restrict some objectionable apps on your child's device as well as can record screen shots, activities on websites, block apps, and capture keystrokes.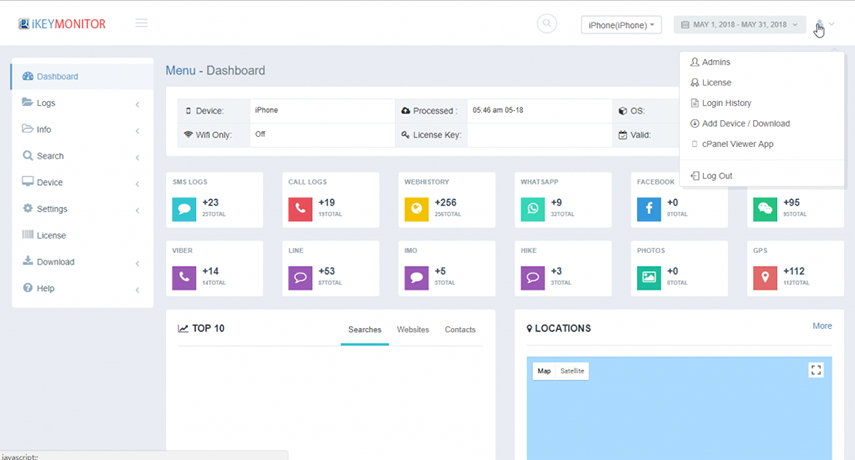 Pros:
Keep the track of your child's whereabouts by creating geo-fences
You can monitor GPS, apps, messages, photos, calls, clipboard etc. for Mac or Windows system.
Cons:
The iOS device needs jailbreaking to use this app.
Website: https://ikeymonitor.com/
Review: "I'm a single father with a 14y/o son. It's uneasy to take care of work and my boy. Thanks to iKeyMonitor, it helps me watch my son's mobile activities remotely. I can know easily whether he has behavior problems at school. It also makes me relieved that he is not bullied at school. It helps me be a better father."
Rating: 7.6/10 stars
4. The TruthSpy
Proper parental control is ensured using this app. All the keystrokes on the mobile screen are captured by this keylogger app.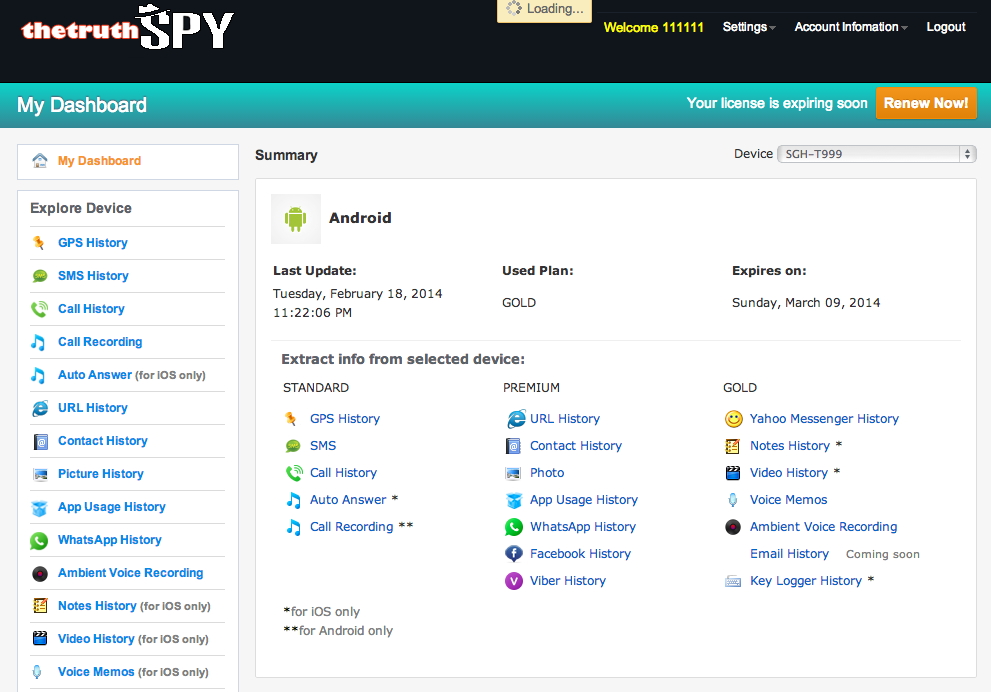 Pros:
Easy to use and affordable
Doesn't let your children know that this app has been installed on your device to monitor their activities.
Cons:
Difficult to use for some users as they find it difficult to get used to of the features in the short span of time.
Website: http://thetruthspy.com/
Review: "I used this software and it good for basic functions such as: gps, sms, call. But whatsapp need rooted. And Ambient Voice Recording is good."
Rating: 4.5/5 stars
5. iSpyTracker
You can monitor the GPS location of your child's device through free app of iSpyTracker. It allows you to limit the screen time on the target device for an optimum parental control.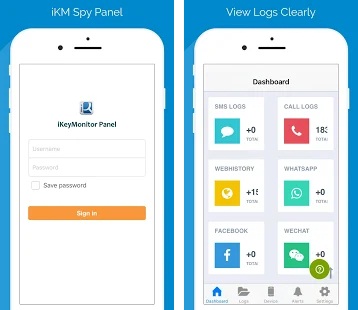 Pros:
Backups your data for GPS, SMS, and WhatsApp via iCloud.
Allows you to track location history.
Cons:
Only supports remote monitoring on iOS device.
Website: https://ikeymonitor.com/remote-control-panel
Review: "I know my son was driving home after his football game. Newer driver so I like to monitor his path. Had notice he hadn't moved for about five minutes. Worried there was a problem I went to look for him. Found his car upside down in a ditch exactly where the app indicated. Fortunately, it had a good ending and other than some soreness and bruising he was ok. Thanks, iSkpyTracker!"
Rating: 3.6/5 stars
6. Find My Friends
This app supports the monitoring for both iOS and Android. It syncs maps and phone contacts with the target device to keep track of locations and calls made by your children.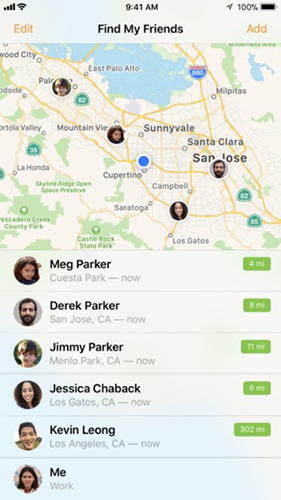 Pros:
You can track the location of target device if the location has been shared with you.
Supports AirDrop for iOS devices that allows you to share your location.
Cons:
You can get many requests from people you don't know. It is a hassle to keep rejecting requests from users as you don't want them to access your location.
Website: https://find-myfriends.com/
Review: "Location is not accurate...has shown my child 3 houses away from where he really was. Sometimes shows him in a field when he's driving down street. Is not in "real" time."
Rating: 4/5 stars
7. SpyMyFone
SpyMyFone is a popular app among parents to keep track of their kids' activity, both on Android and iOS devices. The best feature of this app is that it notifies parents' device when the target device is taken out of the geo-fence set by parent.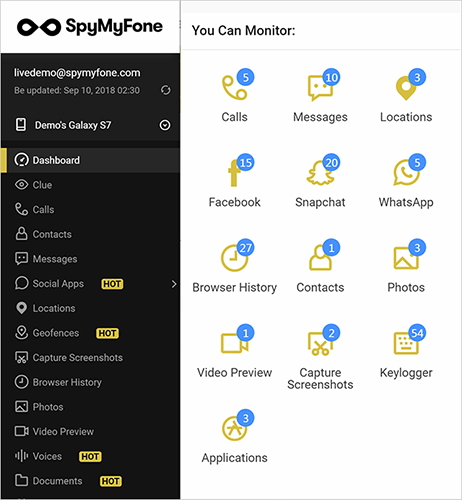 Pros:
Allows you to keep track of call history, social apps, texts, contacts etc. remotely.
Rooting or jailbreaking is not required.
Cons:
The full version of the app is a little expensive.
Website: https://www.spymyfone.com/
Review: "Great app!! At first I was very skeptical about it because I used spyzie and it only worked a few min each day and customer support in actuality nonexistent, I sent help request almost 2 months ago and still haven't had a reply from them. Spyfone on the other hand is the best!"
Rating: 6.7/10 stars
8. Qustodio
Qustodio is a free parental control app that works for iOS, Android, Windows, Mac, Kindle, and Nook. It offers an extensive dashboard that allows parents to access it remotely.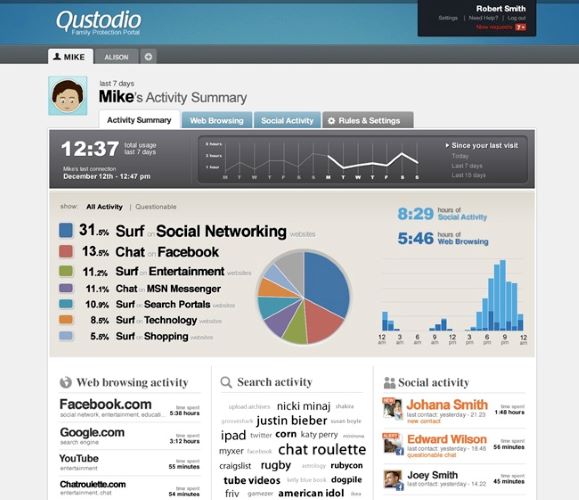 Pros:
It makes technical help easy by offering a keyword searchable database.
Provides you with real-time updates.
Cons:
The free plan is available only for 1-user 1-device option.
Notification and reporting features do not have option to send you text alerts.
Website: https://www.qustodio.com/en/
Review: "Couldn't ask for a better product. It has helped my kid stay "safe" on the net steering him away from porn and the like. I love the daily reports I get showing me who he's texting and talking to and what sites he's going to. Great product."
Rating: 4.5/5 stars
9. Norton Online Family
As we are already aware of the name Norton which is popular because of its security, this app also rates best among the parental controls for iPhone.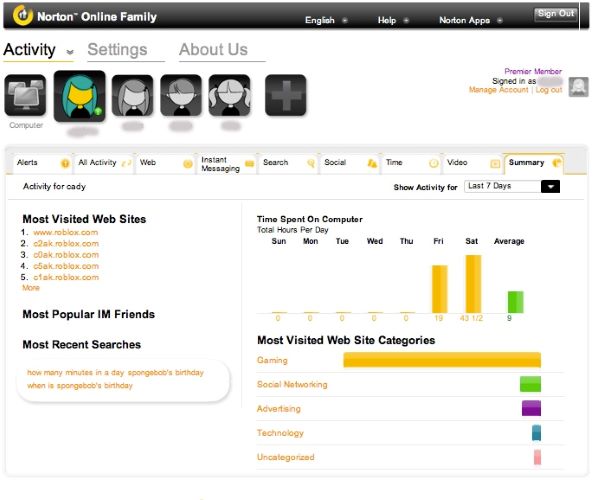 Pros:
Comes with advanced features such as social media supervision, email alerts, time tracking, access requests, location supervision etc.
Compatible with Windows, Android, and iOS.
Offers adequate options for blocking and filtering features.
Cons:
Does not capture online webcam sessions or chat conversations.
Website: https://family.norton.com/web/
Review: "Norton Family Premier offers an impressive range of parental control and monitoring features for parents of today's hyper-connected kids."
Rating: 9.3/10 stars
Part 2: If You Forgot Your iPhone Parental Control App Password, What to do?
Forgot your iPhone parental control app password? Don't worry, we will recover it with Tenorshare 4uKey. You can remove the screen password if you forgot it. It is a multi-functional tool that you can also use to unlock your lock screen password in the case that you forget it. 4uKey is definitely an excellent helper for users, and here is the guide of it.
Download and install 4uKey on your computer or your Mac. Launch it and connect your iOS device using USB cable.

Choose "Remove Scree Time Password" from the main interface then click "Start Remove".

Make sure you have diabled Find My iPhone on Settings App. Then 4ukey software will start removing the screen time password.

When the whole process finished, the screen time password has been removed successfully. You can set up your device following to the instruction.

Conclusion:

Now we know that parental control is one of the best features of iPhone. Also, the best free parental control app for iPhone is Spymer without any doubt. You can keep an eye on your kid's phone using Spymer or many other apps discussed in this article.

Remove Any Password in Minutes

Remove Apple ID or iCloud account on iPhone/iPad without password
Remove screen time passcode in 3 simple steps
Fix disabled iPhone/iPad without iTunes or iCloud
Find and view stored passwords on iPhone and iPad