If you want to revert your Mac to a previous version due to compatibility issues, ReiBoot is the best bet for you. It provides a hassle-free solution that saves time and effort. With just a few clicks, you can downgrade your macOS version, and ReiBoot will handle the rest.
This guide mainly introduce how to downgrade your Mac devices. You need to download and install the ReiBoot on your computer first, then follow the steps below.
Step 1. Connect Both Mac Devices
Run ReiBoot on your computer and connect both Mac devices or Mac & Win. Once the devices are connected, click "More Features" at the bottom left of the panel. Then choose "macOS Upgrade/Downgrade" to proceed.
Step 2. Choose Downgrading Option
No matter beta version or final version, you should choose "Downgrading" mode. Then, click the button below.
Step 3. Enter into DFU Mode
Follow the instructions below to put your mac into DFU mode. The methods are different from models, please make sure you choose the right model.
Step 4. Download Firmware Package
ReiBoot will detect your macOS version automatically and display the downgradable macOS firmware. Click "Download" to get the package.
If you failed to download the firmware, just hit the 'click here' to download it through browser.
If you've already have a firmware on computer, just click "import local file" to import the firmware manually.
It may take a few minutes to download the firmware.
Note:
Unsigned IPSWs cannot currently be restored via ReiBoot. If the macOS version is not supported to downgrade, the program will prompt that no downgradable macOS firmware found.

You can visit the IPSW website to check which firmware Apple is signing.
Step 5. Initiating Downgrade
Once the firmware package is downloaded on your computer, you can click 'Initiating Downgrade' to downgrade macOS.
Initiating Downgrade will cause all data and settings loss, please make sure that you have made a backup before. If confirmed, then click "Continue" button.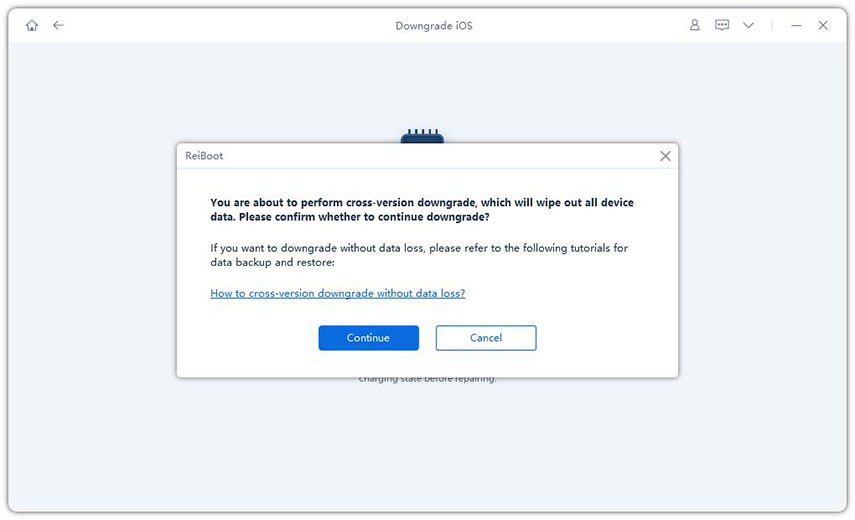 Step 6. Downgrading
The program starts to downgrade macOS, please do not disconnect your device during the downgrade process.
When the downgrade is completed, you will see the completed page and your mac device will go back to the previous version.