How to Recover Data from Unbootable Hard Drive
by Jenefey Aaron Updated on 2019-07-25 / Update for Data Recovery
Imagine this: when you start your computer to complete a project or work, the computer just won't start. Or your computer gets a blue or black screen, or even a message saying that Windows won't boot. When this happens, you will have no way to access your computer or the data on your computer's HHD (hard disk drive).
You must think that you are doomed as there are important files on the unbootable HHD. Good news is that you can still recover data from unbootable hard disk with some special data recovery tools.
Why is Your Hard Disk Drive Unbootable?
When your computer starts up, it looks for the boot instructions in the BIOS called as boot sequence. If your computer comes across corrupted boot sequence instructions, it fails to continue the boot process, which makes the hard drive unbootable. If the boot sector is infected by virus, your hard drive will also be unbootable.
How to Recover Data from Unbootable Hard Disk?
Once you get an unbootable hard disk, you can use Windows Boot Genius to retrieve data from unbootable disk. This tool creates a disk or USB that can boot up your Windows computer and then recover data from your disk. Prepare a blank CD/DVD or USB flash drive and a computer that you can use to download Windows Boot Genius.
Step 1: First of all, download the program to the computer you prepared. Then insert the CD/DVD or USB to the computer. Launch Windows Boot Genius, choose your CD/DVD or USB flash drive and then click "Burn" to create a bootable disk with the blank CD/DVD or USB flash drive.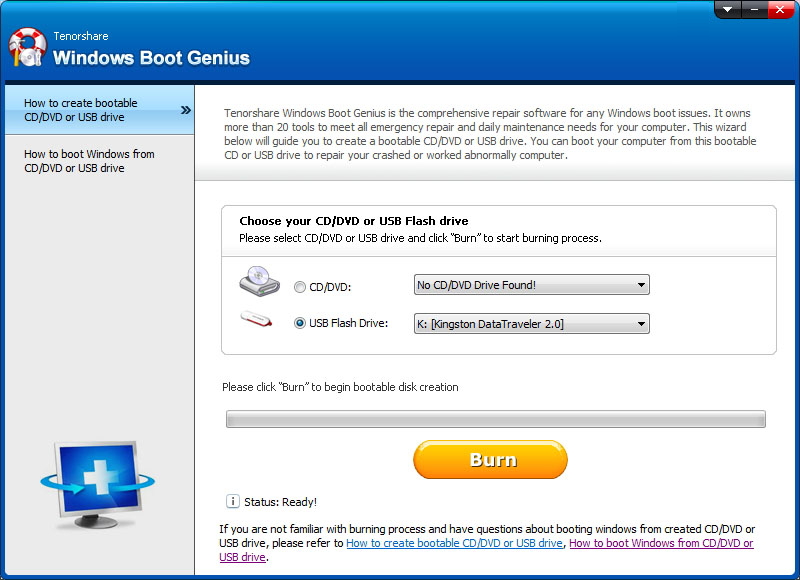 Step 2: Insert the newly burned bootable disk to the computer that won't boot. Continuously press "F12" to set the computer boot from USB or CD/DVD/CD-RM device depending on what is your disk. Lastly, tap "Enter" and you will see an integrated page of program.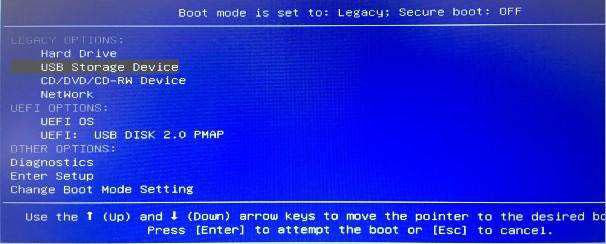 Step 3: You will see the interface of it after starting your computer. And you can then start to recover data from the unbootable hard drive.
The above is a pretty reliable way to recover data from unbootable hard disk drive, which saves you the risk of losing important data. If you find a more reliable or efficient way to recover a drive that refuses to boot, share with us in the comment below.