[Ultmate Guide] How to Remove or Bypass iCloud Activation Lock
by Jenefey Aaron Updated on 2019-08-07 / Update for iPhone Fix
Researchers from Vulnerability Labs were able to recreate the hack and discovered a similar bug to bypass iOS 10.1.1 iCloud Activation lock on iPhone and iPad. How to unlock iCloud activation lock for stolen or somehow missing iCloud ID and password again becomes one of the hottest question of iPhone/iPod/iPad. For some second-hand Apple device users, a major issue is how to remove or bypass iCloud activation when they don't know about Apple ID and password at all. After all, nobody wants to get a bricked iDevice.Here are four workable solutions for you to unlock iCloud activation locks or bypass or remove it on iPhone XR/XS with iOS 12.1/12/11/10.
Solution1. Remove iCloud Activation by Apple Solutions
This solution is concluded by Apple community. If you still remember your Apple account and password, you can try this way to remove iCloud activation lock. Speaking responsibly, this operation will inevitably remove your settings and data. If you try this way and want to get back lost data, Tenorshare UltData - iPhone Data Recovery can help you recover lost/delete data on iPhone/iPad/iPod at once.
1. Enter your iDeive with right apple iD and password
2. After your loggin, you are supposed to navigate to Settings and turn find my iPhone off.
3. Now you need to erase all settings and data.
Solution2. Resort to Third-Party iCloud Activation Unlocker
Actually there are various tools to iCloud activation lock removal can be found in the net which promise to help you unlock iCloud and you just need to follow simple steps and carry out the work. Here is one of the tools I found, but I have to say that I really don't know if it's workable. If not, please move to the solution 3.
1. Double click and run the iCloud Unlock tool. Follow the installation wizard by clicking next, next until is finished and installed successfully.
2. After start the program and press Check, it will automatically scan and find connected device and enable connection with the mimic server.
3. Enter your IMEI (it can be found on the back of the iDevice) and your Email. Select the suitable Server your Apple Device. Here I take iPhone 5c for example.
4. Tick I agree the terms of Use and press Unlock. All data been processed in servers the results will be sent your email in the moment. Check your message in the email and then enter your iDevice.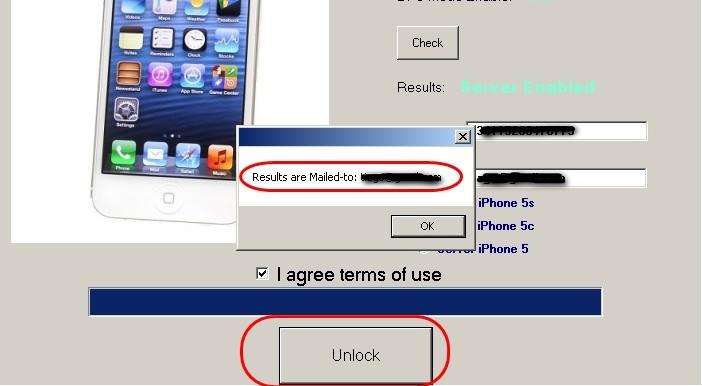 Solution3. Online iCloud Activation Lock Removal Service
If your iDeivce in iOS 10/9/8 gets stuck on Activate iPhone/iPad/iPod screen, you can have a try on iCloud Activation Lock Removal by OffcialiPhoneUlock.co.UK provides official apple unlocks using iTunes which won't avoid warranty. After finish icloud activation lock removal, your previous iCloud account will be emptied and you can activate the iDevice with new iCloud account.
1. Click Official iPhone Unlock to purchase the service depending on your device mode.
2. Offer IMEI of locked iDevice, the network your iDevice is locked to and your iPhone model type.
3. The program will mark your IMEI as unlocked within Apple's EMEI database. You need do nothing at all and the whole process can be finished automatically. So there is no technical background required.
Tips: With this service, no jailbreak is required. After you update your iDevice or sync the iDeivce with iTunes or iCloud, your iPhone/iPod/iPad still remains unlocked.
Solution4. Bypass iCloud Activation Lock in iOS iOS 12.1/12/11/10
Researchers at Vulnerability Labs have now shown another method of unlocking an Activation Lock-protected device running iOS 10.1.1 that requires entering a string of emoji characters and using features like screen rotation and Night Shift.
1. On the "Hello" screen, press home to open and than select your country or region.
2. Scroll down and tap on "Choose Another Network". Now you are required entering a string of emoji characters and using features like screen rotation and Night Shift. By doing this, you can break the security and gain access to the Homescreen.
Here are four possible solutions to bypass or remove iCloud account activation for iPhone/iPad/iPod. If you have any problem, you are welcomed to leave it to the comment section. And if you wanto to recover your deleted data from your iOS devices, Tenorshare UltData can help you. This software not only can recover deleted contacts, messages, Line Chat history and messages... from your devices, but also can selectively recover them from the iTubes backupo and icloud abckup.