How to Fix Blue Screen of Death in Windows 8.1/8/7/Vista/XP
by Jenefey Aaron Updated on 2020-03-16 / Update for Fix Windows
Blue Screen of Death (or STOP Error) will appear in your Windows system when a serious issue appears and forces your Windows to stop completely. You could lose access to the Internet and all the files on your computer. However, this is not a problem without solutions. Read on to learn causes of BOSD and how to fix the Blue Screen of Death error.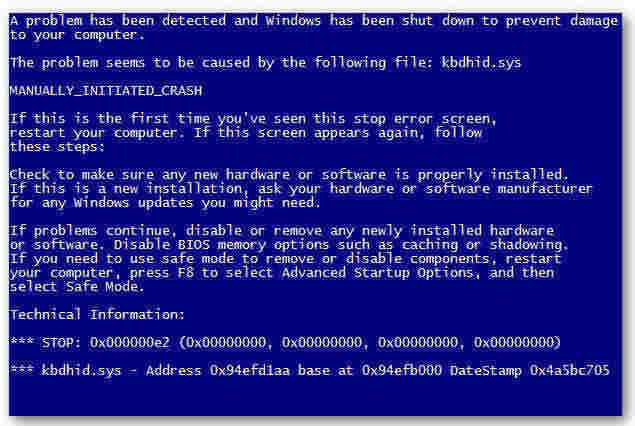 What Causes Windows Blue Screen of Death
Usually Windows blue screen errors are caused by Windows hardware problems or issues concerning your computer's hardware driver software.
The blue screen on boot occurs when Windows encounters a "STOP Error." This critical failure causes Windows crash and stop working. The only thing Windows can do is stop the computer and restart it. This can lead to data loss, as programs don't have a chance to save their open data.
How to Fix Blue Screen of Death
When Windows gets the Blue Screen of Death, you cloud reinstall Windows. However many people prefer this option as it will blow away existing system software, replacing it with a fresh Windows system.
A good way to fix computer blue screen is using Windows Boot Genius, a professional Windows system repair tool that help Windows users to solve all kinds of Windows system errors including fix windows blue screen of death. To learn more about the Windows system repair tool, download it to an available computer and have a try.
Note:
The troubleshooting steps apply to any Windows OS, including Windows 10, Windows 8.1, Windows 8/7/Vista/XP.
Before you start the Blue Screen of Death fix, prepare a blank CD/DVD or USB flash drive which could be used to boot the computer with a STOP Error.
Also prepare a computer that will be used to burn the program to your blank CD/DVD or USB flash drive.
Below are troubleshooting steps for general Blue Screen of Death error.
1. Insert the CD/DVD/USB to the computer you prepared and burn a bootable disk to fix blue screen on your computer.
2. Insert the CD/DVD/USB into the unbootable computer, and set your CD drive as the first boot device in BIOS. Your computer will restart automatically.
3. Then you will enter WinPE system, launch Windows Boot Genius. Go to "Windows Rescue" tab and select the solution based on the symptoms of your dead computer. In each solution you'll find a handful of Windows repairing tips. Try one by one until your computer works normally.
As we mentioned before, the Windows Blue Screen of Death could also cause you lose data. If this is true to you, the Windows Boot Genius enables you to recover lost data on your computer as well. Just click the "Data Recovery" tab.